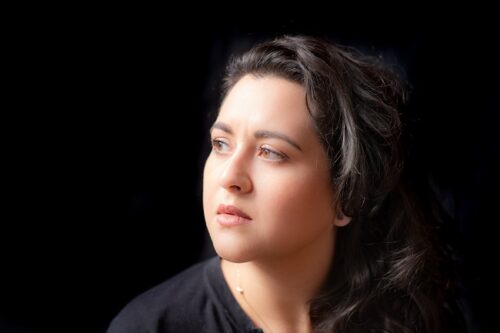 Adriana González was born in Guatemala and was First Prize and Zarzuela Prize of the Operalia Competition 2019, she has been acclaimed for her fine lyric voice and outstanding musicality and is considered one of the most promising singers of her generation. For Seen and Heard International she answered Joseph Alder's questions.
Joseph Alder: You will be singing Verdi's Requiem with the Dallas Symphony Orchestra and Fabio Luisi this month. You have already sung with Maestro Luisi at the Festival Toscani in Parma. What did you like most about working with him? 
Adriana González: He is a very inspiring musician and conductor! His calm and elegance is very calming for a performer. It gives you a sense of security and peace. Apart from the fact that he understands singing and breath control very well. It is just a huge joy and inspiration to work with him! I am looking forward to his approach to Verdi's Requiem.
JA: Verdi's Requiem is very demanding for all the singers but above all for the soprano. What's the biggest difficulty for a soprano in this piece?
AG: The difficult part of Verdi's Requiem is the extreme breath control you need to develop for the broad range and spectrum of dynamics that the piece demands. It has very dramatic parts that demand intensity and power, then the pious, imploring sections that call for 'piano' and softer dynamics. It is one of the most perfectly written pieces I have ever sung and I take it on with huge respect.
JA: You sang Verdi's Requiem for the first time in Lisbon with the Gulbenkian Orchestra and Choir conducted by Lorenzo Viotti. How have you prepared? Did you listen to some recordings during the process of learning the piece?
AG: I started working on it a year before we performed it. I always sight-read the piece and until the score is clear in my mind. It's a piece that takes time, so I visited my singing teacher. At this stage we just approach the piece technically, working on vowel formation, breath support and body alignment. After that part was done, I worked with my coach in Paris to develop the phrasing and dynamics that would suit my voice and the piece. I have heard it several times, and of course I look for references. It's good to be informed on what has been done and then make your own decisions on how you personally want to perform it. Then the conductors will work with you to develop the musical ideas. A huge inspiration is of course Montserrat Caballé with her amazing piani and inspiring phrasing.
JA: Is your voice going into Verdi repertoire? Are there any Verdi roles you'd like to sing in the future?
My voice will definitely go into Verdi repertoire in the future but I am not rushing into it. I am enjoying singing Mimì, Liù, Micaëla and Contessa at the moment and wish to develop them to the fullest.
One of the first big Verdi roles I have scheduled in the upcoming seasons is Desdemona in Otello. Then I would like to take on Amelia in Simon Boccanegra. Eventually with time it would be a dream to perform operas like Aida, Trovatore, Forza del destino and Don Carlo.
JA: You made your American debut at the Houston Grand Opera, singing the role of Juliette in Gounod's Roméo et Juliette, opposite tenor Michael Spyres. Has singing at the HGO been a highlight of your career? Why?
AG: It is definitely was such an exciting time! While completing my studies in Guatemala, I always thought: 'singing in the US is a huge step into an international career…I don't think I'll ever get there', and then that dream came true thanks to Patrick Summers and his amazing musical staff believing in my voice. I am also very grateful to Patrick for helping me find my own Juliette. He is an amazing musician and conductor. My debut was made all the more special thanks to his guidance. My HGO debut was a triple debut: US debut, HGO house debut and role debut as Juliette. The HGO team is fantastic and the work we did inspired me so much! The facilities, the stage, the administrative and artistic teams, the other singers – most roles were cast from the HGO opera studio with beautiful voices and top-notch singing. I am very proud of our Romeo & Juliette production. I also am very grateful of the reception our show had. The public was always very enthusiastic and can't wait to sing for them again. HGO holds a special part in my heart!
JA: How do you approach a new role? What process do you undertake in learning and performing a role?
AG: As soon as I get a proposal for a project, I analyze with my agent (a former singer himself) whether it is good for my voice and development. We decide together and once the contract comes in, I start working on it. This can be up to 4 years in advance. My preparation for Juliette started 2 and a half years before the first performance. I will first read the score and learn the music: make notes on dynamics, phrasing, rhythm and breath. I normally sight-read the music on an 'i' vowel, trying to get all notes in line and paying attention to my breath control. After this long process is done, I start focusing on the text: I will read the libretto and start creating the character in my mind. At this point, I start integrating the text into the music and find different inflections to the music and text to express what the character is living. Once the marriage between music and text is done, it's time to visit my singing teachers for things I can't solve by myself and to review what I have learnt. We work technically on the more difficult parts of the score. Then, I will go to my coaches and go through the role: we will analyze the phrasing, intentions and expression in the music. Then come the rehearsals at the theater, which is the final stage of preparation. At this stage we work with conductors and staging directors to build the show you will go and see. For the singer, this means to work with the conductor to find the tempi, dynamics and musical phrasing that work for the piece and for you. This happens simultaneously with the work of the staging director: discovering how your character interacts with its environment and other characters in the story. Then the performances come and the lifelong process of maturing a role begins.
JA: During your performances of Roméo et Juliette at the Houston Grand Opera, you had to step into the role of Liù in their Turandot directed by Robert Wilson. How was that experience? Did you have the chance to rehearse a little bit with the conductor before joining the cast?
AG: It was intense! I had performed Liù for the first time in 2019 and remembered the role quite well. The day of the performance we met with conductor Eun Sun Kim to go through the role and then I noticed my Liù didn't feel the same – the voice had grown. So I had to work on it before the performance to recalibrate my breath support and also adapt my voice from singing Gounod to singing Puccini.
All of this happened in the middle of Roméo et Juliette shows, so I had to be careful to be well-rested and care for my voice. HGO was very supportive in the whole process.
Jump-ins are always bittersweet, because while you get to sing an amazing role, there is someone that is sick and out of work. Through the COVID pandemic we got rather more conscious of how important overall health is in general and specifically for a singing career. We have to be very careful to be in shape, not get sick and still enjoy life.
JA: You have just made your house debut at the Dutch National Opera singing the role of Micaëla in Bizet's Carmen staged by Robert Carsen. What do you like most about singing the role of Micaëla? How do you view the character and how has your interpretation evolved over the years?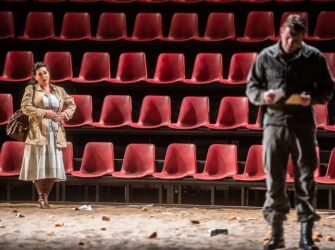 AG: Micaëla is the role I have performed the most so far: six productions and counting! I love Micaela's music…It's a very grateful role: has a duet, an aria and a couple of nice scenes with the chorus, plus the storyline that wins over the public's sympathy. It is like a pause in the wild world of Carmen. Even though it's short, it is quite tricky, and depending on the staging can be quite challenging. The aria is a non-stop five and a half minutes of intense breathing! Micaela is her own person. She searches for the man she loves across the mountains and miles away from home – a particularly difficult and strenuous voyage at the time. Then when she finds him, she stands up to a group of gypsies and is devoted to fulfilling her mission: taking him back home to his dying mother with the hope that he will stay and marry her. This girl is courageous and determined, even if very duty bound…I always have thought she is a woman who stands up for duty, honor and love.
JA: Later this month you will be singing again this role at the Opéra Bastille in Paris. You have been a member of the Atelier Lyrique de l'Opéra national de Paris. How do you feel returning to the Opéra Bastille to sing for the first time a main role in Calixto Bieto's production of Carmen? 
AG: It is like coming back home. Paris is my base and has been since I arrived in 2014 to work at the Atelier Lyrique. I am looking forward to seeing all the people who formed me and to share with them what they helped develop. I always said that a singer stands alone on stage, but is never truly alone because we carry with us all the knowledge and support of the people who have formed us. So I am very grateful and excited to be returning!
JA: You were the winner of the First and Zarzuela Prizes at the Operalia Competition in 2019. What did that mean to you? Did your career change after winning Operalia? Are the competitions useful for the young singers? Why? 
AG: Operalia is one of the best competitions out there: the organization, the exposure and the chance to work with Plácido Domingo. My experience was great and stressful! I got sick and lost my voice right after the semifinals… then after two days of silence, I opened my mouth for the final round and won. It taught me a lot about resilience and patience, and that ultimately the competition is only against yourself. It meant a lot to my team and myself to win this competition, and also for many singers back home in Guatemala. I was the first Guatemalan woman to win Operalia, so that inspired many singers back home to pursue opera and for the country to support opera a bit more. Personally, it was also a rather bittersweet as my first singing teacher, Barbara Bickford, had just passed away a month before. She believed in me from the very start and is the one who inspired me to sing opera at the age of 17. She would have been absolutely thrilled! Whether you win or not, Operalia's organization guarantees that you audition for the casting directors of some of the most prominent opera theaters in the world, all in once place. So be it New York, Paris, Vienna…you have no need to go to all those places to audition because they are all there in the jury, and many others are watching the broadcast, so this is a competition that gives you a lot of exposure. That being said, you need to present yourself at your best, showing what you can do that no one else can.
My career did change after Operalia and people's interest in my singing grew, and with that my sense of responsibility also grew. Competitions are a good thing, and while they are not for everyone, it is definitely a big opportunity for young singers. It is when you are a young singer that you need the most help. Consider the costs alone: coachings, singing lessons, osteopaths, flights, train tickets, hotels, agent commissions, taxes…And the list goes on…The cost of an opera career is a big investment, so if you get a prize at a competition it can help you a lot. Never hesitate to support young singers!
I also won second prize in the Viñas competition in Barcelona and first prize in the Otto Edelmann competition in Vienna. Both competitions brought so much to my career too and I highly recommend them.
JA: What repertoire suits better your voice? Do you have a favourite language when you sing? Why?
AG: I have a special love for Puccini. Liù and Mimì are two roles that I have enjoyed performing so much. The music has so much emotion and beauty. It is difficult for me not get emotional while singing this music. It is beyond me. I am taking on Suor Angelica soon and am looking forward to further discovering Puccini's music. Italian and Spanish are my languages of preference, but I also enjoy French with all its vowel complexities. These are all languages I speak, and while I love the Russian language, I wouldn't dare to sing in it as I don't speak it. As a singer you need to understand what you are saying, so speaking the language is an important aspect for me.
JA: Outside of what you do, what else does Adriana González have a passion for?
AG: History, cooking and photography. I always thought I would be an archeologist in Guatemala if I couldn't be a musician.
JA: Tell us about your upcoming projects.
AG: After the Verdi Requiem in Dallas, I fly back to Europe for my third recording project with Audax Records. The recording À deux voix will be done to highlight unknown French duets with my dear mezzo friend Marina Viotti. There will include two world premieres. The whole project was conceived by conductor Iñaki Encina Oyón who will join us at the piano. The recording is set to be released next year. Then towards the end of November I return to the Opéra National de Paris as Micaela until December 3rd. Towards the end of the year, I will make my debut at the Concertgebouw with an arias and duets concert with Lorenzo and Marina Viotti. The second half of the season is filled with another Verdi Requiem in Asturias, Spain, a Micaëla at the Opéra de Toulon and a Liù at the Opéra National du Rhin before a major debut in the summer which I cannot yet disclose. I'll keep you posted!
JA: Thank you for answering Seen and Heard's questions and enjoy your time in Dallas.