United States Puts, The Hours: Soloists, Chorus and Orchestra of the Metropolitan Opera, New York / Yannick Nézet-Séguin (conductor). Metropolitan Opera, New York, 22.11.2022. (RP)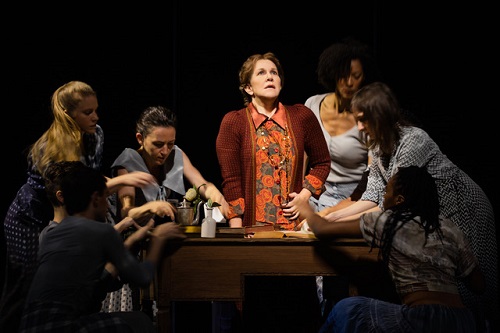 Production:
Director – Phelim McDermott
Libretto – Greg Pierce
Sets & Costumes – Tom Pye
Lighting – Bruno Poet
Projection – Finn Ross
Choreographer – Annie-B Parson
Dramaturg – Paul Cremo
Cast:
Clarissa Vaughan – Renée Fleming
Laura Brown – Kelli O'Hara
Virginia Woolf – Joyce DiDonato
Sally – Denyce Graves
Kitty/Vanessa – Sylvia D'Eramo
Man Under the Arch / Hotel Clerk – John Holiday
Louis – William Burden
Leonard Woolf – Sean Panikkar
Richard – Kyle Ketelsen
Dan Brown – Brandon Cedel
Barbara/Mrs Latch – Kathleen Kim
Kevin Puts's The Hours got the star treatment at the Metropolitan Opera with Renée Fleming in the role of Clarissa Vaughan. Her last performance at the Met was in 2017 as the Marschallin in Strauss's Der Rosenkavalier. Fleming was insistent that she would return and so she has, in a role tailor-made for her by a composer who knows her voice intimately and crafted vocal lines that fit her to a T.
The Met, however, didn't hitch its wagon to only one star. Joyce DiDonato was cast as British author Virginia Woolf, whose Mrs Dalloway inspired Michael Cunningham's novel on which the opera is based. Broadway star Kelli O'Hara, who occasionally crosses over into opera, was Laura Brown, the suburban housewife who chooses life by abandoning her family. In terms of audience appeal, the Met ticked as many boxes – literary, film, theater, opera, stars, novelty – as it could.
For the most part, Greg Pierce's libretto sticks to outlines of Cunningham's book and the 2002 film that starred Meryl Streep, Julianne Moore and Nicole Kidman. The women's stories unfold simultaneously within a single day in three different locations and different eras.
In late-twentieth-century New York, Clarissa Vaughan, a book editor, is throwing a party for her onetime lover and soulmate, Richard Brown, who is dying from AIDS. The mentally unstable Virginia Woolf is living in a suburb of London with her husband, Leonard. The time is 1923, when she is writing Mrs Dalloway and rebelling over her exile from London.
Forward to 1949 and Laura Brown, a post-war housewife, pregnant with her second child and living the American dream in Southern California. The narrow and confining domestic shoe doesn't fit, however, and Laura contemplates suicide. A bit of a book worm, she is reading Mrs Dalloway.
Puts creates distinct musical soundscapes for the three women, which are mostly discernible in the orchestra. Virginia Woolf inhabits a musical world of spare textures and harmonic shifts that reflect her fragile mental state. There is an undercurrent of optimism and conformity in the lighter pop style that cuts against the grain of Laura's anguish. For the buzz of Manhattan, Puts creates a less distinctive, but more varied musical backdrop to Clarissa's harried existence.
The opera opens with monologues from the three women in which their styles are distinct. As the characters' fates become more intertwined, their music becomes more homogeneous. In an obvious nod to Fleming's signature role of the Marschallin, Puts ends the opera with a trio for Virginia, Laura and Clarissa. Introspection and lyricism prevail to the end.
Puts and Pierce introduce some elements into the staging that muddle things. The first is a character entitled Man Under the Arch who appears intermittently during the opera. John Holiday's distinctive voice adds an intriguing sonority to the soundscape, but the Man Under the Arch does nothing to advance, explain or clarify the complex story line.
Few composers could resist the urge to employ the excellent Met chorus, and Puts isn't one of them. He composes music for them that is interesting enough, but the mass of people crowds the stage. Add some hyperactive children, and the intimacy inherent in the story evaporates.
Phelim McDermott imposed coherency to the extent possible. Tom Pye's set had the twin virtues of creating three different worlds with accuracy as well as portability. Each of the three protagonists had a space of her own to express her innermost thoughts and fears. Scene changes were unobtrusive and fast.
The real strength of the opera is in the music that Puts composed for the orchestra. The shimmering sounds that emerged from the Met pit were as beautiful as they were intriguing. Yannick Nézet-Séguin drew a nuanced performance from the orchestra which provided the musical and dramatic underpinning for the stories unfolding on stage.
For those hoping to hear Fleming as she once was, that train has left the station. There is, however, much to savor in both her singing and acting. Totally absorbed in the world of Virginia Woolf, DiDonato sang with an exciting, dark sound that had remarkable power. O'Hara was a perfect Laura, as lovely to behold as she was impossible to comprehend. There was a fragility in voice and character to O'Hara's Laura that was quite touching.
There was still another opera great in the cast, Denyce Graves as Sally, Clarissa's hip, earthy lover. Given the right role, Graves defies the passage of time with the richness and vibrancy of her voice. She had a rival for Clarissa's affections in Kathleen Kim, who expressed her intentions in zany outbursts of coloratura against a backdrop of flowers reminiscent of a Busby Berkeley musical.
As Richard, Kyle Ketelsen was a riveting presence who engaged relentlessly in verbal combat with Fleming's Clarissa. William Burden was Louis, Richard's ex, or 'the Adonis from Akron' as Clarissa derisively calls him. In an opera where long, emotive monologues predominate, Fleming's encounters with Ketelsen and Burden provided the dramatic sparks.
Tenor Sean Panikkar sang with a bright, youthful sound, but still managed to capture Leonard Woolf's gravitas. Brandon Cedel was a strapping Dan Brown who exuded optimism and love for his wife, with a robust baritone to match. As his son, boy soprano Kai Edgar sang with assuredness.
The presence of four of America's most popular female singers together on the Met's stage will be reason enough for many to go to The Hours. Those anticipating the emotional wallop of the book or movie, may be disappointed, but Puts's score is reason enough to see The Hours, although its subtle pleasure may require more than one time to fully appreciate it.
Rick Perdian