United Kingdom Handel (ed. Flesch) Alcina: Soloists, Orchestra of the Royal Opera House / Christian Curnyn (conductor). Royal Opera House, Covent Garden, 14.11.2022 (CC)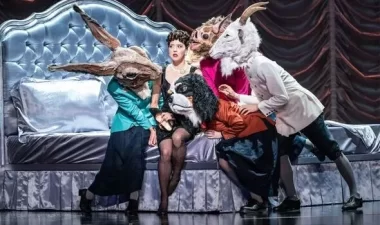 Production:
Director – Richard Jones
Designer –Anthony McDonald
Lighting designer – Lucy Carter
Movement director/Choreographer – Sarah Fahie
Cast:
Alcina – Lisette Oropesa
Ruggiero – Emily D'Angelo
Morgana – Mary Bevan
Bradamante – Varduhi Abrahamyan
Oronte – Rupert Charlesworth
Atlante – José Coca Loza
Oberto – Malakai M. Bayoh
It seems only a moment ago that I reviewed Alcina at Glyndebourne this summer (review click here) in the production by Francesco Micheli. Setting the opera in the 1950s/60s, Micheli seemed to try a little too hard. Richard Jones's production might be busy, but it works beautifully. There is, rightly, an aura of magic here, but related to our contemporary age: the 'magic urn' is a massive bottle of perfume, and to activate its magic, Alcina must spray perfume. The enchanted forest was wheeled on and off-stage and a tool shed (similarly mobile) provides the perfect spot for some nookie for Morgana and Oronte (and very funny it was, too).
Initially, we see Puritans, and their conversion into the animals that pervade the opera (the masks are nothing short of miraculous). The end of the evening brings a 'surprise' gesture. Probably best not to spoil it, but frankly it felt underwhelming, a little trite, although it gets the laughs. But that is basically the one complaint. Lighting by Lucy Carter is a vital part of the magical atmosphere pervading throughout the performance. It is a long evening – 6.30pm to 10.25pm – but the point is it did not feel it, due in great part to the orchestra's contribution, Christian Curnyn, more than well-versed in the music of this period, drew fine playing, augmented by a fine continuo section. The instrumental component was often joyously pointed; plus, Curnyn knows how to pace the piece.
Alcina is a work of genius, itself premiered at Covent Garden in April 1735. A rich sense of history indeed – and yet at times the music felt as if it had been penned yesterday.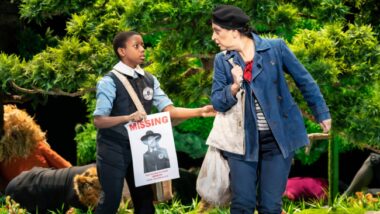 This particular run has gained some notoriety because of heckling on the first night. The boy in question, Malakai M. Bayoh, who sings Oberto, the child in search of his father Astolfo, was singing on this night – well, for sure – and was lauded with tumultuous applause. Brave indeed to take on a part that involves such vocal challenges, and a joy to see and hear.
There is no doubt that Lisette Oropesa as Alcina was the big name draw here, and, in her sparkly cocktail dress, she looked the part of a superstar. And generally she sounded like one, although perhaps less so initially. The magic came in the later acts, while her Act I 'Di', cor mio, quanto t'amai' felt slightly muted; by the time we got to the third act 'Ma quando tornerai', though, this was Oropesa at her very best, nimble, bright of voice and completely within the role.
With Oropesa in the cast, and even knowing and admiring Mary Bevan's singing, it still came as a pleasant surprise to find an absolute meeting of equals here. Bevan has a beautifully pure voice, perfect pitching and, it appears, impeccable Handelian style as Alcina's sister, Morgana. Her 'Tornami a vagheggiar' was one of the true highlights of the evening, the interiorisation in the central section a thing of beauty. Bevan can act well, too, and persuade with both humour and deeply touching emotions in one evening. If anyone had a true triumph – and was consistent from first sung note to last – it was Bevan.
How beautiful, too, was Emily D'Angelo's 'Verdi prati', luminously shaded and phrased, the instrumental ensemble reduced to the merest whisper. This is Handel at his greatest, and together Curnyn and D'Angelo created a tapestry of utter beauty. Varduhi Abrahamyan was a fine Bradamante (Ruggiero's wife, disguised as her brother 'Ricciardo'), despatching 'Vorrei vendicarmi' with much aplomb. Rupert Charlesworth was a strong Oronte (Alcina's steward, in love with Morgana) who seemed very attached to his gardening shed when he wasn't repurposing it. José Coca Loza was a strong Atlante (Ruggiero's 'elder', a Puritan, who disguises himself as Melisso, a sailor).
The evening is a visual treat. The recent Tosca at ENO mixed dress styles from different periods, and this does something similar. There is no denying the sprinkling of that magic dust over the entire evening. Movement director Sarah Fahie creates absolute miracles – the whole is tight as a drum. An acid test might be, if this was someone's first Handel opera, would they come out converted. Surely only the stoniest heart would not embrace the great master's music here. This is The Royal Opera at its best.
Colin Clarke