Germany Wagner, Siegfried: Soloists, Staatskapelle Berlin / Christian Thielemann (conductor). Filmed (directed by Andy Sommer) on 6.11.2022 at Staatsoper Unter den Linden but available until 17.2.2023 on ARTE Concert. (JPr)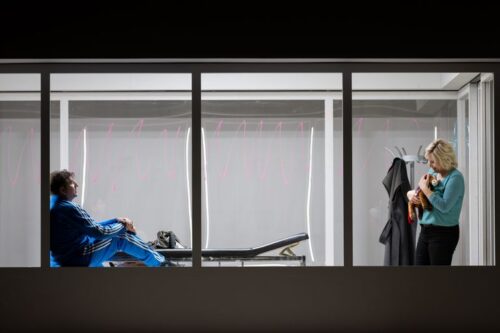 Production:
Director, Set design – Dmitri Tcherniakov
Costumes – Elena Zaytseva
Lighting – Gleb Filshtinsky
Video – Alexey Poluboyarinov
Dramaturgy – Tatiana Werestchagina, Christoph Lang
Cast:
Siegfried – Andreas Schager
Mime – Stephan Rügamer
The Wanderer – Michael Volle
Alberich – Johannes Martin Kränzle
Fafner – Peter Rose
Erda – Anna Kissjudit
Brünnhilde – Anja Kampe
The Woodbird – Victoria Randem
This is a companion piece to my recent Die Walküre review (click here) and I will not repeat all the positive and negatives of Dmitri Tcherniakov's new stagings I have discussed there but concentrate on how his new Ring cycle continued with Siegfried. We are, as expected, still at the 'Research Centre'. During the opening Prelude we watch the troubled upbringing of a young boy shown in his underwear and playing with large Lego bricks. We see how time has moved on further with the sight of three, now elderly looking, Norns going through some files in what we recognise as Wotan's office. There is no forge and Mime is in the house we first saw in Walküre and he looks quite old too. He is following something he is reading in a rather worn ledger-like book that we will later see has 'Memoiren 1965-1990 Mime' on the front cover. Given how Mime, Wotan/Wanderer, Alberich, Erda, Fafner, though not Brünnhilde, have aged we must now be at the turn of the last century. The familiar forging sounds we are used to are created by Mime's tapping pen and his banging cutlery around the kitchen.
Siegfried enters wearing the skin of a bear and the mask of Wotan as we saw him the other operas and carries a long stick. (I would normally leave comments on the singing until later in the review but – even accepting I was listening through loudspeakers – I did not recognise many of the notes that Andreas Schager was singing as Siegfried at this point and this continued on and off for most of the first act.) Obviously, Siegfried is someone with anger management issues. He breaks the plastic sword he is offered and distains a 'Sword in the Stone' cake. In his blue Adidas tracksuit Siegfried is barely ever still throughout the opera. Mime in plaid shirt and brown trousers and wearing glasses will become – even more of – a nervous wreck as the act proceeds and there is an array of medicines on the sink. Siegfried's room is full of the Lego we saw in the video, as well as Playmobil and other toys. When Siegfried sings about seeing his own face we see the grizzled Wanderer briefly in the one-way mirror he is looking at. Mime tries to placate Siegfried with the wrapped-up sword fragments but is roughly treated by him before he rushes out.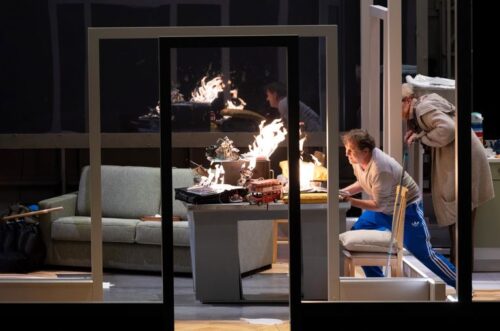 Mime opens up the sofa bed and is getting ready for bed when the Wanderer, with his flat cap and shabby coat, comes in hobbling on a stick, though he is putting it on a bit. Over tea at the table, the Wanderer answers his questions but the increasingly twitchy Mime doesn't know – despite referring to his memoirs – that it is 'Only he who knows no fear' who can repair the sword. When Siegfried returns he find Mime sheltering in the bath and gives him some medicine. Rasp and splinters are heard mentioned but there is no forging and Siegfried turns into a somewhat hyperactive pyromaniac and sets light to his childhood by burning what looked like old diaries, a cuddly monkey, a London bus, a plane, and various other old toys. Siegfried even lights another cigarette with the flames before extinguishing them. Wielding a mallet Siegfried destroys as much of his childhood memories as he can before setting off with Mime and his thermos of poisoned soup.
From Act II to the end of the opera you will get to marvel in the wonder of Tcherniakov's rotating set with its ever-changing rooms. We see a small sign for a test room with 'Beginn des Experiments in 30 Minuten'. Alberich (dressed like Mime) enters the conference room (seen in Rheingold) supporting himself on his walker and is not well and relies on his inhaler. He draws out from his briefcase the agreements he believes limits what the Wanderer can do. The bickering Siegfried and Mime emerge from one of the lifts and roam through the research centre. Another sign says 'Entspannung Waldweben' (Relaxation Forest Murmurs). A number of phases are displayed beginning with the first one 'Relaxation', others include 'Making contact with inner self', 'Confrontation with conflict' and 'Realisation of an unconscious desire'. The Woodbird is a lab assistant with a toy bird with remote-controlled fluttering wings. Siegfried is shown images of musical instruments and one of them is a pipe. Fafner comes in restrained in a straitjacket with the Wanderer watching from the upper level before there is an oddly messy fight and Schager's obvious struggle to get half a sword out of Siegfried's backpack. Mime's nervous tics go into overdrive in the confrontation with Alberich. Siegfried having found the ring and the Tarnhelm (the cap of electrodes) punishes Mime's duplicity by slitting his throat before leaping away with the Woodbird through the different rooms and past the Norns and the Wanderer.
Act III begins with the Norns going through files in the office of Wotan/Wanderer while there appears to be a case conference going on next door which the Wanderer angrily clears out. The passing years have not treated Erda well and in her light blue suit she looks like Anne Widdecombe (a former UK politician). Tcherniakov is obviously inspired by lines like 'Tell me how the god may master his anxiety?' and Wotan and Erda tussle. Siegfried arrives and stops on his journey to Brünnhilde for a sandwich and some water from his backpack. Laughing and chewing (which Tcherniakov has him do constantly) he dismisses the Wanderer who loses the plot but discovers a spear in a cupboard which he breaks himself. There is more rushing through the rooms and lots of emptying of drawers full of files before Siegfried reaches the 'Sleep laboratory'. The Wanderer was shown there with Brünnhilde who drew flames on the windows and Grane looks like a small piñata. Brünnhilde and the Wanderer hug before she gets covered up with a shiny silver sheet on a treatment table. When Siegfried pulls it off he goes crazier than ever at the site of a woman. Siegfried and Brünnhilde circle around on stools with wheels before they embrace and kiss. Notably, there has been a lot of finger pointing and feigning surprise as if both are going through the motions of some expected responses to their given situation. Siegfried launches a full-on assault of Brünnhilde who manages to escape his clutches. The opera ends with Brünnhilde and Siegfried by the tree in the foyer of the research centre (E.S.C.H.E.) observed on the balcony by the three Norns and the Wanderer who comes and goes.
It was a beautifully crafted Siegfried from Christian Thielemann and the Staatskapelle Berlin and the quality of their performance was as I described in my review of Die Walküre. There was a cinema quality to the heavy makeup for Michael Volle (Wanderer), Stephan Rügamer (Mime), Johannes Martin Kränzle (Alberich), Peter Rose (Fafner) and Anna Kissjudit (Erda). Their all-round vocal excellence was matched by their marvellous dramatic skills and the clarity they brought to the text which gave what they did a conversational naturalness unusual in opera. This extended to Anja Kampe's Brünnhilde who was in total command of her role and – with Thielemann's support – was able to impress with her lyrical radiance. Also, Victoria Randem sang the Woodbird with disarming charm.
Andreas Schager always seems as revered in Germany as in Austria where he comes from. I must be circumspect in what I write because I was not in the opera house, but I wasn't impressed and have heard Siegfried sung much better over many decades. I realise that the hands in his pockets' insouciance, as well as the overweening arrogance he showed is due to Tcherniakov but Schager's singing had power but little vocal allure, and he sounded as if he was reaching for his top notes.
Jim Pritchard