United Kingdom Handel, Messiah, HWV 56 (1741): Mary Bevan (soprano), Anna Harvey (mezzo-soprano), Oliver Johnston (tenor), Jonathan Lemalu (bass), English Concerto Chorus, Goldsmiths Choral Union, Highgate Choral Society, Philharmonia Orchestra / Brian Wright (conductor). Royal Festival Hall, London, 4.12.2022. (CC)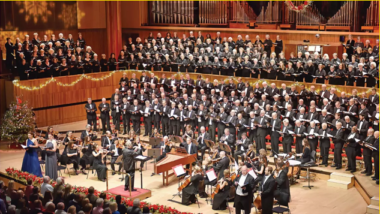 Raymond Gubbay's Christmas Festival 2022 extravaganzas bring with them massive publicity, glossy programmes and, in this instance, a Messiah from the distant past. In contrast with John Nelson's most recent performance at Coventry Cathedral (review click here), Brian Wright's Messiah was a damp squib at best. The Philharmonia Orchestra was listed with many names I did not recognise – like the Berliner Philharmoniker has been known to wheel out a 'B' team, was the Philharmonia doing the same thing?
Anyone who remembers Sir Malcolm Sargent's Liverpool Messiah (with soloists such as Isobel Baillie, Gladys Ripley and Norman Walker) will find many parallels in Wright's approach – massed choruses prime among them (here with the ladies filling the entirety of the choir stalls, leaving the gentlemen to take up row after row on the stage itself. Wright's speeds were, to put it mildly, generally on the slow side ('Comfort ye' a good old-fashioned eight in a bar; a paralysed 'Pastoral Symphony' preserved in aspic). The danger of slow speeds is that the music can sag – and sag it did all too often, not least in the final offering of Part I, 'His Yoke is easy'.  The Part III 'Worthy is the Lamb' was big, slow, ponderous, un-Handelian, as was the final 'Amen'.
The other danger is that the music might actually stop in mid-movement, as the chorus 'Behold the Lamb of God' that opens Part II threatened. Ensemble was a recurring problem, starting with 'Ev'ry valley' and extending into many choral movements. 'And he shall purify' was problematical for the strained massed sopranos and marred by some Romanticised phrasing.
The four soloists had three absolute standouts: Mary Bevan had everything one could want for a soloist in this work: purity of voice, and complete resonance with the text – and capable of sustaining a line at these speeds too, no mean achievement. Also, Jonathan Lemalu was mightily impressive, not least in 'The Trumpet Shall Sound' (excellent playing from trumpeter Alan Thomas here). Right from the start, Lemalu offered pure excellence. The mezzo-soprano Anna Harvey was equally impressive, a proper mezzo (not a contralto) who shaped her lines beautifully. If tenor Oliver Johnston was more nondescript in his contributions and tended towards the Puccinian in Part II (his biography, tellingly, contains preciously little reference to anything that might vaguely be construed as 'early' music), this remained a generally fine overall lineup. Just a lineup that had a lot to contend with.
There were several occasions the orchestra and/or chorus opened movements scrappily – Wright's direction hardly seemed the clearest and with this many people at his disposal, it showed. One of the biggest casualties was the famous, beloved chorus 'For unto us a child is born'. Failed upbeats and scrappy-achieved anacruses were a regular part of this performance.
So, unfortunately, this was far from a recommendable performance. It functioned more as a Rückblick to choral traditions and musical attitudes past, but even then, performances such as the Sargent referenced above have far more to recommend them.
Colin Clarke