United Kingdom Schubert, Schumann, Brahms: Matthias Goerne (baritone), Vikingur Ólafsson (piano). Royal Festival Hall, London, 9.12.2022. (MB)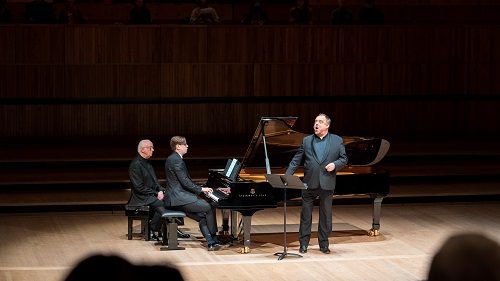 Schubert – Der Wanderer, D 489; Wehmut, D 772; Der Jüngling und der Tod, D 545; Fahrt zum Hades, D 526; Schatzgräbers Begehr, D 761; Grenzen der Menschheit, D 716; Des Fischers Liebesglück, D 933; Der Winterabend, D 938; Drei Gesänge des Harfners, D 478
Schumann –  Meine Rose, Op.90 No.2; Kommen und Scheiden, Op.90 No.3; Die Sennin, Op.90 No.4; Einsamkeit, Op.90 No.5; Der schwere Abend, Op.90 No.6
Brahms: Vier ernste Gesänge, Op.121
A marvellous song recital from two great musicians made clear that there is much more to musical life — and life in general — in December than Advent, narrowly considered, although perhaps ultimately there was a light here to be discerned, shining in the greater darkness of mood and content. Whilst it would have been quite a treat to hear either Matthias Goerne or Vikingur Ólafsson, to hear both, in so productive a partnership, was special indeed. I hope it will be the first of several such occasions.
There was little light, at least in the sense of hope, in the opening set of six Schubert songs, though there was plenty of chiaroscuro, etched, painted, chiselled — for Ólafsson's piano playing, one might say all three, at least — to their performance. The opening of Der Wanderer had one in no doubt that this was no conventional 'accompanist'; the song began, as if the opening of a sonata: with just such purpose, shaded exquisitely and meaningfully, though far from in abstract. This was, in short, tone poetry — and how it elevated still further Schubert's art. Goerne, in turn, sang of descending from the mountains, the valley dimming, the sea roaring, and that is just what he seemed to do, a descent as dramatic as if it had been staged, accomplished by voice alone. He spoke, or sang, it seemed with the wisdom of ages: a primaeval scene, from which, in the third stanza, an unmistakeable Viennese lilt could yet emerge.
That attention to text, not only from Goerne but from Ólafsson too, marked every aspect of this recital: not in a pedantic way, but illuminating, alert to what words can accomplish, what music can, and what both can together (as well as to what both musicians can do together). Der Jüngling und der Tod opens with the sinking of the sun, heard and, crucially, felt from voice and piano alike, the latter's chords almost Lisztian (as also in the preceding Wehmut), yet propelled by Schubert's easy, almost profligate way with melody. The sweet beauty of death, or Death, could chillingly be felt at its close. The piano line in Fahrt zum Hades was just as crucial to the song's course as the vocal line, almost as if this were a vocal sonata. And the piano's response to Mayrhofer's dread words 'dein alter Fluss' said as much as Goerne's, finely judged rubato and all. Piano figuration and tone again worked together with voice in Schatzgräbers Begehr, the Lisztian chordal future ('Il penseroso', perhaps) returning in Grenzen der Menschheit: a special partnership with Goerne's declamatory reading of Goethe.
We turned then to Schumann, to five Lenau songs (Nos. 2-6) from the Sechs Gedichte und Requiem, Op.90. 'Meine Rose' set the new scene perfectly from the piano: externally fragile, albeit with inner strength and vitality. Vocal delicacy and security contributed likewise in equal measure. Rankings are inane, yet it was difficult not to be reminded, however fleetingly, why sometimes one feels impelled to elevate Schumann even over Schubert as a song-composer. At any rate, here was a different, later, arguably more complete Romanticism. The magic of the postlude is common to both, of course, though there is something particular to Schumann's artistry here, as we heard in the closing bars of 'Kommen und Scheiden'. The expectancy of 'Die Sennin', the portrait of loneliness as total condition in 'Einsamkeit', and the heaviness, physical and metaphysical, in the air of 'Der schwere Abend' were all caught to near-perfection.
Returning to Schubert, Des Fischers Liebesglück bore renewed witness to the partnership, visible and audible, onstage. These were two performances infinitely responsive to one another, with all the resulting subtleties that engenders, but also the unmistakeable directness of purpose. A robbed moment in time, a dynamic inflection spoke volumes — because it was acted on, part of a whole for both musicians and indeed for the audience too. Piano melodies, in whichever voice, in Der Winterabend had the magic of a Schubert impromptu: infinitely touching, and pregnant of so much poetic promise. The three Harper's Songs from Wilhelm Meister proved in turn ardent, sorrowful and angry, and something close to chamber music with words, line in both parts supremely well judged.
And line, if anything, proved still more the guiding thread to Brahms's Four Serious Songs, here sounding as if Schubert and Bach had joined together to prepare a path new, yet old: which, in a way, is very much what they had. (Not to forget Schumann either.) The compelling flow of the first song, 'Dann es gehet dem Menschen wie dem Vieh' seemed to recall the world of Ein deutsches Requiem, albeit here the more finely distilled. Its form was grasped and communicated perfectly, third stanza prepared by its two predecessors and incorporating their insights and experience into a true return. 'Ich wandte mich' was delivered as if by the Preacher himself, Goerne in his element. The bell-like quality to Ólafsson's final chord said just as much. 'O Tod, wie bitter bist du' was as dark as the verses themselves; yet, in typical Brahmsian fashion, captured to a tee by Goerne and Ólafsson alike, it revealed a myriad of colours as soon as one truly listened. 'Rousing' is perhaps not quite the right word for 'Wenn ich mit Menschen und mit Engelszungen redete', but it was perhaps not so far off. It made for a fine conclusion in so many ways, seeming to have the full measure of this extraordinary song both in itself and as the last of four. This was distinguished music-making indeed.
Mark Berry