United Kingdom Mozart, Die Zauberflöte: Soloists, Chorus and Orchestra of the Royal Opera House / Maxim Emelyanychev (conductor). Royal Opera House, Covent Garden, 22.12 2022. (CC)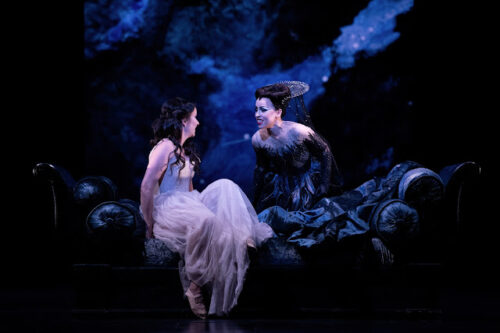 Production:
Director – David McVicar
Revival Director – Angelo Smimmo
Designer – John Macfarlane
Lighting – Paul Constable
Movement Director – Leah Hausman
Cast:
Tamino – Filipe Manu
Pamina – Anna Prohaska
First Lady – Alexandra Lowe
Second Lady – Gabrielė Kupšytė
Third Lady – Kseniia Nikolaieva
Papageno – Gyula Orendt
Papagena – Sarah Dufresne
Queen of the Night – Aigul Khismatullina
Monostatos – Brenton Ryan
First Child – Emily Barton
Second Child – Kaelan O'Sullivan
Third Child – Toby Yates
Speaker of the Temple – Oliver Zwarg
Sarastro – Brindley Sherratt
First Priest – Nicholas Sharratt
Second Priest – Donald Maxwell
First Armoured Man – Egor Zhuravskii
Second Armoured Man – Thomas D. Hopkinson
David McVicar's production of Mozart's Die Zauberflöte (The Magic Flute) is very much a known quantity: in 2019, Leo Hussein conducted a rather lacklustre account; back in 2013 it was Julia Jones conducting a simply marvellous cast including Simon Keenlyside, Sophie Bevan and Albina Shagimuratova; in 2017, Jones returned to conduct again, this time with Roderick Williams as one of the most memorable Papagenos of modern times.
It is worthwhile looking back on these, as despite some star turns, this was a rather disappointing lunchtime Magic Flute (kick-off was 12 noon). Maxim Emelyanychev, who impressed with his group Il Pomo d'Oro at the Barbican in Joyce DiDonato's project Eden, was perhaps a little surprising in not finding the brightness in this opera. Magic Flute is a balancing act for both producer and conductor; one on level, there is plenty of fantasy there; on another, there is the Freemasonic element, closely linked to Isis (in her pronouncedly lunar aspect) but also to the initiatory aspects of the so-called secret societies (Rosicrucianism, Freemasonry, Ordo Templi Orientis and so on). In McVicar's production, there is a lesser emphasis on the latter (the initiatory trials were certainly impressive in, for example, Simon McBurney's English National Opera production – undermined perhaps by its slapstick: review here). And as the revivals pile up (and probably something to do with the timing) it becomes increasingly difficult not to equate the actor-operated serpent of the opening scene with Chinese New Year.
All of which points towards the impossibility of the perfect staging for Magic Flute; so perhaps we are left with the singers and conductor. Anna Prohaska as Pamina had to be the big draw here. Her voice is fabulous, it has to be said, but there was just the feeling that all was not well in Act I; little surprise that there was an announcement that Prohaska was coming down with a cold just pre-Act II and so our indulgence was craved. Her performance of the vital line 'Tamino mein' was perhaps less than it could have been, certainly in comparison with Sandrine Piau in Gstaad last Summer (Les Talens Lyriques under Christophe Rousset), who made this a soul-melting moment.
While Filipe Manu was an acceptable Tamino, well sung throughout, it was perhaps Aigul Khismatullina's Queen of the Night (one of three queens for this run) that was the true star. This role is not all about the high notes (although they were perfectly placed); every emotion was brilliantly conveyed, as was the queen's power. If Gyula Orendt's Papageno was a touch lacking in a character, Sarah Dufresne's Papagena was a beam of comedic light (part of me really wants to see what Rowan Pierce will make of this role though – her turn begins on January 9).
Wonderful to hear Brindley Sherratt as a wise Sarastro (he shares the role with René Pape, no less); Brenton Ryan was a strong Monostatos (bit of a cartoon character in this production, so good since he made the most of it) while, of the three ladies, it was Kseniia Nikolaieva's plummy Third Lady that made the strongest impression by some way.
With the three child-spirits (Emily Barton, Kaelan O'Sullivan, Toby Yates) and the 'Men in Armour' as the Royal Opera House programme has them (Egor Zhuravskii, Thomas D. Hopkinson) there was strength in depth to this performance but a touch more magic to this Magic Flute would not have gone amiss…
Colin Clarke