United Kingdom Various: Günther Groissböck (bass), Julius Drake (piano). Wigmore Hall, London. 19.12.2022. (KMcD)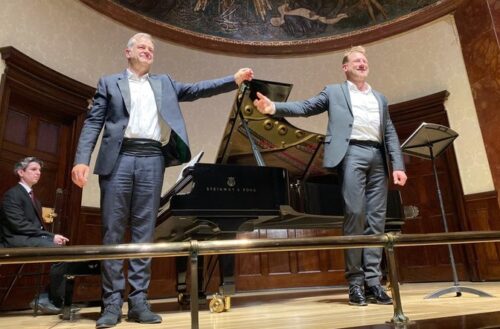 Schubert – Prometheus, D674; Grenzen der Menschheit, D716; Ganymed, D544; Memnon, D541; Am Strome, D539; Auf der Donau, D553, Der Sieg, D805; Der Schiffer, D536
Loewe – Die Uhr, Op.123 No.3; Der heilige Franziskus, Op.75 No.3; Der gefangene Admiral, Op.115; Odins Meeresritt, Op.118
R. Strauss – Heimliche Aufforderung, Op.27 No.3; Zueignung, Op.10 No.1; Allerseelen, Op.10 No.8; Befreit, Op.39 No.4
Mahler – Des Knaben Wunderhorn (selection): Nicht wiedersehen!; Revelge; Zu Strassburg auf der Schanz; Der Tamboursg'sell; Urlicht
Günther Groissböck's outstanding Wigmore Hall debut in January (review click here) gave notice of an artist at the peak of his interpretative powers, so his return this month was eagerly anticipated. And he did not disappoint. Indeed, this magnificent recital – a masterclass in how to interpret German lieder – was even better than his recital earlier in the year – a feat that I thought would be nigh impossible to achieve. With a different accompanist this time round, the ever-attentive Julius Drake, both artists took the audience on an illuminating musical journey that was spellbinding from start to finish.
Entitled Freiheit! Freiheit? (Freedom! Freedom?), the judiciously selected songs each dealt with the meaning of, experience of, or longing for freedom from different perspectives. The first section of the programme, a group of eight lieder by Schubert, allowed Groissböck to display his skills as a storyteller non pareil. He launched into Prometheus with stentorian tones, his inky-black bass fashioning Goethe's prose a-new, yet was equally as compelling in the quieter moments, honing his massive voice down to an eloquent pianissimo.
This vein was continued in Memnon, which was delivered with quiet introspection, in contrast to the climax of Der Sieg (The Victory) where Groissböck recounted the blow that felled the sphinx – shaking the very foundations of the Wigmore Hall with sonorous tone. Indeed, throughout this highly varied selection of songs, his ability to colour the voice, inflect the text and deploy a wide range of dynamics to reflect the meaning of each one was both formidable and arresting.
Four songs by Carl Loewe completed the first half, not only affording the audience the opportunity to hear these rarities but allowing us to marvel further at Groissböck's superlative interpretive powers and rock-solid technique. Der heilige Franziskus (Saint Francis) revealed his ability to spin seemingly endless musical lines, while the high-lying climax was voiced effortlessly. There was a nautical flavour to the last two songs in this group, Der Gefangene Admiral (The captive admiral) and Odins Meeresritt (Odin's sea-ride) which showcased the singer's innate theatricality – the storytelling in each was immaculate – and his phenomenal vocal range.
After the interval we were on more familiar territory with a selection of Strauss's lieder, but what made Groissböck's performances so engaging was that Zueignung (Dedication), Allerseelen (All Souls' Day) and Befriet (Released) are usually the preserve of sopranos. How would a voice of this size and temperament navigate its way around the composer's delicately contoured phrases? Groissböck managed effortlessly, infusing each with meaning and pathos – again his scrupulous attention to the text, phrasing and dynamics was astonishing, no more so than in the first song's repeated 'Habe Dank' – each infused with a different array of vocal colours.
Five songs from Mahler's Des Knaben Wunderhorn completed this remarkable recital, beginning with an impassioned, beguiling account of Nicht wiedersehen! (Never to meet again!). Groissböck pared down his tone to barely a whisper at times, finishing with the most glorious diminuendo on the closing phrase: 'Ade, mein herzallerliebster Schatz! Ade!' ('Farewell, my dearest love! Farewell!'). Quiet resignation gave way to bitter anger in Revelge (Reveille) – each repetition of 'Tralali, Tralaley, Tralalera' more indignant than the last, each phrase dripping with resentment at the futility of war.
In Der Tamboursg'sell (The drummer-boy) Groissböck literally rattled the rafters of the Wigmore Hall, summoning up reserves of tone to drive home the song's climax. We were then treated to a miraculously-introverted rendition of Urlicht (Primordial light) – it was as if time stood still – that opening phrase 'O Röschen rot' ('O red rose') balm to the soul. There was no way the appreciative audience was going to allow Groissböck to leave without an encore, and given everything that had gone before, Schubert's An die Musik (To Music) was the perfect choice.
At the end my friend turned to me and said: 'I don't think I've ever heard German lieder sung that well'. He was not wrong. I have rarely encountered singing of this calibre, so it is to be hoped Gunther Groissböck becomes a permanent fixture on the Wigmore Hall's calendar. An exemplary evening of music-making.
Keith McDonnell