United Kingdom Puccini, Tosca: Soloists, Chorus and Orchestra of the Royal Opera House / Daniel Oren (conductor). Royal Opera House, Covent Garden, 28.11.2022. (CSa)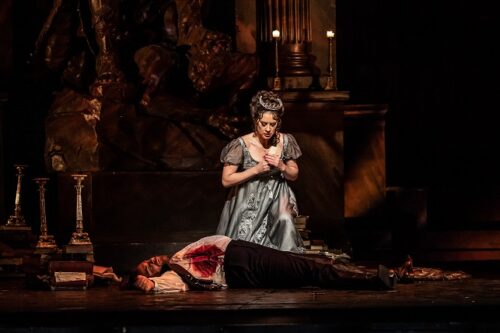 Production:
Director – Jonathan Kent
Revival director – Simon Iorio
Designer – Paul Brown
Lighting designer – Mark Henderson
Chorus director – William Spaulding
Cast:
Cesare Angelotti – Josef Jeongmeen Ahn
Sacristan – Jeremy White
Mario Cavaradossi – Gwyn Hughes Jones
Floria Tosca – Malin Byström
Baron Scarpia – Gabriele Viviani
Spoletta – Hubert Francis
Sciarrone – Thomas D. Hopkinson
Young Shepherd – Emilia Cristina Gahan
Gaoler – John Morrissey
November 2022 marks the sixteenth anniversary and twelfth revival of Jonathan Kent's powerful production of Tosca, Puccini's fifth and arguably most enduring opera. It still packs a mighty punch. The late Paul Brown's opulent designs, vast in scale, dwarf the singers and tower above the action. In Act I, we are presented with the elaborately frescoed Attavanti chapel of the church of Sant'Andrea della Valle. Bathed in eerie chiaroscuro, we have to search hard at first to detect the exact location of the painter Mario Cavaradossi's easel and picnic basket. In Act II, Scarpia's huge rococo study in the Palazzo Farnese features a concealed en suite torture chamber, conveniently located behind a floor to ceiling bookcase. The starlit ramparts of the Castel Sant'Angelo in Act III provide a dramatic backdrop against which this timeless tale of political intrigue, corruption and cruelty, lust, love and death is ultimately played out. Indeed, the tragic tale of courageous artists who unwittingly become embroiled in a personal struggle against political tyranny is as relevant today as it was in pre-Risorgimento Italy.
Adapted from the late-nineteenth century play La Tosca by Victorien Sardou, Puccini's opera is set in Hapsburg dominated Rome during the Napoleonic Wars, specifically a period of less than twenty-four hours in June 1800, when the French army crushed Austro/Italian forces following the Battle of Marengo. The operatic drama is triggered by the escape of a political prisoner, Cesare Angelotti (Josef Jeongmeen Ahn), pursued by the city's sinister Chief of Police, Baron Scarpia (Gabriele Viviani), assisted by his sullen police agent, Spoletta (Hubert Francis). The fugitive seeks refuge in the grandly recreated chapel, where he is hidden by republican sympathiser Cavaradossi. Scarpia orders the arrest of the painter and attempts to discover Angelotti's whereabouts from Cavaradossi's lover, the singer Floria Tosca (Malin Byström) with whom he becomes morbidly and sexually obsessed. The police chief's aria, 'Ha più forte sapore' in which he chillingly professes his preference for conquest by force over his victim's passive acquiescence, tells us everything we need to know about his sadistic propensities.
Once Cavaradossi is seized and sentenced to death for harbouring the wanted man, Scarpia strikes a deal with Tosca. If she submits to his desires, he will release her lover and issue passports to ensure their safe conduct from Rome. Nonetheless, he insists, there must be the semblance of an execution, and tricks her into believing that it will be faked using dummy bullets. No sooner than the passports are written out, Tosca picks up a knife from Scarpia's supper table and kills him. Tosca witnesses the subsequent execution of her lover, slowly realising to her horror that she has been deceived and real bullets have been used. In despair, she plunges from the parapet of the Castel Sant' Angelo to her death.
The inherent drama of the plot is largely propelled and maintained by a fine cast in which the three lead singers excel. The renowned Welsh tenor Gwyn Hughes Jones portrays Cavaradossi convincingly. His acting skills are greatly enhanced by a voice of adamantine brilliance, the thrilling timbre of his top notes rising high above the orchestra to the furthest reaches of the auditorium. His splendidly sung clutch of arias was crowned in the third act by a rapturously received account of 'E lucevan le stelle'.  Swedish lyric soprano Malin Byström, who earlier this year took Royal Opera House audiences by storm as the eponymous heroine in Richard Strauss's Salome, thrills as Floria Tosca. The quality of her voice – dark and rich at the lower end of the register, soaring effortlessly at the top end – gave her famous second act lament 'Visse d'arte' ('I lived for my art. I lived for love') an inexpressible poignancy. She found a perfect foil in Lucca-born baritone Gabriele Viviani, whose portrayal as the evil Baron was persuasively sung.
Underpinning these performances, the musicians of the Royal Opera House, under the deft baton of Daniel Orin, ensured that the rich orchestral palette of Puccini's score was fully realised.
Chris Sallon