United States Joyce DiDonato Master Classes: Joyce DiDonato (mezzo-soprano) with Anchal Indu Dhir (soprano), Marissa Moultrie (soprano), Rael Rent (mezzo-soprano), Lawrence Barasa (tenor), Łukasz Zientarski (baritone), Justina Lee and Ken Noda (piano). Weill Music Room/Resnick Education Wing, Carnegie Hall, New York, 11-13.12.2022. (RP)
Joyce DiDonato gave her first master class at Carnegie Hall in 2015. Apart from a Covid-imposed hiatus, she has returned every year to work with young singers on opera arias. This year, over 400 singers applied, from which five were chosen to participate in the classes. They not only have extraordinary voices, they are brave too.
It is pressure enough on a young singer to have one of opera's superstars critique an aria one has just sung. Delving into things such as character development, vocal technique and language are the nuts and bolts of becoming a singer. DiDonato, however, turns a master class into a drama worthy of the art form that she ranks the greatest of all.
For DiDonato, it is all about process. She regularly reminded the audience that the singers were at different levels in their vocal and artistic development. This wasn't a concert, although each aria was performed in its entirety. Once DiDonato went to work, more often than not the singer never got past the first page of the aria.
The youngest of the singers, soprano Anchal Indu Dhir, is a university undergraduate. She has a burning desire to sing and a lyric soprano that wants to soar. Dhir is an eager learner and absorbed DiDonato's suggestions like a sponge.
DiDonato focused on the nitty-gritty with Dhir, such as connecting mind, body and voice, establishing a character and refining a trill. Through this process, Dhir transformed the first page of 'Ah! douce enfant', La Fée's aria from Massenet's Cendrillon. It was much the same process in 'Deh! vieni non tardar' from Mozart's Le nozze di Figaro and 'Caro nome' from Verdi's Rigoletto. The latter will surely become one of Dhir's calling cards as her career advances.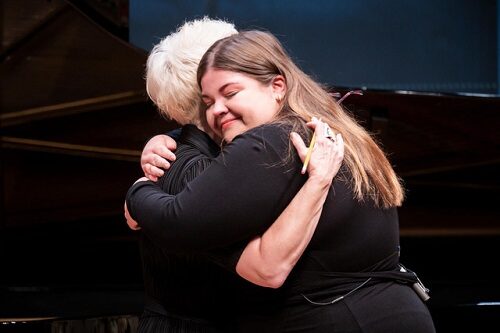 When American soprano Marissa Moultrie finished Elettra's tremendous outpouring of fury in 'D'Oreste, d'Aiacearia' from Mozart's Idomeneo, DiDonato told her there were only a handful of singers in the world who could sing the aria as she just had. DiDonato went on to say, 'You don't know how extraordinary you are'. That os a lot to process, especially in front of an audience.
With the 'Embroidery Aria' from Britten's Peter Grimes, DiDonato had little technical advice to offer – biting into a consonant more, suggesting a different phrasing – but she waded into deep waters, albeit with the young soprano's consent.
It is simply whether this extravagantly gifted young singer is willing to share her voice with a world that is eager to embrace it. For those steeped in operatic lore, it hearkened back to Caruso's comments upon hearing the young Rosa Ponselle. Then, as now, only time will tell whether the head will let Moutrie's voice and heart follow their star.
Estonian mezzo-soprano Rael Rent has a monumental voice. Wisely, at this stage of her career, she leans towards the lyrical and the romantic. The first notes that she sang were 'Cruda sorte!' from Isabella's entrance aria in Rossini's L'Italiana in Algeri. After a few minutes of work, Rent was transformed into a commanding yet beguiling woman, who instantly ruled the stage with a gleam in her eye. She also knew the importance of those two words.
Handel and Massenet are natural fits for Rent's rich, alluring voice. As with the Rossini aria, DiDonato guided Rent in establishing a character physically and vocally in 'Pena tiranna' from Amadigi di Gaula and 'Va! laisse couler mes larmes' from Werther. This was a catharsis for the young singer, and it moved all of those watching.
Lawrence Barasa wants to be one of the most amazing tenors in the world and return to his native Kenya to start its first opera company. He melted hearts with 'Una furtiva lagrima' from Donizetti's L'elisir d'amore. That didn't prevent DiDonato from zeroing in on textural and musical elements that lifted it to another level when he sang the entire aria again.
In Mozart and Verdi, Basara's full lyric tenor was equally thrilling. DiDonato's most cogent advice to him was to find the physicality of the character that he is singing, so that what an audience sees is what they are hearing. He got the message.
Łukasz Zientarski wears his ambition to be a great Verdi baritone on his sleeve. For his first aria, he sang 'Perchè, perchè non m'ami più?' from Puccini's Il tabarro, and then yearned to dig into 'Eri tu' from Verdi's Un ballo in maschera. He is too young for all that, but with his charm and good looks, he is a natural for romantic and comic roles.
In introducing himself, Zientarski said that he wanted to work on his dramatic skills. DiDonato took him up on it, but with a twist he probably didn't expect. Both were on their knees and DiDonato coaxed Zientarski into establishing an emotional connection with Valentin, as he sang 'Avant de quitter ces lieux' from Gounod's Faust. The result was remarkable, and Zientarski appeared overwhelmed by the experience.
Zientarski has already sung Leporello in Mozart's Don Giovanni, but with DiDonato posing as Donna Elvira, he discovered greater nuance and depth in the 'Catalog Aria'. He even had to admit he found the role interesting, something he was reluctant to do at the onset.
In her remarks before the first class, DiDonato recalled that while on a safari in Africa, the guide said, 'I can't promise you what's going to happen, but I can tell that something exciting will happen'. DiDonato predicted the same for the three days of master classes. She was right.
A DiDonato class has singing and drama to equal any night at the opera. But more than that, it offers the hope that we will hear more from these five amazing young singers soon.
Rick Perdian
To view the 2022 Joyce DiDonato Master Classes at Carnegie Hall, click here.