United Kingdom Handel, Messiah: Amanda Forsythe (soprano), Jess Dandy (contralto), Thomas Walker (tenor), Ashley Riches (bass), Academy of Ancient Music / Laurence Cummings (director/harpsichord). Barbican Hall, London, 16.12.2022. (CC)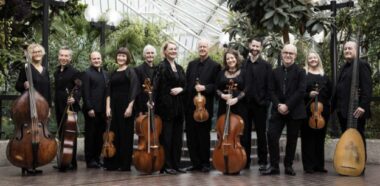 There was no programme insert to prepare us for the substitution of tenor Thomas Walker and bass Ashley Riches for Stuart Jackson and William Thomas respectively, nor any announcement from the stage, so the line-up walking on stage came as a bit of a shock for what was to be a fascinating Messiah. Laurence Cummings, directing (standing) from the harpsichord, offered what might reasonably be called the diametric opposite of the Raymond Gubbay Festival Hall extravaganza I saw and heard recently. Where at the Royal Festival Hall, massed soloists reminded us of days of yore, here the superb (and small) chorus of the Academy of Ancient Music provided the ultimate in clarity. The choir's sopranos, in particular, delivered Handel's tricky lines (that ever-ascending 'King of Kings' for example, or 'And He shall purify') with ease; semiquavers throughout were of perfect accuracy. 'For unto us a child is born' was positively vibrant; the sprightly 'Pifa' (Pastoral Symphony) that follows the perfect orchestral reaction. Cummings's speeds were often on the swift (but never rushed) side; it was more like this Messiah was lit by a continuous stream of electricity. His interventions worked, too: the accents on the chorus's 'and with His stripes' immediately followed by a diminuendo on 'we are healed' before sheer vivacity in sound for 'All we like sheep'. And Cummings's superfast 'He trusted in God that He would deliver him' certainly upped the voltage.
This was a Messiah, too, that started from a place of perfect tranquillity, the opening 'Symphony' tender, intimate, of chamber proportions. Thomas Walker's 'Comfort ye' was similarly scaled, giving scope for some contrast in 'Every valley'; but it was to that sense of serenity that Cummings once more summoned, a couple of hours later, in the final chorus of Part III.
This was, in fact, a fine line-up of soloists. Ashley Riches is no stranger to this piece and his authority was never in doubt; neither was his accuracy (his 'shake' in the accompagnato 'Thus saith the Lord' incredibly clear. He revelled in the drama of 'Why do the nations so furiously rage together', too. The soprano, Amanda Forsythe, was radiant of voice. Only perhaps Jess Dandy, whose voice verges on a contralto, was problematic, purely in the volume of her voice – she was often too quiet particularly in the earlier parts of the work. A shame as her lower register is gloriously warm. Interestingly, Walker and Dandy's greatest moment came together in the massively affecting Part III duet 'O death, where is thy sting?'; warm and darkly beautiful it sat in contrast to Forsythe's phenomenal 'If God be for us' (with some wonderful solo violin contributions from the AAM's leader, Bojan Cičić).
The soprano is the soloist that shines last in the line-up, but that sequence of moments after the 'Pifa' enables us to revel in the sheer beauty of Amanda Forsythe's voice; how her voice glowed at 'And suddenly there was with the angel a multitude'; how humble she was in the air 'Rejoice greatly'.
Good to see David Blackadder as the solo trumpet in 'The trumpet shall sound', but I have heard him in finer form than this, and more secure. No doubting Riches's stunning account of the vocal part, though.
Just briefly to return to Cummings's approach, which often left hardly any gap at all between movements, underlining the ongoing dramatic impetus. That was until the massive influx of people after 'And he shall purify', hugely interruptive. Was this an agreed point at which latecomers who thought it started at 7.30pm could enter? It felt every single shade of wrong here in a performance that was every shade of right! Despite the clear excellence of John Nelson's Coventry Messiah (review here), Cummings's was just the more satisfying overall experience. But how lucky we are to have access to such performances (and a quick reminder that Nelson's is still available to subscribers of medici.tv until Christmas Eve).
Colin Clarke