United Kingdom Debussy: Steven Osborne (piano). Wigmore Hall, London, 5.12.2022. (JC)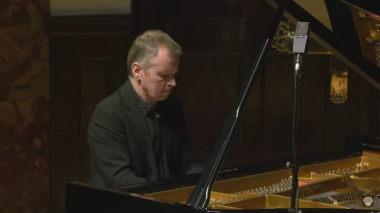 Debussy – Études Books I and II; Berceuse héroïque; Étude rétrouvée
Steven Osborne delivered the full package of dazzling virtuosity and nuanced wit contained in Debussy's complete Études at his recital at the Wigmore Hall this past Monday, which was also broadcast on BBC Radio 3 and is available on YouTube.
Published in a late period in his life, in 1915, only three years prior to his untimely death, the Études show the French composer's deliberate step away from music which gestured towards other art forms — whether they be the Préludes with their poetic subtitles or his opera Pelléas et Melisande which aimed to seamlessly combine speech with music — and back to a purer musical form with deep historical roots. Despite once again receding into the familiar embrace of conventional form, the Études are written in a harmonically experimental language, combining musical artistry with technical demands just as its dedicatee, Chopin, did so wonderfully decades ago. But most importantly, these etudes contain the charming wit which shines forth in Debussy's music, even at a period of global distress and personal darkness.
Number one, Pour les cinq doigts, is the perfect example. It pokes fun at Monsieur Czerny's technical exercises as an out-of-place A flat insistently honks in the left hand while the right plays a standard five-finger C major scale. Steven Osborne opened the piece with a poker face, masking the pastiche with a thin layer of irony, before launching into a ferocious performance of great bravura and energy, showing just how dramatic Debussy's music could be. The second etude of thirds began with a completely contrasting mood, and even as it swelled to great dramatic heights during this technically demanding piece, everything felt very fluid with Osborne's performance. In Pour les quartes, Osborne showed himself not only capable of virtuosity but also of an extremely light touch, allowing him to present various textures that added colour to Debussy's music. This variety of touch added drama to the music and gradually drew us into Osborne's imagination of Debussy's soundworld, which spanned across the etudes. There was always an element of risk-taking in Osborne's performance that kept us on the edge of our seats, especially apparent in the etude on octaves, but never did it feel out of control; the sound was always embracing and the quick changes in articulation were extremely well executed. Pour les huit doigts, which concluded the First Book of the Études, was played with great precision yet never felt mechanical. It was like a pointillist painting seen from afar; the flurry of well-articulated semiquavers always contributed to the broad brushstrokes which revealed the actual substance of the painting.
In between the two books of the Études Osborne inserted two brief pieces written during the same period, the Berceuse héroïque — written in support of the Belgian struggle during the First World War — and the Étude retrouvée, a posthumously discovered etude that is speculated to have been replaced rather than discarded. The Berceuse contained a sombreness and gravitas we had not hitherto encountered in the programme, while Osborne seemed to perform the Étude retrouvée with two brushes: one on his left hand and the other on his right, using different colours simultaneously. Considering Debussy's turn away from music associated with painting, the composer must be turning in his grave to hear me comment on performances of his late works using painting analogies, but alas.
Sparing no time to prepare himself, Osborne launched straight into the second book of the Études, which opens with the highly challenging Pour les degrés chromatiques, a study composed in a light and wispy manner which is perhaps reminiscent of Liszt's Feux Follets; Osborne was, unsurprisingly, technically brilliant, but one always had a sense that sound and feeling came first. The whimsical pour les notes répétées could perhaps have contained more surprises but was brilliantly executed. Osborne seemed to have entered into the last etude, Pour les accords, with its notoriously difficult jumps, a little bit on the fast side, and the opening felt slightly unsteady with some inaudible top notes. However, he regained his composure and control at the recapitulation, making for a very exciting conclusion for a brilliant survey of the complete Debussy etudes.
As an encore, Osborne gave a charming performance of Debussy's simple yet achingly beautiful Reverie.
Jeremy Chan