United States 'Visionary Sounds' from the Orchestra of St. Luke's – Dove, Beethoven: Rita Dove (reader), Jesse Mills (violin), Rieko Aizawa (piano). Orchestra of St. Luke's. DiMenna Center, New York, 29.11.2022. (RP)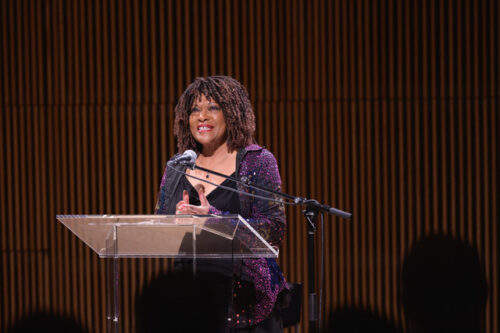 Dove – Selections from Sonata Mulattica
Beethoven – Violin Sonata No.9 in A major, Op.47, 'Kreutzer'
Napoleon wasn't the only one who had a dedication retracted in a fit of rage by Beethoven. Violinist George Bridgetower also merits that dubious honor. This fascinating story served as the basis for the first event in the Orchestra of St. Luke's new, interdisciplinary series entitled 'Visionary Sounds', with Pulitzer Prize-winning and former U.S. Poet Laureate Rita Dove, violinist Jesse Mills and pianist Rieko Aizawa.
Born in Poland in 1778, Bridgetower's father was from the Caribbean, although he styled himself as an African prince. His mother was from Swabia, now in southwestern Germany, and was described as a 'Polish lady of quality'. The senior Bridgetower was a servant in the household of Nikolaus I, Prince Esterházy, who was the patron of Joseph Haydn. It was fertile ground for his son's musical talents to be discovered and nurtured.
Despite his individual accomplishments as a musician, George Bridgetower is best known for his association with Beethoven, who praised the young man as 'a very capable virtuoso who has a complete command of his instrument'. Beethoven composed the Violin Sonata No.9 for Bridgetower, and dedicated it to him with an inscription, 'Sonata mulattica composta per il mullato'. Practically sight-reading the violin part, Bridgetower performed the premiere in Vienna in 1803.
Shortly after that, while drinking with Beethoven, Bridgetower apparently insulted a woman who held a place in the composer's affections. In a pique of rage, Beethoven rescinded the sonata's dedication to Bridgetower and bestowed it instead on Rodolphe Kreutzer, one of the foremost violin virtuosos of the era. Kreutzer did not particularly appreciate Beethoven's music, deemed the sonata impossible to play and never performed it.
Dove was drawn to Bridgetower's story after watching Immortal Beloved, the 1994 film on the life of Beethoven in which the violinist makes an appearance. Her interest evolved into a near obsession with Bridgetower that culminated in Sonata Mulattica: A Life in Five Movements and a Short Play. Published in 2009, Sonata Mulattica is a book-length narrative that fleshes out Bridgetower's remarkable story. Although Dove did research into his life, there is scant historical detail, and most of the poems are drawn from her imagination.
Dove is a singer and musician (her instrument was the cello) and acknowledges that she loves to work with musicians. Her voice is the perfect instrument to express the inherent lyricism and musicality in her poems. Much of what she has to say is conveyed with a sense of wonder, but irony creeps in when she speaks of the experiences of a mixed-race man who, for a brief time, was at the pinnacle of European musical life.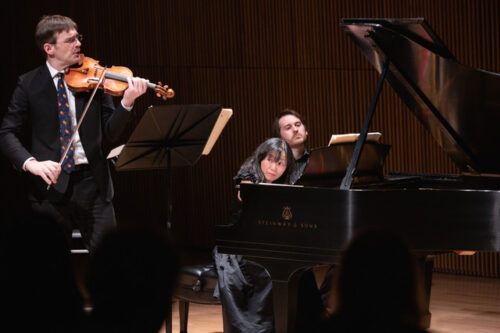 Placed between Dove's reading of her poems were the three movements of the 'Kreutzer' Sonata performed by violinist Jesse Mills and pianist Reiko Aizawa. They are the co-founders of the Horszowski Trio and Duo Prism, a violin-piano duo. The trio was named after the renowned pianist and pedagogue Mieczyslaw Horszowski, who taught for many years at the Curtis Institute of Music in Philadelphia. Aizawa was his last student.
As longtime musical partners, Mills and Aizawa are perfectly in sync with each other. Mills dispatched the formidable technical challenges of the sonata with disarming ease. His was an expressive, lyrical reading, which contrasted with Aizawa's more muscular, dramatic approach. In the middle movement, balance was an issue when Mills's delicate playing was overpowered by the piano.
Musical organizations and performers everywhere are experimenting with ways to attract and cultivate new audiences. There is a human story behind every work of art, and that of the 'Kreutzer' is more fascinating than many. Whether you were a devotee of Dove's poems, a lover of Beethoven's music or just among the curious, this edition of 'Visionary Sounds' was an especially satisfying and rewarding experience.
Rick Perdian