United Kingdom Bacewicz, Dvořák, Mozart: Yeol Eum Son (pianist), Scottish Chamber Orchestra / Andrew Manze (conductor). City Halls, Glasgow, 16.12.2022. (GT)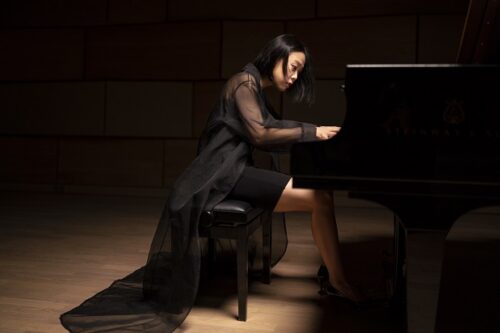 Bacewicz – Concerto for String Orchestra
Mozart – Piano Concerto No.27 in B flat, KV 595
Dvořák – Symphony No.7 in D minor, Op.70
Grażyna Bacewicz (1909-1969) is a composer who has only emerged in recent years; it is clear she was a major figure in Polish music when Lutosławski, Panufnik, and Penderecki dominated Polish music. Indeed, it is only recently that women composers have become frequently performed, offering fresh voices to concert programmes and record studios.
This is the second time that Bacewicz's Concerto for String Orchestra has been heard in Glasgow; last season the Royal Scottish National Orchestra successfully performed it in their subscription series. For me, Bacewicz has many similarities with Shostakovich, but we need to hear her music more regularly to judge her creativity. She started her career as a violinist and studied with Carl Flesch in Paris after studying with Nadia Boulanger. In her early years, she belonged to the Polish avant-garde, but became more individual in her musical style after she wrote this piece which has become the most popular of her works. She certainly has her own voice, and this is a fine introduction to her music.
The opening movement (Allegro) was dynamic and vibrant under the baton of Andrew Manze who clearly believes in this composer. The sound was unpretentious, and sharp in its rhythms, yet richly colourful. There were virtuoso solo passages on the cello by Philip Higham, and by Maia Cabeza on the violin heralding a passage of beautifully atmospheric playing reminding me of Britten. There is a clear individuality of dynamic and life-enhancing ideas.
The second movement (Andante) was deeply sombre with echoes of melancholy and another cello solo by Higham which epitomised the dark colours, in a threnody, perhaps for the loss of a close one. The third movement (Vivo) was dynamic and thrilling in its swift vibrancy. Written in 1948, there are shadows of neo-classicism in this piece with hints of Vivaldi, and Bach, but Bacewicz shows she has a strong individualism and character. There are no less than seven violin concertos, two each for cello and piano, and four symphonies in her catalogue.
On her third visit to Scotland – on either side of the recent pandemic – Yeol Eum Son (interview here) now joined the Scottish Chamber Orchestra in Mozart's last piano concerto, and many of her compatriots were in the capacity audience. Son has forged a remarkable career in the short period after she won awards at leading piano competitions, yet she is more than a highly accomplished pianist at the keyboard, she has a grace and artistry that is still uncommon in the music world.
In the opening Allegro, Manze introduced a brief passage of lively string playing and bright woodwind heralding the entry by the Korean pianist in a pearly decorated sequence of playing. Her keyboard articulation was strongly distinctive, a measure of a full-bodied musical personality. There was a lovely duet between Son and the flute of André Cebrián, and an exquisite, yet meditative cadenza by the pianist of immaculate and vibrantly potent playing.
In the slow movement (Larghetto) there were more masterful moments as we heard a delightfully ornamented solo passage of an almost child-like theme by Son. The orchestra under Manze exhibited all the song-like beauty of this concerto by offering sympathetic support to the soloist. In the Allegro finale, the conductor let loose a thrilling rondo of a playful and skipping melody, but not without a somewhat melancholy passage before a concluding cadenza by Son, heralding the culmination of great energy which brought this joyful concerto to a thrilling end.
As a response to the enthusiastic applause, we heard a delicious encore Étincelles (Sparks), Op.36, No.3 by Moszkowski, that showed a quite different side to this brilliant young Korean musician. On this form, Yeol Eum Son's forthcoming release of all the Mozart sonatas will surely become a bestseller.
The Dvořák Seventh is regarded by many as the composer's finest symphony, and it was heartening that the SCO programmed this in its closing concert of the year. The opening Allegro maestoso, surged with a determined energy, and there was a fine solo from the clarinet of Maximiliano Martin in a passage of glorious playing enhanced by the flute of Cebrián. Manze prompted all the flowing lyricism of the Czech composer's harmonies to come to light and they were embellished by brilliant solos from the flutes and clarinets. In the second movement (Poco adagio) there was a hymn-like passage eloquently announced by Martin's clarinet and Cerys Ambrose-Evans's bassoon in a memorable sequence.
More colourful Czech harmonies emerged in the third movement (Scherzo: Vivace) with its dynamic, beautiful folk inspired themes evinced by the strings in a furiant Czech dance and adorned by the charming, brilliant woodwind. In the Finale: Allegro, we heard superb virtuoso playing, rustically Slavic rhythms and stirring woodwind, decorated in a thrilling exuberance heralding a robust march full of the vivid joy of life in this movement and bringing this superb concert to a gloriously optimistic end.
Gregor Tassie