Spain Richard Strauss, Arabella: Soloists, Teatro Real Chorus and Orchestra / David Afkham (conductor). Teatro Real, Madrid, 28.1.2023. (JMI)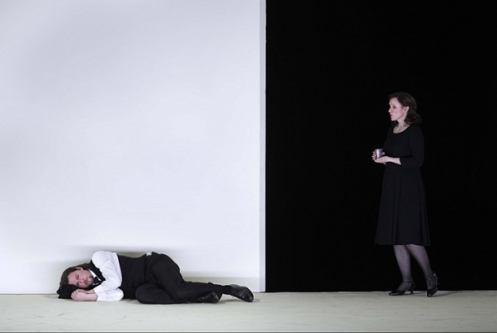 Production:
Director – Christof Loy
Sets and Costumes – Herbert Murauer
Lighting – Reinhard Traub
Choreographer – Thomas Wilhelm
Chorus director – Andrés Máspero
Cast:
Arabella – Sara Jakubiak
Mandryka – Josef Wagner
Zdenka – Sarah Defrise
Matteo – Matthew Newlin
Adelaide – Anne Sofie von Otter
Count Waldner – Martin Winkler
Fiakermilli – Elena Sancho-Péreg
Count Elemer – Dean Power
Count Dominik – Roger Smeets
Count Lamoral – Tyler Zimmermann
Fortune Teller – Barbara Zechmeister
This appears to be the first time that Arabella has been staged in Madrid. It is not a popular opera in Spain, and I don't remember it being programmed here before except at Barcelona's Liceu (most recently in 2014). In 1962, the memorable Montserrat Caballé debuted in the part at the Liceu.
I have always seen this opera in foreign theaters, and I have an indelible memory of a performance that took place in 2014 at the Semperoper in Dresden. The artistic result was truly miraculous under the musical direction of Christian Thielemann and with Anja Harteros in the leading role.
For its premiere in Madrid, we have the production that Christof Loy created for the Frankfurt Opera in 2009, which is the one the Liceu used on that 2014 occasion. The production focuses on the characters, and the most successful act is the third, where the colors black and white play an important role on stage.
The sets are almost the same for the three acts. There is a large sliding door in front which, when opened, allows us to see the Waldners' modest suite in Act I and a staircase with guests for the party in Act II. The third act takes place practically in front of that sliding door. The action is brought up to more modern times, around the middle of the twentieth century, and the actors are directed well.
I have always defended the paramount importance of the musical director in opera, but there are some works where the job is even greater. And that is the case with this Richard Strauss opera. I was not disappointed in David Afkham's reading, although it didn't reach the level achieved by Thielemann, Philippe Jordan or Franz Welser-Möst in my experience. I would highlight Act III where his conducting was at its best. The Teatro Real Orchestra did nicely.
Arabella was sung by soprano Sara Jakubiak, who was a convincing interpreter, as she has always been when I have seen her perform. I think she fell short of what other sopranos have offered in the role: her voice is somewhat impersonal and loses quality in the upper part of the range.
The performance of baritone Josef Wagner as Mandryka was strong. He has a wide voice and sings with expressiveness. Soprano Sarah Defrise as Zdenka did nicely: she has a well-suited, light soprano, although her volume is somewhat reduced.
As Matteo, Matthew Newlin made a good impression, with a light lyrical tenor and singing with gusto. Still in fine voice, mezzo-soprano Anne Sofie von Otter covered the part of Adelaide, Arabella's mother.
Baritone Martin Winkler as Count Waldner and soprano Elena Sancho-Péreg as Fiakermilli were both good, as were the three Arabella suitors, Dean Power, Roger Smeets and Tyler Zimmerman.
José M. Irurzun