United Kingdom Dirty Dancing – The Classic Story on Stage: Dominion Theatre, London, 25.1.2023. (JPr)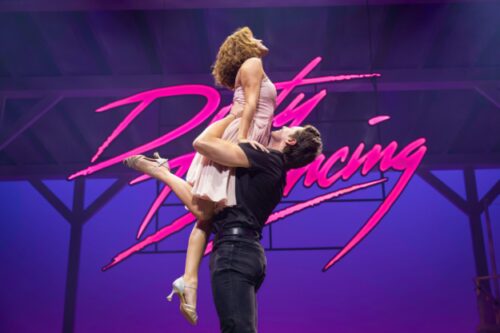 1963 was such a pivotal year in US history: its commitment to the turmoil in South Vietnam deepened, Betty Friedan's The Feminine Mystique was published creating a burgeoning awareness of women's issues, Dr Martin Luther King and his supporters marched on Washington where he gave his famous 'I have a dream' speech, President John F Kennedy made a triumphant visit to still-divided Cold War Berlin where he announced 'Ich bin ein Berliner' but, of course, was assassinated barely five months later. It is to this background that Dirty Dancing is set in a resort hotel in the Catskills, a picturesque area in southeastern New York State. From the 1950s this was a major vacation destination for a clientele that was prominently white and almost certainly Jewish, though in the mid-60s its days were already numbered.
Dirty Dancing was written by Eleanor Bernstein reflecting her own memories of childhood summers in the Catskills and the mambo craze which had prevailed there since the '50s. With its opposites attract Romeo and Juliet tale, the film (staring Jennifer Grey and the late Patrick Swayze) is one that people come back to time and again and clearly since Dirty Dancing – The Classic Story on Stage has toured the world since it was first put on in Australia in 2004, its popularity is not waning. There is a simple effectiveness to Roberto Comotti's sets and Jennifer Irwin's costumes are frequently colourful, but it is Federico Bellone's non-stop high-energy production which makes it easy to see why its success is undiminished. Dirty Dancing is pure romantic escapism and will raise the spirits of even the most jaded of hearts, whilst also creating a longing for the happier, simpler times it portrays.
Not that all is well in the Catskills and in a story underpinning the coming-of-age tale of Frances 'Baby' Houseman with her dance instructor Johnny Castle, there was the more sordid story involving the men at the resorts (often college students) giving late-night lessons to bored women guests after hours, worrying questions concerning the age of consent, misogyny, and racism, as well as illegal abortion. I must add before continuing that I have never seen the film but know of it because of its place in pop culture through clips that you see from time to time; also, as a devotee of Strictly Come Dancing – in all its spinoff incarnations – I have seen the famous lift numerous times. I understand the musical attempts to recreate the film, with all the same songs, plus others they couldn't get for the original film, and several extra scenes.
You certainly don't need to have seen the film to enjoy Dirty Dancing – The Classic Story on Stage though I am sure it helps a great deal; for instance, I must have missed what the large melons were all about until I found out later that they were full of the alcohol fuelling the staff parties we saw. In fact, there is headlong rush through the story with little more than one sentence of exposition at any time from the characters, and some – like me – might want the issues raised to have been dealt with better. Particularly the treatment of Johnny's dance partner, Penny Johnson, who is pregnant by Yale student Robbie (Callum Fitzgerald) who is working as a waiter. Robbie refuses to help Penny and it is Baby who dances with Johnny while Penny is away having a (botched) abortion paid for by money Baby has got from her doctor father, Jake (Lynden Edwards), though he does not know what it is for. It will be Dr Jake who treats Penny and she makes a full recovery and is soon back dancing, with the abortion, her suffering and recovery happening swiftly offstage.
All this creates a schism in the Houseman family after Dr Jake finds out what the money he lent Baby was for and especially because he could lose his licence because of his involvement. They believe it was Johnny who made Penny pregnant while a second daughter Lisa is keen to lose her virginity to the real 'villain' of Dirty Dancing, Robbie. So, some potentially thought-provoking topics play second fiddle to the central love story and basically just interrupted some iconic songs – either as originally recorded or superbly played by a multi-talented six-piece Kelleman's Band – and the brilliant dancing from all-concerned. I suspect Austin Wilks's choreography was, more often than not, faithful to the film and it was in those moments when the dancers sometimes looked as if they were just repeating moves, rather than lovingly recreating them. When it worked it worked such as in the 'Hungry Eyes' scene with Baby, Johnny and Charlotte Gooch's mesmerising hip swivels as Penny.
Kira Malou is an engaging 17-year-old Baby, yes, she is innocent in the ways of love, but clearly realises that the world is changing, wants to do something about it, and more importantly cares about people whoever they are. Malou believably overcomes the challenge of being a very talented dancer trying to look comically awkward as she struggles initially with what Johnny demands of her character and we end up rooting for Baby's happy ever after. Although, why having seen what happened to Penny is she so ready to jump into bed with Johnny?
From what I have seen of the film Michael O'Reilly certainly does a good Swayze impression and the strong vocal response of the women (and some of the men?) in the Dominion Theatre when he emerges from bed only wearing briefs is all you need to know about his physical appearance. Johnny is a man of few words, but the women (in the story and in the audience) are really not particularly interested in what he has to say! However, he is the one protecting Penny and stoically accepts Dr Jake's distain, although that is because he wrongly believes he made her pregnant and not because of his social status, as Johnny believes.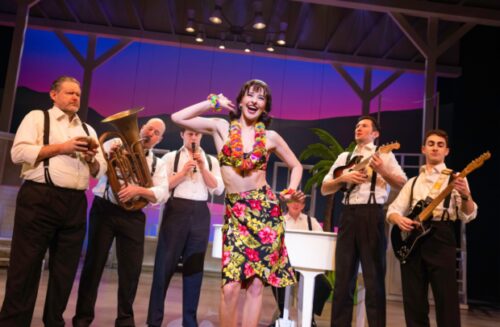 It would have been great to explore Penny's arc more as Charlotte Gooch was such a fine actor-dancer, whilst Georgina Castle as Baby's sister Lisa gives another standout performance. Lisa is not the brightest spark, but her self-confidence makes the 'Hula Hana' scene so memorable with her excruciating singing and dancing as she rehearses for the end-of-season talent show.
There is also some rousing soul singing from the superb lead vocalists, Lydia Sterling as Elizabeth and the impressively flexible Colin Charles as Tito Suarez. It is a great ensemble show so there is wonderful singing elsewhere from members of the cast and it all builds to the outstanding rendition of '(I've Had) The Time of My Life' from Sterling and Danny Colligan's Billy which ushers in the show's triumphant climax and brings the audience to their feet. Johnny has been accused – and then cleared – of stealing yet is still dismissed and has to leave the resort because of his relationship with Baby (who says it couldn't be him because she was with Johnny the night of the theft). Robbie thinks he has got away with everything concerning Penny until all is revealed. Johnny comes back to utter the immortal line 'Nobody puts Baby in the corner' and they perform the dance ending with the lift they had earlier been seen unsuccessfully rehearsing on a log and in and out of a lake. Dr Jake admits he was wrong about Johnny and the Houseman family is reunited.
Dirty Dancing brings some of the best music, singing and dancing you will ever see and hear onstage back to the West End, and for young and old it will keep the outside world at bay while you will have – well, I have got to write it! – the time of your life!
Jim Pritchard
Dirty Dancing – The Classic Story on Stage is at the Dominion Theatre until 19th April, for more information click here.
Cast included:
Michael O'Reilly – Johnny Castle
Kira Malou – Frances 'Baby' Houseman
Charlotte Gooch – Penny Johnson
Lynden Edwards – Dr Jake Houseman
Jackie Morrison – Marjorie Houseman
Georgina Castle – Lisa Houseman
Danny Colligan – Billy Kostecki
Colin Charles – Tito Suarez
Alastair Crosswell – Neil Kellerman
Michael Remick – Max Kellerman
Lydia Sterling – Elizabeth
Tony Stansfield – Mr Schumacher
Chrissy Brooke – Vivian
Callum Fitzgerald – Robbie
Nathan Ryles – Moe
Production:
Writer – Eleanor Bergstein
Director – Federico Bellone
Choreographer – Austin Wilks
Set design – Roberto Comotti
Costume design – Jennifer Irwin
Lighting design – Valerio Tiberi
Sound designer – Chris Whybrow
Music Supervisor – Conrad Helfrich
Supervising Musical Director – Richard John