United States Various: Kronos Quartet (David Harrington, John Sherba [violins], Hank Dutt [viola], Sunny Yang [cello]); Soo Yeon Lyuh (haegeum), Eiko Otake (movement), Peni Candra Rini (vocals and rebab), Ván-Ahn Vô (dàn bàu). Zankel Hall, New York, 27.1.2023. (DS)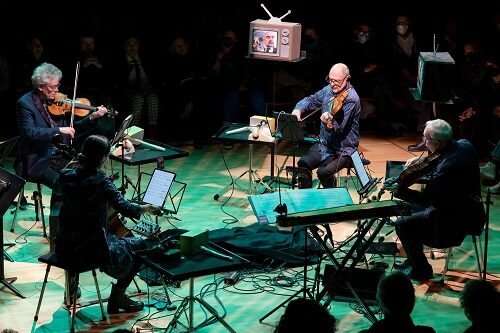 Kidjo – 'YanYanKliYan Senamido #2'
Rini – 'Maduswara' (arr. Jacob Garchik)
Darvishi – 'Daughters of Sol'
Lyuh – 'Yessori (Sound from the Past)'
Swift – 'She is A Story, Herself'
Otake – 'eyes closed' (world oremiere)
Kouyoumdjian – 'I Haven't the Words' (New York premiere)
Vô – 'Adrift' (New York premiere)
Lizée – 'ZonelyHearts' (New York premiere)
When an ensemble's concept both maintains artistic momentum and transcends its musicians, it has reached landmark status – something that can certainly be said of the Kronos Quartet, now in its fiftieth year since the first performance in November 1973. Their recent concert at Zankel Hall marked a change of the guard – it was the second-to-last performance with cellist Sunny Yang before Paul Wiancko takes her place.
Founder David Harrington led the evening with his now-iconic and ever-captivating ability to comment throughout a performance as if his words connect to the works themselves. And connection was most in need this particular evening. While the nine works each offered a unique compositional voice and, in certain cases, compelling and successful realization, it fell together more like a pack-it-all-in closing concert to a light summer festival than the expertly curated show one has come to expect from Kronos. However, the wonderfully intimate, in-the-round setting helped cultivate superior sound, and it offered a closer glimpse into their venerable, personalized and rich craft of ensemble playing.
Many of the works were part of their Fifty for the Future project. Harrington explained that the quartet scores are offered for free on their website – a truly optimistic and energizing project, well worth taking a look through.
The evening began with Angélique Kidjo's 'YanYanKliYan Senamido #2', which can be accessed on the web now. This Benin-born composer is an expert weaver of melodic rhythms and patterns threaded from across cultural borders. Kidjo wrote the piece for the project, and she perfectly matched it to the quartet's ability to maneuver complex phrases and varied timbres but portray them as glisteningly facile and transparent to the listener. The flawless performance was beautifully balanced and highlighted a quality of circular, ongoing motion. It was an ideal opening to set the tone of the evening in which the works that combined Western and non-Western elements proved to be the most successful.
Peni Candra Rini's 'Maduswara', Soo Yeon Lyuh's 'Yessori (Sound from the Past)' and Ván-Ahn Vô's 'Adrift' included non-Western instruments on which the composers played and joined the quartet. Rini performed with the ensemble on the Javanese rebab, a two-string, lute-like instrument. In 'Maduswara', her dedication to blending Javanese style with Western scales along with a compositional ethic of saving subtle, traditional sounds came together like an epic poem. The recorded sounds of rain and nature lent a vastness to her work through which her singing articulated a sensitive manipulation of each pitch that seemed to sculpt the air around her.
The string quartet's agile collaboration with composer/performers continued with Lyuh, who emerged (dazzling in a two-toned green lace gown) to play the Korean fiddle-like, two-string haegeum. In 'Yessori', she thought of the string quartet as 'an extension of haegeum', which she succeeded in realizing with the ingenious use of trills, vibratos and wobbled bowings that never seemed reductive but became required ingredients in expressing an encounter with traditional Korean music. Lyuh's own performance was lyrically virtuosic, and the haegeum solo she played before the end was deeply expressive.
Similarly, Vô transported listeners to far-off lands in 'Adrift'. She joined the quartet with the Vietnamese dàn bàu, a one-string zither. Inspired by a Vietnamese idiom of resilience passed down by her grandparents, this work evoked a deeply personal tone that, at times, slid into a jazz-like dream and attached a captivating, stylish aesthetic to a serious tone. Vô clearly knew how to guide each instrumental voice, either into a shining central focus or blended back into a supportive role.
The rest of the works took their own turns and did not respond in any significant way to the others. Mary Kouyoumdjian's 'I Haven't the Words' had the most satisfying structure and evocative expression. Originally improvised on piano in response to George Floyd's death, Kronos asked her to transform it into a quartet. She refers to it as a 'journal entry'. It digs into the soul – the passages move around together in register, shortening or broadening in rhythmic unison, to evoke deep questioning, lost ruminating and, ultimately, sorrow. (This work tragically had its New York Premiere a mere hour from the release of the brutal video of Tyre Nichols' arrest.)
Aftab Darvishi's 'Daughters of Sol', inspired by an Ahmad Shamlou poem, began with promise. She used an interesting slippage of sounds and created a bittersweet mood of curiosity and melancholy, but the work was still looking for its center. Similarly, Mazz Swift's 'She Is A Story, Herself' – about the writer Andrea Lunsford – began with distinctive energy powered by pizzicatos, slides and bold ricochets. It played out episodically, which I found unexpected, and also begged for a sense of thematic core.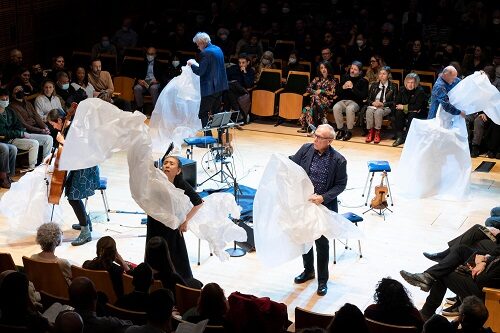 A nod to more 'traditional' avant-garde, as one might call it now, came from Eiko Otake's 'eyes closed' and the final work of the evening, 'ZonelyHearts' by Nicole Lizée. Otake's work was more of a 'happening', and the instrumentation – cello only – felt forced. Otake and the others crinkled, crumpled and ripped huge pieces of white tissue paper in a movement choreography, mostly molding sublime, cloud-like shapes in the air. This created a continuous and pleasantly analog, static-like sound. However, the interlude seemed out of place, and then became awkwardly dramatic as it ended in screams and scraping cello improvisations.
Lizée's ZonelyHearts also verged on a 1950's downtown-style happening in this nod to The Twilight Zone by Rod Serling, whom we hear repeating 'The only way out is through' in voiceover. With quirky cardboard TVs and old telephones on stage, it pulled the concept of a 'prepared piano' work, but for quartet, along with DJ-like samplings interspersed. While playful and conceptually interesting at moments, it read as a work-in-progress in need of refining – both in composition and between ensemble players.
But, never mind. The total sum of the evening was memorable and offered much worth revisiting. Being able to look down upon the stage and see each musician's process was truly special, particularly with such a varied set of works. Finally, before Harrington bade us farewell in that deeply calming voice, the quartet performed a landmark work for an encore – Laurie Anderson's 'Everything is Floating'. It was gorgeous.
Daniele Sahr