United Kingdom R. Strauss, Elektra: Soloists, Chorus and Orchestra of the Academy of Santa Cecilia / Sir Antonio Pappano (conductor). Livestreamed (directed by Marco Patino) from the Auditorium Parco della Musica, Rome, 18.10.2022 and available on Rai Play. (JPr)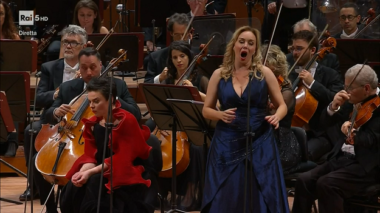 I will revisit some earlier thoughts about Elektra by explaining how 'Electra complex' is the psychoanalytic metaphor for daughter–mother psychosexual conflict and is named after the fifth-century BCE Greek mythological character who – as recounted by Sophocles and Euripides – plotted with the aid of her brother Orest to kill their mother, Klytämnestra, and stepfather, Ägisth, because they murdered their father, Agamemnon.
Sigmund Freud called a girl's sexual competition with her mother for her father, the feminine Oedipus attitude and the negative Oedipus complex. The latter term was something he first used in 1910, coincidentally the year after the first performances of Richard Strauss's opera. However it was Freud's collaborator Carl Jung who actually used the term 'Electra complex' just a few years later, though this was famously rejected by Freud as being psychoanalytically inaccurate: 'what we have said about the Oedipus complex applies with complete strictness to the male child only, and that we are right in rejecting the term "Electra complex", which seeks to emphasise the analogy between the attitude of the two sexes'.
Despite Strauss's opera being based on ancient Greek mythology, it is regarded as both modernist and expressionist. Hugo von Hofmannsthal and Strauss's adaptation keeps Elektra on stage all the time after her first entrance – and more often than not in the spotlight. (In fact, the stage director in Rome, Alessandra De Sanctis, has Ausrine Stundyte's Elektra glowering on the side of the platform right from the start.)
Elektra explores the eponymous character's emotions and psychological motivations as she meets, mostly one at a time, Klytämnestra, Orest, Ägisth, as well as duelling with her sister, Chrysothemis, and apart from Elektra none of them get enough time on stage for any real character development and are secondary to her cries for vengeance and the opera's blood-soaked denouement.
Prior to the opera, Elektra's father has already been murdered with an axe which remains a potent physical and musical motif during the following 100 minutes. A four-note theme begins the opera, recurs during it, and brings it to a close: it is to this leitmotif that Elektra will sing 'A-ga-mem-non'. Elektra, who has suffered abuse by both her mother and Klytämnestra's lover, Ägisth, is mourning her dead father. Elektra is initially cowed and – the libretto's stage direction says – runs back into the palace 'like an animal to its lair'. Her sister Chrysothemis wanders around like a victim of this dysfunctional family and longs to be somewhere else and have a happier life. Their brother, Orest, has escaped into exile only later to return and become the first significant male voice in the unfolding events (and that is after about an hour).
The action, such as it is, begins with five maids washing Agamemnon's blood from the mosaic floor. They are kept to their task by the whip of a cruel Overseer and together the maids discuss Elektra's madness. In a long monologue ('Allein! Weh, ganz allein') Elektra remembers Agamemnon and reveals how she is determined to avenge him and how with her sister and brother the deed will be done, and then she will dance 'a royal dance of victory' at her father's grave. It is almost as if Strauss is revisiting his earlier Salome and after much to-ing and fro-ing from the characters both major and minor, Chrysothemis comes out of the palace to announce that the returned Orest is inside and has killed both Klytämnestra and Ägisth; with a massacre having begun as his followers have also killed those who supported them.
Chrysothemis goes into the palace to be with her brother, while Elektra is ecstatic and begins to dance. The fact that she has achieved what she wanted overwhelms her and at climax of her dance, she falls down dead. The last we hear is Chrysothemis calling for her brother, Orest, which mirrors Elektra's earlier cries for Agamemnon. Perhaps Strauss is hinting that the incest will continue. What else he wants us to experience is a little obscure – apart perhaps from 'Beware the angry woman'. This may – or may not – have something to do with Strauss's own apparent 'Mommie Dearest' issues!
I am struggling to remember a better Elektra than Ausrine Stundyte in previous performances I have seen and heard. Within the context of a concert presentation (with everyone in formal concert dress), even when she sat on a chair, Stundyte was fully engaged throughout. She sang without any hint of vocal strain, and with considerable power and vocal intensity, Stundyte's Elektra was undoubtedly angry, bitter, vindictive, though also surprisingly feminine, especially in the Recognition Scene where her affection for Orest was palpable.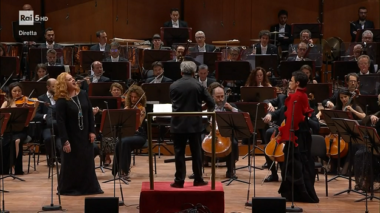 It is usually Elektra's more conventional sister, Chrysothemis, who has all the feminine emotions she keeps in check. The tender-hearted Chrysothemis is therefore more human, yet she is still vulnerable and Elisabet Strid acted all her character's hopes and fears to perfection. Strid sang with commendable lyricism, and pure tone, rarely can the two sisters have seemed so well-matched, so related. As the wicked queen, Petra Lang's mother from hell was a monstrous creation and it was impossible to believe this was her role debut as Klytämnestra. Lang was the personification of Strauss's murderous harridan because of her remarkable singing and dramatic acting and her cackling laughter as she left the platform cannot easily be forgotten.
In the two leading male roles, the always impressive Kostas Smoriginas was a dark-toned, implacable Orest, and Neal Cooper's Ägisth just concentrated on singing this short, but fiendishly difficult, role with his usual accomplishment and avoided showing how grotesque the character is. The rest of the small parts were generally well-taken by an ensemble of talented singers, although I thought the maids initially a rather uneven quintet.
Strauss's score is raucous and relentless, and you will hear Wagner's Ride of the Valkyries time and again, and musical repose – what there is of it – comes from the large chunks you will also recognise from Strauss's next opera Der Rosenkavalier. Sir Antonio Pappano visibly expended a lot of his energy in leading the Orchestra of the Academy of Santa Cecilia (of which he is music director) in supporting the supercharged singing we heard with their account of Elektra which had symphonic sweep and a wide range of Straussian tone colours.
Jim Pritchard
Ausrine Stundyte – Elektra
Elisabet Strid – Chrysothemis
Petra Lang – Klytämnestra
Neal Cooper – Ägisth
Kostas Smoriginas – Orest
Nicolò Donini – Orest's tutor
Ariana Lucas – Handmaid I
Anne Schuldt – Handmaid II
Monika-Evelin Liiv – Handmaid III
Katrin Adel – Handmaid IV
Alexandra Lowe – Handmaid V
Leonardo Cortellazzi – A young servant
Andrea D'Amelio – An old servant
Maura Menghini – The overseer
Marta Vulpi – The confidante
Bruna Tredicine – The trainbearer
Cristina Cappellini, Sara Fiorentini, Antonella Capurso, Roberta De Nicola, Federica Paganini, Tiziana Pizzi – Six servants
Alessandra De Sanctis – Director