United Kingdom R. Wigglesworth, Mahler: Elizabeth Watts (soprano), BBC Symphony Orchestra / Ryan Wigglesworth (conductor). Barbican Hall, London, 20.1.2023. (JR)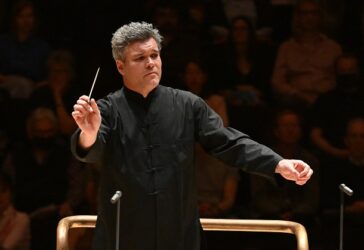 R. Wigglesworth – Till Dawning (UK premiere)
Mahler – Symphony No.5
This concert allowed composer/conductor Ryan Wigglesworth, recently appointed Chief Conductor of the BBC Scottish Symphony Orchestra, to present for its UK premiere his recent orchestral song-cycle entitled Till Dawning. Wigglesworth has taken four poems by George Herbert (1593-1633), from a collection posthumously titled The Temple to form a sequence to mark the principal events of Holy Week. The Agonie, the work's first movement, opens most attractively with harp and celeste tinkling as though it is dawning and there is dew on the grass. The central section is noisy and discordant as Herbert describes the crucifixion; here the soloist struggles to be heard. The second song is a sort of scherzo with particularly playful, witty orchestration, burbling woodwind and woodblock – the protagonist realises that the victim of a mugging is his greedy landlord. The third song describes the resurrection, and all is brought neatly together in the final Easter II with a huge orchestral climax.
As is appropriate for the subject matter, there is little joy and levity in the work, but plenty of invention and transparency; a recurring single melody holds it all together. Wigglesworth's word setting is sensitive and soprano Elizabeth Watts gave a sterling performance, strong at bottom and top of the registers, diction clear, intonation never wavering. This is a modern work which deserves, and I hope will be given, repeated performances.
Many of my generation watched Luchino Visconti's Death in Venice and wallowed in Mahler's Adagietto from his Fifth Symphony; today it is the film Tár which is introducing this wonderful score to potential new concertgoers. There were plenty of young people in the audience, which gladdened the heart, even though many of them were permitted to bring in their drinks (and crisps!). Thankfully, they were all spellbound by the music and did not distract attention from the performance in any way.
Wigglesworth proved a masterful conductor in this piece, alive to every detail and, particularly in the final movement, highlighting some passages, which often go unnoticed. His broad sweeping gestures were most effective. Eeriness predominated in the opening Funeral March. The second and third movements were perfectly judged, tempi always judicious. Whilst the strings may not have much of a bloom, woodwind and horns were all first-rate and the principal trumpet (Philip Cobb), clarinet (Richard Hosford), and trombone (Helen Vollam) all had a good night. There were signs of plenty of rehearsal (woodwind and horn bells held high) and as usual, it was a live broadcast on BBC Radio 3.
The breath-taking Adagietto was not over-sweetened; and there was intelligent placing of the harp almost front stage, both visually and sonically pleasing.
I hope that the BBC SO can coax Wigglesworth down to London more often to give us more Mahler, clearly he has a penchant for this composer. The audience audibly thought so.
John Rhodes