Austria R. Strauss, Salome: Soloists, Vienna State Opera Orchestra / Philippe Jordan (conductor). Vienna State Opera, Vienna, 4.2.2023. (MB)
Production:
Director – Cyril Teste
Artistic collaboration – Céline Gautier
Designs – Valérie Grall
Costumes – Marie La Rocca
Lighting – Julien Boizard
Video design – Mehdi Toutain-Lopez
Video design (live camera) – Rémy Nguyen
Choreography – Magdalena Chowaniec
Dramaturgy – Sergio Morabito
Cast:
Herod – Gerhard Siegel
Herodias – Michaela Schüster
Salome – Malin Byström
Jochanaan – Wolfgang Koch
Narraboth – Daniel Jenz
Page – Patricia Nolz
Jews – Thomas Ebenstein, Andrea Giovannini, Carlos Osuna, Katleho Mokhoabane, Evgeny Solodovnikov
Nazarenes – Clemens Unterreiner, Attila Mokus
Soldiers – Ilja Kazakov, Stephano Park
Cappadocian – Alejandro Pizarro-Enríquez
Slave – Daniel Lökös
Executioner – Alexandre Cardoso da Silva
Cameraman – Benedikt Missmann
Little Salome – Margaryta Lazniuk
Little Salome (Dance/Video) – Anna Chesnova
At last, a new Salome comes to Vienna, Boleslaw Barlog's venerable (1972!) staging finally having been retired. Cyril Teste's new production has much to recommend it, both in itself and as realised by cast and orchestra. At first sight, all is as one might expect from a contemporary staging. Herod's court has a mix of modern(ish) civilian evening dress and military uniforms. Guests are seated at a long table and champagne flows. We see them not above, as in David McVicar's long-running Covent Garden production, but behind. But we see greater detail through live video. Herod's leering obsession with Salome is already apparent. A state banquet is the setting, but the tragedy for Teste is familial; in a programme interview, he sees parallels with Hamlet. I am not sure I see it that way, really. The aestheticism of both Wilde and Strauss seems, at least in Teste's spoken outline, somewhat shortchanged. In practice, though – and this is surely more important – the production is open enough to allow one to approach it from one's own standpoint and not feel disappointed, quite the contrary.
There is commendable attention to atmospheric detail, contributing considerably to a more detailed whole. Curtain movement chillingly – in more than one sense – conveys the sinister evening wind. More fundamentally, the detail of camerawork not only brings to life more that is going on, more than one can reasonably take in on a single viewing, but also enables Herod's pornographic intent to reveal itself. For this Salome is not only a family tragedy; it is a tragedy of an abused girl/young woman. Salome's dance is closely filmed, split between her and a memory of her still younger self. Initially parts of it seem odd, bizarrely awkward, as when she flexes her muscles, but one realises that is the point. Salome is both too knowing and not knowing enough; a part of her is shockingly, even heartbreakingly, innocent. And yet we must watch. Even the Tetrarch finds it impossible to watch some of it, head in hands toward the side of the stage, though that does not subtract from his glee at its close. He would probably prefer a private viewing. Aestheticism, then, comes here after all; we should always beware rulers who also think themselves artists.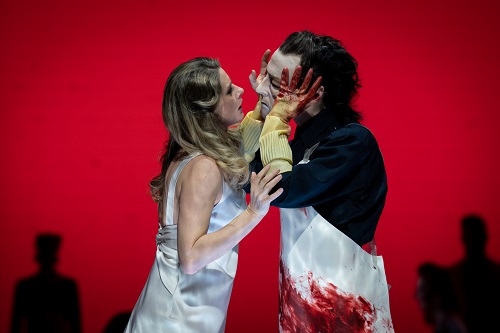 I am (nearly) always surprised how most productions put entirely to one side Salome's explicit reference to homosexuality; it is not even a subtext, but a text, Salome promising Narraboth a green flower if he will do her bidding. In my experience, only Hans Neuenfels's brilliant Berlin staging has taken the opera at its word here (assuming we do not count David McVicar's gratuitous nude executioner). The production certainly does not lack other sexual content, though, culminating in a gripping collision between Salome, the executioner, and the head of John the Baptist he has brought up from the cistern employed as a mask. Ultimately the executioner, at Herodias's bidding, withdraws, but not before he too has had his piece of the girl. Moreover, the now common portrayal of Herodias's page, sung by a female voice yet unquestionably a male role, as an androgynous woman poses, or at least suggests, further questions of gender, even as it takes us further from Wilde's green carnation.
This would count for relatively little, were it not for a host of outstanding performances onstage. Malin Byström fully inhabited the title role from beginning to end, in as fine a performance as one could hope to see and hear. Gerhard Siegel did not mistake grotesquerie of behaviour for a licence not to sing. His Herod was all the more plausible, as well as all the creepier and more sinister, for its vocal qualities. Michaela Schüster was surely destined for Herodias, her portrayal effortlessly iconic – for once, the much-abused word seems fitting – in its small observations as in its effortless hauteur. Ultimately, rule is hers, at least until eclipsed all too briefly by her daughter. Wolfgang Koch's Jochanaan is a typically intelligent portrayal: necessarily direct in its prophecy, yet subtle in its interplay of words and music. The finest Narraboths always leave one wishing for more, that the officer's tragedy might be averted. Daniel Jenz was no exception, his Narraboth sweetly sung, imploring and bewitched. Cast from seemingly endless depth, this Salome had everyone, however small the role, contribute to a greater whole. For me, the two Nazarenes, Clemens Unterreiner and Attila Mokus, especially caught the ear, but it may well have been others—and surely was for others in the audience.
The Vienna State Opera Orchestra was on excellent form too, full of rich, warm tone in which to luxuriate, yet ever precise and directed. It may not be quite the period instrument here, Salome having reached the house as late as thirteen years after its 1905 Dresden premiere; one might nonetheless have been forgiven for thinking so. That precision owed much, of course, to Philippe Jordan's thoughtful conducting. If this were not a Salome on which he stamped an indelibly personal mark – one might think here of, say, Karajan's Salome – that was surely not Jordan's intention. In permitting the score, after the necessary cliché (and illusion), to speak for itself, he was less neutral than responsive to the particular requirements of the stage.
Mark Berry