United States Mozart, The Marriage of Figaro: Chorus and Orchestra of LA Opera / James Conlon (conductor). Dorothy Chandler Pavilion, Los Angeles, 19.2.2023. (JRo)
Production:
Director – James Gray
Associate Director – Gilles Rico
Sets – Santo Loquasto
Costumes – Christian Lacroix
Lighting – York Kennedy
Chorus director – Jeremy Frank
Choreography – Kitty McNamee
Cast:
Figaro – Craig Colclough
Susanna – Janai Brugger
Count – Lucas Meachem
Countess – Ana María Martínez
Cherubino – Rihab Chaieb
Doctor Bartolo – Kristinn Sigmundsson
Marcellina – Marie McLaughlin
Don Basilio – Rodell Aure Rosel
Antonio – Alan Williams
Barbarina – Deepa Johnny
Don Curzio – Anthony León
Stolen kisses, billets-doux, mistaken identities and Mozart are the honeyed ingredients of The Marriage of Figaro. Add to the mix an exemplary new staging at Los Angeles Opera, in a co-production with the Théâtre des Champs-Elysées in Paris, and the delights are manifold.
The production feels inspired by the fêtes galantes paintings of Antoine Watteau and the Spanish idylls of Francisco de Goya. Costume designer Christian Lacroix, set designer Santo Loquasto and director James Gray have created a delightful world honoring Beaumarchais's vision, Da Ponte's libretto and, above all, Mozart's music.
With a charming curtain that illustrates commedia dell'arte characters, the vast space of the Dorothy Chandler felt more like an intimate theatre. From the short presto introduction to the emotionally charged conclusion, the score was in the sensitive and sure hands of James Conlon and the LAO Orchestra. To enter Mozart's musical world guided by Conlon is to savor all that's fine in the human spirit.
The Beaumarchais play was thought of as a portent of the French Revolution: it leveled the classes by spoofing and hobbling the aristocracy. Never has 'below and above stairs' been so radically portrayed as in the play and in Mozart's opera, where servant outwits master, thwarting through clever machinations his right of droit du seigneur. Just as radical was Mozart's belief that women were more evolved than men. The maid servant, Susanna, and her mistress, the Countess, are united in their intention to deny the Count his feudal right to sleep with Susanna on her wedding night, and their class differences are eradicated in their sisterly harmony.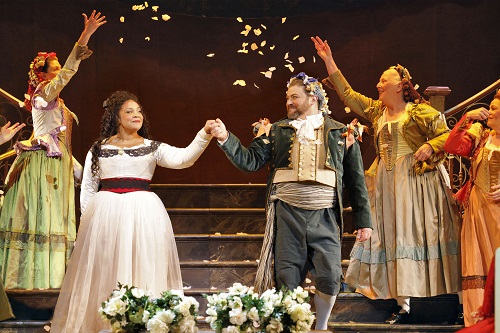 Musically and dramatically the Susanna of Janai Brugger and the Countess of Ana María Martínez were a well-matched pair as they confided, connived and changed places to teach their inferiors, Figaro and Count Almaviva, some necessary lessons. Martinez's warm, lyric spinto counterpoised Brugger's sparkling soprano, culminating in the rapturous letter duet. Martinez brought a captivating fragility to the Countess. Although she began slowly with the lament 'Porgi amor', her voice and dramatic skills grew in poignancy and stature with Act III's 'Dove sono'. Brugger's wide-eyed presence and comic timing spoke volumes about her good sense, loyalty and sensuality as she flirted with her betrothed, Figaro, or repelled the advances of Almaviva. Her tender side was on display in her shining Act IV aria, 'Deh vieni non tardar'.
With Lucas Meachem's Count, the opera was served by a powerful baritone of imposing stature. His physically commanding presence made him a threatening figure and emphasized the predatory nature of a sexually-entitled aristocrat. His portrayal served the comedy of manners as he railed, cajoled and barreled his way through a day in the life of his staff and neglected wife. No mere cardboard character, his humanity came to the fore at the end of the opera. Meachem made the most of the moment as he begged the Countess for forgiveness in a poignant duet.
Figaro, sung nimbly by Craig Colclough, played the part of the commedia dell'arte clown with relish. In turn fanciful, farcical and befuddled, his scheming Figaro was more a creature of circumstance than a puppeteer pulling the strings. His posturing was reminiscent of Jacques Callot's seventeenth-century etchings as he bowed, scraped and rocked on his heels. It was a delightful portrayal, made memorable by his ripe and flexible baritone in Act I's 'Non piu andrai, farfallone amoroso'.
Rihab Chaieb was an ardent Cherubino, more the determined boy than hapless youth, who mined the physical attributes of the adolescent male for maximum humor. Her silky mezzo-soprano shined in the tender 'Voi che sapete'. Kristinn Sigmundsson as Doctor Bartolo was a pleasure to watch, a storybook character come to life, hovering over and around Marie McLaughlin's adept Marcellina as he sang 'La vendetta' in his darkly-shaded bass.
Rounding out the cast were Deepa Johnny as Barbarina, who made her LAO debut as Eliza in Omar and is a singer to watch; Rodell Aure Rosel as Don Basilio, who mined the role for maximum comedy; Alan Williams as the gardener, Antonio, who inadvertently foils Cherubino; and Anthony Leon as the lawyer, Don Curzio.
Nowhere is the glory of Mozart's incomparable score more evident than in the final ensemble. After so much agitation, contentment settled on the principals like fairy dust and, if only for a few precious moments, the world seemed in balance.
Jane Rosenberg