United Kingdom Brahms and R. Schumann: Schumann Quartet (Erik Schumann, Ken Schumann [violins], Veit Benedikt Hertenstein [viola], Mark Schumann [cello]), Pablo Barrágan (clarinet). Wigmore Hall, London, 7.2.2023. (MB)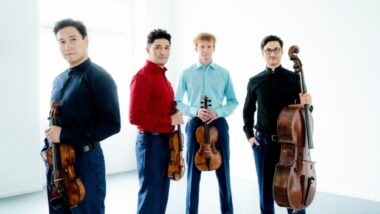 Brahms – String Quartet No.3 in B-flat major, Op.67; Clarinet Quintet in B minor, Op.115
R. Schumann – String Quartet No.2 in F major, Op.41 No.2
Brahms and Robert Schumann fit, for many reasons, like a glove. Participation of the Schumann Quartet (named after its three Schumann brothers, not the composer) does no harm either; nor indeed, on the evidence of this concert, does a guest appearance from clarinettist Pablo Barrágan. This was an evening of fine music-making throughout, evidently appreciated by the Wigmore Hall audience.
First up was the third and last of Brahms's surviving string quartets. (He is said to have destroyed his first dozen, even twenty, attempts, so fierce was his self-criticism, those first efforts having been made at Robert Schumann's urging.) With the Schumanns, the first movement and much of what was to follow wore their Beethovenian inheritance brightly. Even Brahms's trademark metrical complexity seemed to spring to an unusual extent from Beethoven's syncopation. There was something of late Beethoven's fragmentation too, from at least the second group onwards, though there was never any denying Brahms's own voice in the work's undergrowth. None of it, of course, is remotely easy listening, and the development too us to greater extremes, no attempt made, quite rightly, to smooth the edges. The recapitulation seemed, in duly Beethovenian fashion, at least as much a second development as a return.
I was struck, in the second movement, by the relish with which the players communicated Brahms's melodic profusion: first led by Erik Schumann's first violin, proceeding to involve all. Still more important was the creation of an emotional world, poised between tragedy and something more affirmative, that engendered. Ghosts of the past made their presence felt: not only Beethoven, but Schumann, Bach, Schubert too. It was luminous, yet unquestionably grounded. A more turbulent third movement followed, seemingly darker and lighter, sometimes by turn, sometimes at once. Veit Benedikt Hertenstein's viola emerged, properly, as first among equals, soon rivalled by Mark Schumann's cello. Restless until the end, it prepared a fine contrast with the post-Classicism in work and performance of the finale, charm no more precluding depth than it would in Haydn. Serenity and joy were hard won, and all the more appreciated for that. Here was fulfilment, predicated on prior intense longing.
The first movement of Schumann's F major Quartet, Op.41 No.2, heard him in notably post-Classical style too. The unhurried approach of the Schumanns sounded just right to me: Allegro vivace does not mean the music should be harried, quite the contrary. The theme of the second movement was more inward, exuding all the charm of a 'characteristic' piano piece. Variations offered individuality and cumulative unity. By contrast, the Scherzo and Trio's intensity and frankly involved character presented a later, almost Tchaikovskian Romanticism. The finale was delightfully puppy-like in character: a Haydn tribute, so it seemed, though with a Romantic heart.
For the second part, we returned to Brahms, to the Clarinet Quintet. Poised and searching, the first movement presented the clarinet now as first among equals, though Barrágan would generously cede as required. Fuller texture combined with still greater sense of chiaroscuro that attended a keen sense of form — and, with that, an equally keen sense of the Mozartian perfection of late Brahms. The Adagio's sweet melancholy and resurgent passion, painful in their memories, contributed further to an idea of 'lateness' that was anything but maudlin. Romantic questing captivated in the Andantino, relative lightness of tone yielding ambiguously to darker impulses. Stoicism was the order of the day at the onset of the final theme and variations, which unfolded with all the complexity of a human being's warring passions. The path taken seemed inevitable at the close, though everything had been to play for during its course. This fully involving performance was followed by an encore arrangement, again for clarinet quintet, of Schumann's Abendlied: once more poised and with subtly convincing depth.
Mark Berry