United States Humperdinck, Hänsel und Gretel: Soloists, Chorus and Orchestra of Lyric Opera of Chicago / Sir Andrew Davis (conductor). Civic Opera House, Chicago, 3.2.2023. (JLZ)
Production:
Original Director – Richard Jones
Revival Director – Eric Einhorn
Sets and Costumes – John Macfarlane
Lighting – Jennifer Tipton
Children's Chorus master – Josephine Lee
Choreographer – Linda Dobell
Cast:
Gretel – Heidi Stober
Hansel – Samantha Hankey
Mother – Alexandra LoBianco
Father – Nicholas Newton
Sandman, Dew Fairy – Denis Vélez
Witch – Jill Grove
The Lyric Opera of Chicago revival of Richard Jones's staging of Hänsel und Gretel was appealing from start to finish. The uniformly strong cast, outstanding musical direction and deft staging brought details of this familiar score to the stage.
The production remains attractive under Eric Einhorn's direction, and it provides an apt setting for the 1893 opera. The primary colors and sometimes over-the-top sets fit the work nicely, especially the cluttered witch's kitchen. Attention to detail was not limited to the visual dimension: it was immediately audible in the strong vocalism that distinguished the performance.
Heidi Stober brought Gretel to life. She conveyed a young girl's enthusiasm in her gestures and movement while giving the vocal line a virtuosic polish, matched by her clear diction: one could hear every German word with crystal-clear precision. Stober worked well with Samantha Hankey, who gave Hansel a similarly solid approach. In their duets, they seamlessly delivered the music with full voices and appropriate intensity. The spot-on performance let one tune lead into another in Act I, and they gave a fine reading of the children's prayer at the end of the second.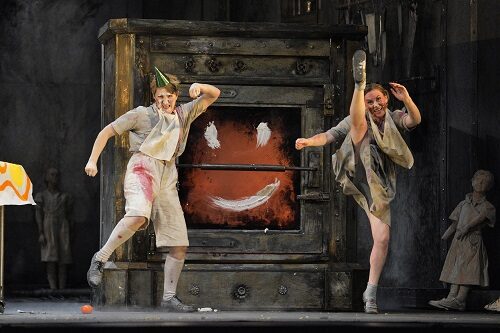 Alexandra LoBianco was equally strong as the mother. On this evening, Alfred Walker was ill, and Nicholas Newton replaced him as the father. Engaging dramatically and vocally, Newton added much to the show: his even sound was impressive, especially in the higher passages that do not always benefit from the easy delivery that he brought to the character. He worked with LoBianco to bring Act I to its conclusion effectively and was equally strong in the final act, when he and his wife find that their wayward children defeated the witch.
As the witch, Jill Grove reprised the role that had impressed Lyric audiences when this production appeared several years ago. Grove clearly took great pleasure in the witch and sang with the rich voice that audiences know from her exceptional participation in Wagner's operas. In this deliciously wicked part, Grove made the witch a strong enough force to elicit cheers from some parts of the audience when the children defeat her.
The strong principals gave it all a festival-like quality, and Sir Andrew Davis deserves credit for his persuasive interpretation of Humperdinck's score. The orchestral passages shimmered to create the fairytale world aurally, with the timbres never overbalancing the singers. Sonorities blended fittingly, with the brass having a particularly burnished quality. Most of all, the focus and drive that came from the pit carried onto the stage throughout the opera. The entrances never failed, and ensembles fitted together with welcome exactitude. The result was reflected in the extended applause that capped the evening.
Congratulations to Lyric Opera of Chicago for this outstanding effort.
James L. Zychowicz