United Kingdom Rossini, The Barber of Seville: Soloists of Ulster Touring Opera / Gary Matthewman (musical director / piano), Gillian McCutcheon (clarinet). The MAC Theatre Belfast, 15.2.2023. (RB)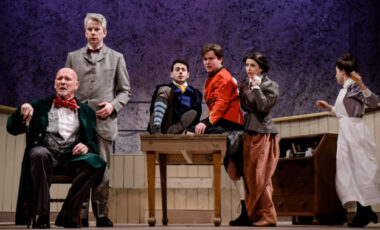 Production:
Director – Dafydd Hall Williams
Set designer – Ross McDade
Costume designer – Arlene Riley
Lighting designer – Paul Hinchcliffe
Cast:
Rosina – Sarah Richmond
Figaro – Thomas Chenhall
Dr Bartolo – Wyn Pencarreg
Count Almaviva – Jack Roberts
Basilio – Malachy Frame
Berta – Lorena Paz Nieto
Fiorello – Henry Grant Kerswell
Ulster Touring Opera launched their flagship concert in Spring 2022 and this production of Rossini's Barber of Seville was their first full production. The MAC Theatre in Belfast was sold out, which goes to show that there is a significant appetite for opera among the general public.
Rossini composed The Barber of Seville in just three weeks, and it received its premiere in 1816. The libretto was based on Beaumarchais's play of the same name, which was written in 1775. The first performance did not go well as there was a commotion created by admirers of a rival composer, Giovanni Paisiello, who had already used the same material. However, things recovered quickly after that, and it has since become one of the most frequently performed and best-loved operas of all time. Mozart's The Marriage of Figaro, which was based on a follow-up play by Beaumarchais, was written thirty years earlier so Rossini's opera is effectively a prequel to that work.
Ulster Touring Opera are clearly a fledgling company and did not have access to a full orchestra for this production. I had initial misgivings about the fact the Rossini's orchestral forces were reduced to piano and clarinet. Having said that, Gary Matthewman and Gillian McCutcheon both did a terrific job in breathing life into Rossini's score. Both performers brought to it colour and rhythmic vitality and they were highly attuned to Rossini's witty and brilliant writing. Matthewman played non-stop during the production – except for one point when he stood up to conduct the singers – and he maintained an exceptionally high standard throughout.
Dafydd Williams's production transferred the action from eighteenth-century Seville to nineteenth-century England. The set was a basic wooden structure which provided the outline for the interior of Dr Bartolo's house where most of the action takes place. However, adaptations and additional props were added to create some of the exterior scenes and at various points the door of the house was taken down to form a table. Arlene Riley's nineteenth-century costumes were colourful and inventive and successfully transformed the cast into a gallery of Dickensian misfits. The opera opened to Dr Bartolo performing a surgical operation while several spectators looked on from a public gallery. There were various references to the inadequate medical procedures of the nineteenth century and the quack science of phrenology, but I was not convinced that they provided many additional insights into the opera itself.
The talented young cast did a sterling job in bringing Rossini's comic capers to life. They worked as a well drilled ensemble and the comic timing was excellent. Sarah Richmond brought an infectious exuberance and sense of fun to the role of Rosina, and she played off the other cast members well. She sang Rosina's first act aria beautifully, although I would have welcomed greater vocal power and authority in the opening section. Thomas Chenhall was a larger-than-life, wily Figaro and he performed well in the ensemble numbers. He negotiated the coloratura well in his famous opening 'Largo al factotum' although the timing could have been tighter, and the diction was a little unclear. Jack Roberts's Count Almaviva was too buttoned up and subdued in the opening scenes, although he threw himself into the action more as the opera progressed. He sang with warmth and lyricism and handled Rossini's intricate coloratura well although occasionally the tone was a little thin and I would have liked less vibrato.
Wyn Pencarreg and Lorena Paz Nieto were both terrific in the roles of Bartolo and Berta respectively. Pencarreg brought the lecherous but hopelessly out-manoeuvred Bartolo to life, and he negotiated Rossini's rapid-fire coloratura with brio. Nieto's displayed excellent comic timing and she clearly won over the audience given the response to her Act II aria. Henry Kerswell and Malachy Frame also acquitted themselves well in the roles of Fiorello and Basilio. The cast blended well for the ensemble numbers and they brought a winning exuberance to the finales of the two acts.
Overall, this was a highly enjoyable first full production for Ulster Touring Opera; so, onwards and upwards.
Robert Beattie