Germany Purcell's Dido and Aeneas and Schoenberg's Erwartung: Soloists, Chorus and Orchestra of Bayerische Staatsoper / Andrew Manze (conductor). Nationaltheater, Munich, 4.2.2023. (ALL)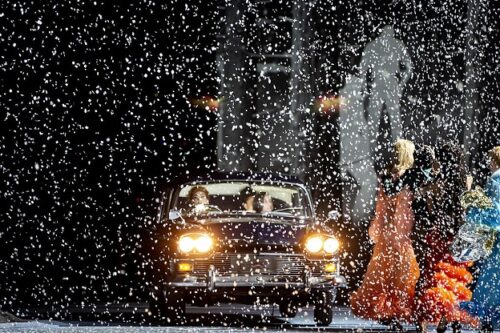 Production:
Director – Krzysztof Warlikowski
Set design – Małgorzata Szczęśniak
Lighting – Felice Ross
Video – Kamil Polak
Choreography – Claude Bardouil
Chorus director – Stellario Fagone
Dramaturgy – Christian Longchamp, Katharina Ortmann
Casts:
Dido / A Woman (Erwartung) – Aušrinė Stundytė
Aeneas – Günter Papendell
Belinda – Victoria Randem
Venus – Rinat Shaham
Sorceress – Key'mon W. Murrah
First Witch – Elmira Karakhanova
This is not the first time that Schoenberg's Erwartung is used as a complementary work, one such example being a production in London by Willy Decker. That production featured Erwartung as the continuation of Bartók's Bluebeard's Castle with identical sets, wigs, and costumes, creating a homogeneous and captivating combination, the concept being Judith's reappearing from the last door and taking revenge on Bluebeard.
In contrast, Krzysztof Warlikowski's Munich production did not have the same dramatic unity. It was a collection of powerful scenes that followed the protagonist through a range of emotions such as jealousy, hallucination, violence, and revenge. The sets, lighting, videos, and other images were visually stunning, and the action was varied. Warlikowski, who had previously worked with Aušrinė Stundytė (Lady Macbeth of the Mtsensk District in Paris), showcased her acting abilities, particularly in Schoenberg's intense and captivating Erwartung.
However, the production lacked coherence. It was reminiscent of recent films that sacrifice the plot for numerous secondary characters and over-extend the runtime. Warlikowski continued to add elements, videos, and characters that overburdened the scenes, resulting in a saturated performance that lacked progression. Some techno dancing to an interlude of electronic music written by Paweł Mykietyn provided a transition between the two operas, though the entertaining breakdance number was quickly forgotten.
Musically, the performance was more nuanced. Aušrinė Stundytė initially struggled to find her footing in Purcell's opera, her diction and suitability for the role being questionable. She shone in the Schoenberg work, where her acting talent came to the fore. Victoria Randem as Belinda was a standout, possessing the vocal ability to command the stage although she and others had big operatic voices ill-fitted to Purcell's style. The rest of the cast was strong, with Elmira Karakhanova particularly noteworthy as the charming Witch.
Andrew Manze handled the transition between Purcell and Schoenberg with ease, delivering both a powerful performance from the choruses in Purcell and a modern interpretation of Schoenberg's opera. Despite this, the evening ultimately felt like an exercise in art for art's sake, or a showcase for Warlikowski's vision, rather than a fully realised production.
Antoine Lévy-Leboyer