United Kingdom Bizet, Carmen: Soloists, Children's Chorus and Additional Chorus, Chorus (chorus director: Mark Biggins) and Orchestra of the English National Opera / Kerem Hasan (conductor). London Coliseum, 9.2.2023. (MB)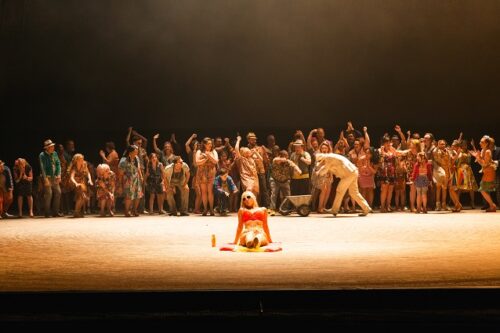 Production:
Director – Calixto Bieito
Revival director – Jamie Manton
Set designs – Alfons Flores, Kieron Docherty
Costumes – Mercè Paloma
Lighting – Bruno Poet, Marc Rosette
Cast:
Carmen – Ginger Costa-Jackson
Don José – Sean Panikkar
Micaëla – Carrie-Ann Williams
Escamillo – Nmon Ford
Zuniga – Keel Watson
Moralès – Christopher Nairne
Frasquita – Ellie Laugharne
Mercédès – Niamh O'Sullivan
Dancaïro – Matthew Durkan
Remendado – Innocent Masuku
Lillas Pastia – Dean Street
Mercédès's daughter – Fatima Hammad
Whatever happened to Calixto Bieito's Carmen? I have seen it twice previously at ENO (in 2012 and 2015) and enjoyed it greatly. It has been revived since in London, but it dates back to the 1999 Festival Castell de Peralada and has been seen at a number of houses, Barcelona, San Francisco, and Oslo included. Maybe it has just had its day; with occasional, intriguing exceptions, few things date so quickly as stage productions. I think it is probably more than that, though. By the time of its third ENO revival, the link with Bieito seems tenuous, as if those involved would rather be at work on a new production, a production of their own. We are left with sets and costumes that have often lost their freshness, in what seems to be quite a different overall approach, sitting uneasily, even incoherently, with Bieito's radicalism: a softer radicalism, admittedly, than in many of his stagings, yet radicalism nonetheless. Sadly, many of the objects of Bieito's critique have either more or less disappeared or found themselves (unwittingly?) transformed into objects of appreciation.
One looks in vain for any real sense, beyond the uniforms, that this might be the dying days of Franco's Spain – and uniforms, especially in a drama involving army officers, are hardly restricted to that time and place. The violence is more generalised, less clearly motivated. These are, it seems, simply a bunch of nasty people, Don José included. It is a point of view, I suppose, yet not to my mind an especially illuminating one. Perhaps more seriously, the idea of 'Spain' as a perpetual, arguably degenerating recreation, dating back to this opera and beyond seems to have been replaced by a taking at face value, if not quite celebration, of the tackiness and tourist vulgarity at which Bieito took aim. This Carmen now seems less designed for the Opéra Comique, more to be straining at the commercial West End – without ever quite being able to fill the vast space of the London Coliseum as would surely be necessary if taking, however misguidedly, that route. That said, the ballet of the fourth act retains much of its force and bite.
A vicious toxic masculinity remains, even on occasion continues to shock: Don José striking Micaëla and verbally abusing her as she departs, for instance, that first scene surely echoed at the close when he brutally slits Carmen's throat. But surely there is more to Carmen, indeed more to Don José, than that. One need not necessarily go down Dmitri Tcherniakov's route (click here), decentring Carmen and transforming the opera into Don José's therapy session, fascinating, provocative, and rewarding though that was. A degree of greater sympathy, or at least searching, for all the characters would not have gone amiss here.
More consistently strong performances might have helped. One principal towered above the others, Sean Panikkar's Don José. The range of his performance, vocally and dramatically, came close to an object lesson, even within parameters that have become unsympathetic. He acted as an energising presence for others too. Rarely, moreover, have I heard such clear diction in this theatre's cavernous spaces. If that brought the shortcomings of an oddly unsettled English translation more strongly to the fore, that is firmly the fault of that translation. (And really, Carmen in English is ultimately not a very good idea.) Ginger Costa-Jackson's Carmen grew in stature as the evening progressed, at her strongest (wonderfully acted here) when later showing fear and vulnerability, strangely patchy earlier on.
A lively, charismatic stage portrayal from Nmon Ford's Escamillo was not always matched vocally in the lower range, but there was no doubting the commitment of the performance. Carrie-Ann Williams's late-substitution Micaëla had its moments, more in the third act than the first, but never quite settled. There were, truth be told, several rather mixed performances, and one, the Zuniga, in which the singer seemed lacking, whether on the night or more fundamentally, in the necessary vocal equipment. Fortunately, Christopher Nairne's Moralès (another late substitution), as well as Ellie Laugharne and Niamh O'Sullivan as Frasquita and Mercédès respectively, offered highly convincing, individual performances in their smaller roles.
The ENO Orchestra, meanwhile, was on excellent form, offering precision, warmth and sheen in near-equal (where appropriate) measure. Conductor Kerem Hasan's tempi were well chosen and communicated, with plenty of drive and tenderness as the score required. The chorus and additional chorus did good work in all that was asked of them. I just wish the parts, many of them good, had added up to a more satisfying theatrical experience, as had been the case previously, whilst noting that mine seems to have been a minority view.
Mark Berry