Spain Manuel de Falla, El retablo de Maese Pedro (concert version): Mahler Chamber Orchestra / Pablo Heras Casado (conductor). Teatro Real, Madrid, 18.2.2023. (JMI)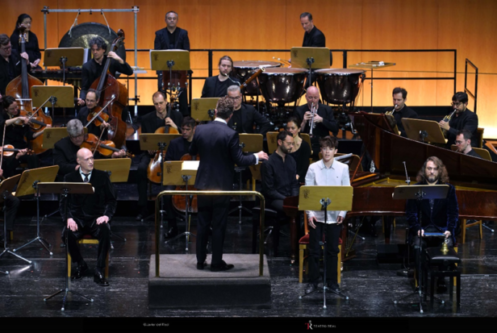 Cast:
Airam Hernández – Maese Pedro
José Antonio López – Don Quixote
Héctor López de Ayala Uribe – Trujamán
El retablo de Maese Pedro is a short opera, made for a puppet theater. Based on a passage from Don Quixote where he attends the Maese Pedro theatre, it all ends badly when the Ingenious Hidalgo Quixote confuses reality and his imagination.
The work was written for the Marquise de Polignac in Paris, in whose house it was first performed in 1923. A few months earlier it had been done in a concert version in Seville.
It is not presented very frequently, even in Spanish theaters, although I have seen it in Madrid in a staged version, both at Teatro Real and at Teatro de la Zarzuela. If truth be told, it does not really work in a concert version where one loses the puppet theater and the dolls that represent the heroes.
The musical direction was entrusted to Pablo Heras Casado, who has become the most international of Spanish conductors, as evidenced by the fact that this summer he will be in Wagner's orchestra pit at the Bayreuth Festival. His conducting was good, although I have found it difficult for leaders to be particularly bright with this opera. The Mahler Chamber Orchestra did well.
The three soloists are Maese Pedro, Don Quixote and Trujamán. The first one is the owner of the inn and theater, the second does not require an introduction and the third narrates the plot of the puppets.
Maese Pedro was interpreted correctly by tenor Airam Hernández, and baritone José Antonio López as Don Quixote showed his sonorous voice. Trujamán was performed by Héctor López de Ayala Uribe.
The opera took place in the second part of the concert. The first half of the program offered the Concerto for Harpsichord by Manuel de Falla and the Pulcinella Suite by Igor Stravinsky.
José M. Irurzun