United States Various – George & Nora London Foundation Competition Finals: Soloists, Michael Fennelly (piano), The Morgan Museum & Library, New York, 17.2.2023. (RP)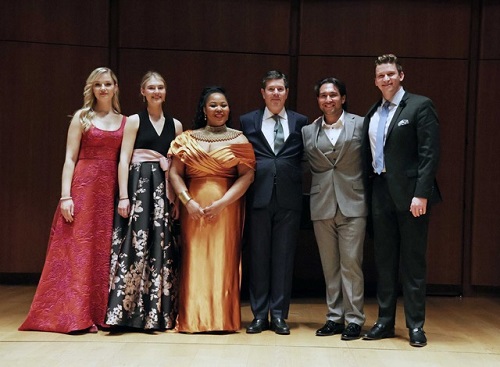 Mozart – 'Se all'impero amici dei' (La clemenza di Tito) / Alexander McKissick (tenor)
Thomas – 'Je suis Titania' (Mignon) / Karoline Podolak (soprano)
Tchaikovsky – 'Kuda, Kuda' (Eugene Onegin) / Ricardo Garcia (tenor)
Weber – 'Durch die Wälder, durch die Auen' (Der Freischütz) / Joseph Sacchi (tenor)
Gounod – 'O ma lyre immortelle' (Sapho) / Olivia Johnson (mezzo-soprano)
Bizet – 'La fleur que tu m'avais jetée' (Carmen) / Matthew Cairns (tenor)
Strauss – 'Ich bin Euer Liebden' (Der Rosenkavalier) / Elena Villalon (soprano)
Berlioz – 'Inutiles regrets' (Les Troyens) / Jordan Loyd (tenor)
Puccini – 'Addio mio dolce amor' (Edgar) / Amber R. Monroe (soprano)
Handel – 'Inumano fratel…Stille amare' (Tolomeo) / Aryeh Nussbaum Cohen (countertenor)
Rachmaninoff – 'Ves' tabar spit' (Aleko) / William Socolof (bass-baritone)
Thomas – 'A vos jeux, mes amis' (Hamlet) / Erika Baikoff (soprano)
Twelve singers competed in the finals of the 51st George and Nora London Foundation Competition at The Morgan Museum & Library, they had been chosen from a field of 75 singers over the course of the week. Each had the opportunity to sing one aria before a panel of judges comprised of soprano Harolyn Blackwell, mezzo-soprano Susanne Mentzer, mezzo-soprano Susan Quittmeyer, bass James Morris and Lenore Rosenberg, the former Metropolitan Opera administrator.
Winning a George London Award is not a ticket to international stardom, but it means that a singer just might get there. In an instant, a young artist joins the ranks of some of the great American and Canadian opera singers of the past 50 years, including Joyce DiDonato, Renée Fleming, Christine Goerke, Matthew Polenzani and Sondra Radvanovsky, who were all London winners. Five made that cut this year, with each receiving a $12,000 award.
This was a big year for sopranos at the competition. Karoline Podolak enchanted in 'Je suis Titania' from Ambroise Thomas's Mignon. The aria was a fireworks display of coloratura, trills and bell-like high notes. Amber R. Monroe's gleaming lyric spinto soprano is on a par with her fashion sense. She poured out emotion in 'Addio mio dolce amor' from Puccini's Edgar, which she topped off with a stunning high B-flat.
Five tenors sang in the finals, but only Ricardo Garcia garnered a London Award. He gave a dramatically engrossing and vocally stellar performance of Lensky's aria from Tchaikovsky's Eugene Onegin. The intensity of his singing was matched by the beauty of a burnished tenor that sobbed with sorrow as he sang of his love for Olga.
It was the stillness in countertenor Aryeh Nussbaum Cohen's performance that made 'Inumano fratel … Stille amare' from Handel's Tolomeo so emotionally devastating. Each repetition of Handel's sublime melody resonated with despair. The lightness of touch with which Cohen sang resulted in immaculately sculpted musical lines and pristinely executed trills.
Erika Baikoff, the last to sing, added some unexpected suspense to the finals, having been called to the Metropolitan Opera for an orchestral rehearsal as she is covering the role of Nanetta in its upcoming production of Falstaff. All it took was a bit of tinkering with the order of the program, a block-long taxi ride and a quick change for the soprano to appear on stage.
The audience had to wait a few minutes, but she made it worthwhile with a psychologically penetrating and vocally dazzling performance of 'A vos jeux, mes amis' from Thomas's Hamlet. She is one of the rare singers whose voice is embraced by the tricky acoustics of the Morgan's Gilder Lehrman Hall.
The other seven singers each received George London Encouragement Awards of $2000. There is no second-guessing the judges, but other singers could have easily been top prize winners. One was tenor Matthew Cairns, whose enticing timbre and dramatic intensity in 'La fleur que tu m'avais jetée' from Bizet's Carmen made for a riveting performance.
The other was bass-baritone William Socolof who sang 'Ves' tabar spit' from Rachmaninoff's Aleko. His compelling stage presence was at one with his singing. Socolof earned another notch on his belt by providing Michael Fennelly, who did yeoman's work accompanying the singers, the opportunity to enthrall the audience with his playing in the aria's extravagantly lush postlude.
This was the first time that Nora Johnson was not seated at the judges' table since 1985 when, following her husband's death, she became President of the George London Foundation for Singers. After her passing in June 2022, the organization became the George and Nora London Foundation for Singers: a fitting tribute for a remarkable woman who dedicated her life to supporting young singers and helping to ensure the future of opera.
Rick Perdian