United Kingdom Schubert and Zimmermann: Olivier Stankiewicz (oboe), Lucy Crowe (soprano), Adèle Charvet (mezzo-soprano), Cyrille Dubois (tenor), William Thomas (bass), London Symphony Chorus (chorus master: Gregory Batsleer), London Symphony Orchestra / François-Xavier Roth (conductor). Barbican Hall, London, 19.2.2023. (MB)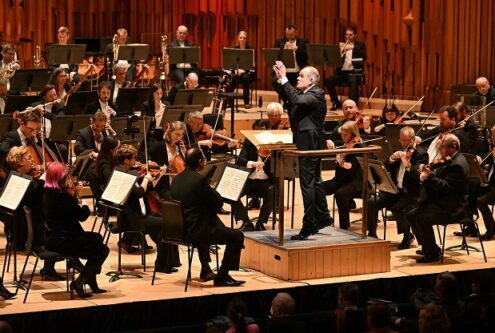 Schubert – Rosamunde, Overture and Entr'actes to Acts I and III; Mass No.5 in A-flat major, D 678
Zimmermann – Oboe Concerto
Trenchant opening chords giving way to a delightful oboe solo (Juliana Koch): the beginning of the so-called Rosamunde Overture, really the overture to Der Zauberharfe, offered a version in miniature of the first half of this London Symphony Orchestra concert, arguably even of the concert as a whole. The introduction was undeniably on a grand, Romantic scale, though a fizzing Allegro molto moderato proved more suggestive of Rossini than of Mendelssohn. François-Xavier Roth took it very fast, but crucially it worked, proving both nimble and full of incident, and if the lack of string vibrato surprised my ears, they (more or less) adapted. Ultimately, it put a smile on my face and proved a fine curtain-raiser. For the darker first entr'acte likewise proved suggestive of the theatre, of stage action about to commence. Its successor's episodes offered delectable woodwind solos: not only oboe, but clarinet (Sérgio Pires) and flute (Gareth Davies) too. More veiled than sweet, the outer sections offered a different kind of intimacy given Roth's non-vibrato approach. Signing off with string quartet rather than full strings proved a lovely idea.
Olivier Stankiewicz joined the orchestra for Bernd Alois Zimmermann's 1952 Oboe Concerto. Its first movement, Hommage à Stravinsky, pulled the older composer's neoclassicism in multiple directions: homage, yes, but also embroidering and deconstructing. It was all despatched, as throughout, with the cleanest of lines, good humour, and a sign or two of something darker, carried forward into the central Rhapsodie, full of post-Bartókian night music. Magical solo (and other) evocations helped construct – for there was no ultimate doubt of the composer's constructivism – a post-war pastoral, hinting at least at so much of what that historically might imply. Stankiewicz played this as the repertoire piece it should be, ably partnered by the LSO and Roth, the finale presented as a brilliant clash and reconciliation between serial and neoclassical tendencies: not only the earlier Stravinsky but Hindemith too. Passages of dissolution suggested men and machines, mannequins too, threatening to break down yet surviving — perhaps a metaphor for the work as a whole and, indeed, much of Zimmermann's œuvre.
What a joy, in the second half, it was to hear Schubert's Mass in A-flat major. Why we do not hear Schubert's masses all the time, I really do not know. It is a tremendous loss, and many will surely have been encountering this work for the first time. I doubt they will have been disappointed, especially in so sensitive and exultant a performance as this, a fine team of soloists and the excellent London Symphony Chorus now partnering Roth and the LSO. The opening exhortation for mercy sounded with humility, preparing the way for each of the soloists to introduce themselves with distinction in response: 'Christe eleison'. This Kyrie as a whole had a splendid developmental quality, lightly worn, yet nonetheless telling: not the least example of Roth's discerning musical judgement. Schubert sounded as a child of Mozart, yet with undeniable affinity to Beethoven, even to his Missa solemnis, as characteristic textures, ultimately to be reduced to no case of 'influence', were revealed before our ears.
A whirlwind of praise was unleashed in the first section of the Gloria, incessant fiddling offering a flickering, moving halo to the choral company of heaven. Those cries of 'Gloria' could hardly fail to recall Beethoven, but not to the detriment of a more general impression of abiding, Austrian (perhaps rather than Viennese) loveliness. Lucy Crowe's soprano duet with clarinet, paving the way once more for the entry of other soloists, in the second section, 'Gratias agimus tibi…' was not the least example of that; likewise Adèle Charvet's rich mezzo solo a little later on, again entwined with clarinet, as well as bassoon. Once again, the LSO's wind excelled themselves. Roth's ear for orchestral colour suggested, in that well-worn cliché, a sensitive restoration of an old master painting, for instance in the Credo's unusually colourful profession of faith. All concerned understood the task, varying in difficulty, of reconciling theological and musical imperatives, the 'Crucifixus' section's pivotal ambiguity erupting in the glorious release of resurrection. Roth directed and shaped, without ever giving the impression of undue moulding. The censer swung in suggestion again of a characteristically Austrian otherworldliness in the Sanctus, both personal and beyond the personal. The Benedictus's heavenly solo trio, soprano, mezzo, and tenor (an ardent Cyrille Dubois) must surely have had a few hearts skip a beat or two. Then the return of William Thomas's dark-hued bass for the Agnus Dei rightly imparted a sense of completion: sadness and hope, even before the call to grant us peace.
Mark Berry