United States Various – 'Amor: A Celebration of Steven Blier's First 50 Years Onstage': Lucia Bradford (mezzo-soprano), Michael Spyres (baritenor), Federico de Michelis (bass-baritone), William Socolof (bass-baritone), Steven Blier, Shawn Tang, John Musto (piano). New York Festival of Song, Merkin Concert Hall, New York, 15.2.2023. (RP)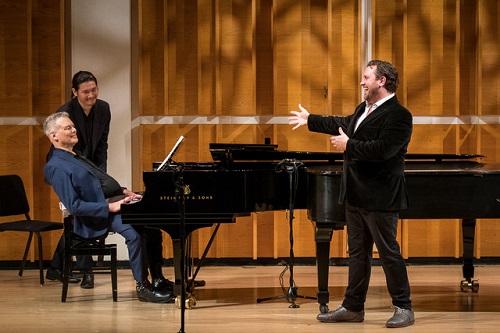 Astor Piazzolla – 'Fuga y misterio' (Maria de Buenos Aires, arr. Pablo Ziegler); 'Siempre se vuelve a Buenos Aires'
Carlos Guastavino – 'Noches de Santa Fe, cancion del literol'; 'Abismo de sed'
Ariel Ramírez – 'Allá lejos y hace tiempo'
Gladys Bentley – 'Ground Hog Blues'
Billy Strayhorn – 'Day Dream'
Bessie Smith – 'It Makes My Love Come Down'
Duke Ellington – 'Come Sunday' (Black, Brown and Beige); 'I'm Just a Lucky So-and-So'
Gioachino Rossini – 'Addio ai Viennesi'
Hector Berlioz – 'Le spectre de la rose' (Les nuits d'été)
Nicholas Brodzsky – 'Be My Love'
George Gershwin – 'Fascinatin' Rhythm' (Girl Crazy, arr. Steven Blier & John Musto)
Kurt Weill – 'Bilbao-Song' (Happy End)
Stephen Sondheim – 'Talent" (Road Show)
André Previn – 'The Dance of Life' (The Good Companions)
Rob Schwimmer – 'Holding You in My Arms'
In Andrew Lloyd Webber's Sunset Boulevard, silent-star legend Nora Desmond sings, 'We taught the world new ways to dream'. It was running through my mind as I left 'Amor: A Celebration of Steven Blier's First 50 Years Onstage', even though it wasn't on the program. Switch that last word to sing, and we are talking about Blier transforming the art of song over the past few decades.
When Blier broke onto the scene in the early 1970s, song recitals were pretty staid affairs. The standard program was generally chosen from a set menu of Baroque, German Lieder, French mélodies and something British or American for the adventurous. Blier helped blow the lid off that box, an ethos neatly encapsulated in the motto of the New York Festival of Song, which he cofounded in 1988: 'No song is safe from us!'
Blier has worn many hats in his career but is best known for accompanying singers. He was the go-to collaborator for many of the biggest names in the business, including Cecilia Bartoli, Renée Fleming, Jessye Norman, Samuel Ramey, José van Dam and Frederica van Stade. A degenerative muscular disease, facioscapulohumeral muscular dystrophy (FSH), has curtailed that aspect of his career, but he is still teaching at The Juilliard School and is at the helm of NYFOS.
It is not a particularly pretty sight to watch Blier being wheeled out onto the stage and hoisted upon and then strapped to a chair before a piano, but it does inspire awe and affection – especially for those who can recall him as a young man. He still plays but had to rework his technique due to his disease. Virtuosity is not the measure of Blier's artistry but rather his pure delight in making music that is the yardstick.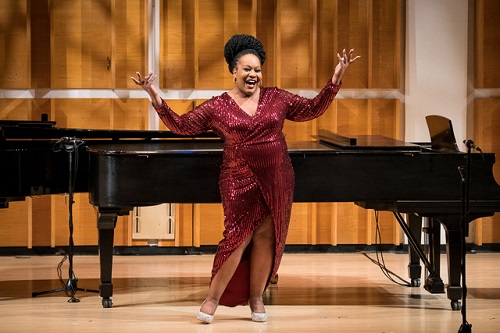 For the celebration, Blier chose songs that revealed aspects of his musical story and artistic soul. The program included music from Latin America, which is one of his passions, songs by Duke Ellington and Billie Strayhorn, some Kurt Weill and bel canto. He also expressed his love of New York City in words and music, tinged with a sentimentality for the days when it was tawdry, dirty and hapless.
Nostalgia weighed heaviest in music from Argentina, a place where Blier has never been. Buenos Aires, he said, is an addiction for him. First came Pablo Ziegler's arrangement for two pianos of Astor Piazzolla's 'Fuga y misterio' which he played with Shawn Chang. The voice of Federico de Michelis fueled Blier's flights of overt sentimentality. The Argentinian bass-baritone was romantic and dashing in Carlos Guastavino's 'Abismo de sed', but poignantly sang of his native country in the smoothest and loveliest of tones when accompanying himself on the guitar in Ariel Ramirez's 'Allá lejos y hace tiempo'.
'Bilbao-Song' was the only Kurt Weill work on the program. Blier said that he had played it over a thousand times when accompanying the late Martha Schlamme, an internationally renowned Weill interpreter. Schlamme always preceded it with a spoken introduction that William Socolof re-created for this concert. Socolof brought wistfulness and nostalgia, with just the requisite dollop of mania, to the Weill, and he infused 'Talent' from Road Show with irony and an 'up-yours' attitude that its creator, Stephen Sondheim, alone could conjure.
Lucia Bradford was 'Amor', the concert's theme, dressed to kill in red and silver, and as shiny and bright as Valentine's Day. Her growling-chest voice brought earthiness to Gladys Bentley's 'Ground Hog Blues' and Bessie Smith's 'It Makes My Love Come Down'. She was sultry and soft when singing Billy Strayhorn's 'Day Dream", which Blier opined contained the most beautiful chord progression in all of American music. The smile on her face matched the one in her voice in Duke Ellington's 'I'm Just a Lucky So-and-So'.
Blier said that he hadn't had an 'opera crush' for quite a while until he heard Michael Spyres's voice. They had never performed together and only had a bit of rehearsal time the day before the concert, but we are talking pros. Spyres provided vocal fireworks in Rossini's 'Addio ai Viennesi', and lush, emotive singing in 'Le spectre de la rose' from Berlioz's Les nuits d'été.
With his three-octave range, Spyres bills himself as a baritenor. After he went into full-tenor mode in a soaring rendition of 'Be My Love', Blier chided Spyres: 'Scratch you and you're a tenor'. More than a few in the audience developed a crush on that voice, judging by how many left the hall humming the infectious Mario Lanza hit.
The concert began and ended with the same tug to the heart strings. In his opening remarks, Blier recalled how he had played pieces by Louis Moreau Gottschalk and Gabriel Fauré for his audition to do graduate work at the Yale School of Music. The rejection letter came with words to the effect that Blier would never have a career as a pianist, and that the only people who would ever hear him play would be his kids.
Blier said that that FSH prevented him from doing the two things he wanted to do more than anything: get up and wash the dishes and hug people. The former wasn't in the cards, but he accomplished the latter by playing Rob Schwimmer's 'Holding You in My Arms'. For just a few moments we were all Blier's 'kids', caught up in the joy and warmth of his musical embrace. The dishes could wait.
Rick Perdian