United Kingdom Bacewicz, Mozart, Elgar, Dvořák: Julie Price (bassoon), BBC Symphony Orchestra / Sakari Oramo (conductor). Barbican Hall, London, 3.2.2023. (JR)
Grażyna Bacewicz – Overture
Mozart – Bassoon Concerto in B-flat major, K191
Elgar – Romance for Bassoon and Orchestra, Op.62
Dvořák – Symphony No.8, Op.88
A joyful overture, a Mozart concerto, a short Elgar Romance and a Dvořák symphony made for a varied and thoughtful concert programme, featuring the bassoon in the two works either side of the interval.
The overture was by Polish composer Grażyna Bacewicz, not a name I knew. Sakari Oramo is currently championing her work (her Fourth Symphony will be performed on February 10th). Bacewicz (1909-1969) composed this piece in the war years, which makes its exuberance all the more surprising. Bacewicz composed over 200 works including four symphonies and seven violin concertos (Bacewicz was an accomplished violinist and leader of the Polish Radio Orchestra from 1936 to 1938). The string writing is frenzied and virtuosic, fanfares for the brass are strident. Oramo bounded through the piece with clear pleasure: Walton and Nielsen sprang to mind. If I have a doubt, then it is that I found an individual voice hard to discern. Drums introduced a militaristic note, scampering strings and shrill woodwind echoed the troubles of war. However, overall, it was a joyful piece and a worthy concert opener and introduction to Bacewicz's oeuvre.
Mozart's Bassoon Concerto stems from 1774, when he was 18, making this concerto one of his less mature works. The bassoon was an unusual instrument for a concerto, Mozart wrote this on commission. The soloist for this BBC Symphony Orchestra concert was their very own Principal, Julie Price, who is also Principal Bassoon of the English Chamber Orchestra and the Academy of St Martin in the Fields. Price was for 23 years Professor at the Royal College of Music, and now Visiting Professor at the Royal Academy of Music. Price visibly enjoyed being in the limelight, frontstage; she beamed throughout, engaging with members of her orchestra and the audience, who gauging from the wild roars of appreciation at the close of the work, must have included many of her current and former students. The applause was well deserved – Price showed flawless technique and mastery of this characterful instrument, perfect dynamic control, display of the instrument's colours and intelligent phrasing.
Elgar was a bassoon player, perhaps not in Julie Price's class. He composed his very short Romance for a friend who was Principal Bassoon in the London Symphony Orchestra; he portrays the instrument as a singer rather than a comedian. The work only lasts seven minutes. Stephen Johnson in the programme note describes the work as a 'miniature masterpiece'; I would not be so effusive. It is delightful, melancholic and shows off the range of the instrument to perfection. Once again, Price displayed her virtuosity.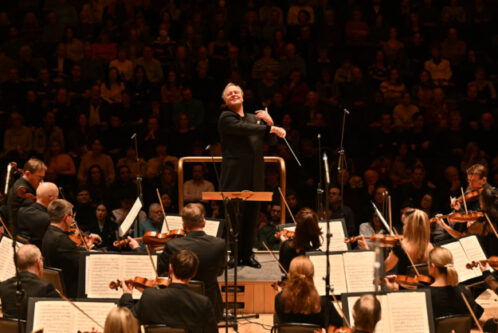 Dvořák's Eighth Symphony is less often played than the 'New World' and deserves at least equal exposure, as it is a fine work. Oramo and the BBC SO gave it a fine performance. The orchestra's principals did the work proud, I highlight the trombones led by Helen Vollam, the horns with their flourishes led by Martin Owen, oboe of Alison Teale and flutist Michael Cox. The orchestra as a whole made a warm sound, with entries crisp; I just hankered for a violin sound with more bloom. Oramo had a consistent, coherent view of the work, with reasonably fast speeds. I last heard this work under Gianandrea Noseda conducting the Philharmonia Zurich; Noseda's tempos were more exciting and he injected more white heat into the jagged chords; Oramo's view was more benevolent but equally persuasive.
John Rhodes