United Kingdom Wagner, Tannhäuser (1875 version): Soloists, Chorus and Orchestra of the Royal Opera House / Sebastian Weigle (conductor). Royal Opera House, Covent Garden, 1.2.2023. (CC)
Production:
Director – Tim Albery
Choreographer (Venusberg bacchanale) – Jasmin Vardimon
Set design – Michael Levine
Costume designer – Jon Morrell
Lighting designer – David Finn
Movement director – Maxine Braham
Cast:
Venus – Ekaterina Gubanova
Tannhäuser – Stefan Vinke
Elisabeth – Lise Davidsen
Hermann – Mika Kares
Wolfram von Eschenbach – Gerald Finley
Shepherd Boy – Sarah Dufresne
Walther von der Vogelweide – Egor Zhuravskii
Heinrich der Schreiber – Michael Gibson
Biterolf – Michael Kraus
This is now the second revival of Tim Albery's 2010 production of Tannhäuser; it was previously revived in 2016. Only one singer is shared between that cast and the present one: the Biterolf of Michael Kraus. The production is somewhat controversial, with a second proscenium behind the familiar, 'real' one – the curtains act as an entrance to Venusberg, scene of Tannhäuser's near damnation.
The score used is broadly the 1845 one, with the exception of the restoration of Walther von der Vogelweide's song in the second act contest (from the Dresden score) and an option that allows Tannhäuser to sing without chorus after Elisabeth's intervention, that is what was heard on this occasion,
Sebastian Weigle has done sterling work at Frankfurt Opera, and his Wagner performances, issued on the Oehms Classics label, are all of a high level. His DVD /Blu-ray of Tannhäuser from Barcelona's Liceu is spectacular, and his conducting on this occasion was no less so, and right from the start: how often are we aware of the horn/bassoon balance in the chords of the Overture, and how it can colour the sound so effectively? The Overture was a masterpiece of a performance – the orchestra clearly like Weigle. The orgiastic ballet was phenomenally performed by the ballet dancers on a technical level and zoomed in on the idea of temptation and being led (hardly unwillingly) through the second set of curtains to the sensual Venusberg. This was a bacchanale that left one in no doubt of what goes on, and all the more raw and effective for it, powered by a Covent Garden orchestra absolutely on fire. Weigle's tempi throughout the evening seemed almost perfect, with hardly a drop of tension from the 6pm start to the 10.25pm finish.
As the opera progresses, in Michael Levine's designs that second proscenium steadily disintegrates, giving us boulders and dereliction for the second act, and barely recognisable in Act III; shades of Nicholas Lehnhoff's Parsifal, perhaps? David Finn's lighting is absolutely exceptional throughout, at one point giving us a blanched, almost emotionless (certainly emotionally distanced) feel; shadows 'speak' volumes on an emotional level, too.
Musically, the evening was carried by three singers: Lise Davidsen's Venus, Gerald Finley's magnificent Wolfram and Ekaterina Gubanova's Venus. Davidsen's voice appears to be at peak form, and she is a truly great Elisabeth, her 'Dich, teure Halle' resplendent, with a voice like a knife (delivering a truly awesome, in the proper meaning of the word, at 'Sei mir gegrusst') and in her final act Prayer. Mezzo Ekaterina Gubanova, a Royal Opera Young Artist 2002-4, was a strong Venus – one could see how Tannhäuser could have been so tempted. She sang Venus at Bayreuth in 2021 and 2022 (under Axel Kober) and owns the role: a truly commanding performance, her voice powerful, her force of personality even greater.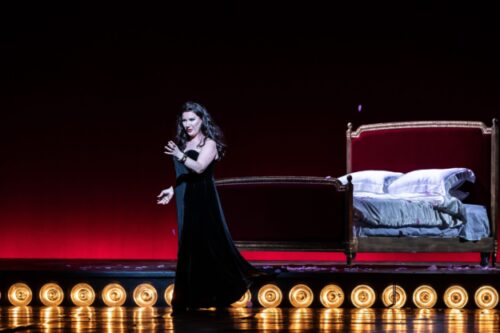 As Wolfram, Gerald Finley commanded the stage as much with his presence as with his voice. His tone was ravishing, particularly in a strong and particularly beautiful top register. His 'O du, mein holder Abendstern' was supremely sensitive; his interaction with Elisabeth in Act III Scene 1 showcased two opera singers at the top of their game. With Mika Kares as a fine Hermann (Landgrave of Thuringia), Michael Gibson as a strong Heinrich der Schreiber Sarah Dufresne as a simply superb Young Shepherd, and Jeremy White as a good Reinmar, we diminuendo out of positives.
The Song Contest of the second act really invites us to enter into the spirit of examining the competition, too. The twin problems here were the acting of Egor Zhuravskii, as hammy as they come as Walther von der Vogelweide, and Michael White's weak-voiced Biterolf.
You might have noticed that I have not mentioned the main man yet, one Tannhäuser, here Stefan Vinke. Vinke had walked the previous performance through illness. No announcement was made prior to Act I, but it was clear something was badly amiss. Air around the voice, pitch problems, the continual threat of a note breaking, squeaking, or not sounding at all and a sense of musical disengagement. It was at the beginning of Act II that we had the dreaded announcement – he was still suffering from what had ailed him (perhaps they could not this time secure a substitute – Heldentenors are thin on the ground, after all). There were moments we heard what he can do – after a long rest in Venusberg when Venus takes over, Vinke began again seemingly refreshed, something near a Heldentenorisch strength present, fleetingly, only for it to falter again. A shame, as engagement never really slotted in on this evening. I really hope to hear Vinke in rampant health in this, or another, Wagner role soon, as the glimpses we got of his talent indeed promise much.
A mixed evening, for sure – but Sebastian Weigle, who made his ROH debut as recently as the 2018/19 season with Hänsel und Gretel, will surely be very, very welcome back. He is due to conduct Richard Strauss's Elektra in Frankfurt March-May this year, something that should be well worth catching.
Colin Clarke