United Kingdom Berlioz, Bloch, Sibelius: Sheku Kanneh-Mason (cello), Philharmonia Orchestra / Jukka-Pekka Saraste (conductor). Royal Festival Hall, London, 26.2.2023. (JR)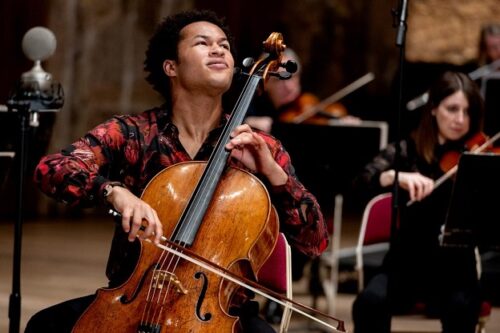 Berlioz – Excerpts from Roméo et Juliette
Bloch – Schelomo – Hebraic Rhapsody
Sibelius– Symphony No.1, Op.39
A packed Royal Festival Hall was testament to the pulling power of an appearance by Philharmonia 'Featured Artist' Sheku Kanneh-Mason, rather than – I suspect – the thought of a thrilling Sibelius symphony conducted by a native Finn. A number of seats were vacated at the interval to tell me my suspicion was well-founded. Be that as it may, the Philharmonia Marketing Department got it absolutely right by scheduling this concert for mid-afternoon, so there were plenty of young faces in the audience – and the usual multitude of senior citizens too.
We began with Berlioz, but not his usual display of visceral thrills. In its unabridged form, his Roméo et Juliette is a large-scale choral work, complete with soloists. Saraste presented us with five orchestral excerpts, which were, for the most part, gentle – the opening Scène d'amour (Love scene) went beyond that and was suitably ardent. Audible was the artistry of Principal Flute Samuel Coles. Saraste kept the strings flowing mellifluously throughout. Sadly, it was all rather too soporific, perhaps we were all still digesting our lunch or missing our afternoon nap. Some too were expecting Tchaikovsky's sumptuous and exciting ballet music, I guess. Even a rumbustious ending to the Berlioz failed to save the day for these somewhat lacklustre excerpts.
Sheku then appeared to shrieks of adulation from the back of the hall. Ernest Bloch, a Swiss Jewish composer who emigrated from Geneva to New York in 1916, wrote his Schelomo (Hebrew for Solomon) in the same year and added to the title 'A Hebraic Rhapsody'. It is a twenty-minute work for cello and orchestra. The cello represents King Solomon, who may have been wealthy and wise, but also, beset by several enemies, clearly miserable despite allegedly having 700 wives and 300 concubines; the cello writing is baleful throughout, celeste and percussion including tam-tam, tambourine and cymbals adding more than a touch of orientalism. Authentic material by Bloch is hard to discern; Bloch took many melodies straight from the cantor and the synagogue. The piece does not stay in the memory. Kanneh-Mason impressed however with his technique (some fine left-hand pluck-pizzicato especially) and his visible efforts to put heart and soul into his performance. Kanneh-Mason made his 1700 instrument sing, both in the tender and rugged passages.
The meat of the concert was provided by Sibelius's First Symphony. Jukka-Pekka Saraste was last year named as Chief Conductor of the Helsinki Philharmonic Orchestra: he trained at the Sibelius Academy in the Finnish capital. Conducting without a score (no surprise), this was textbook Sibelius – suddenly the orchestra looked and sounded engaged. Principal clarinet Mark van de Wiel (yet again) took the woodwind honours, though harp and tuba caught the ear. The slow movement benefited from delicate, dancing strings, especially the leader of the second violins. Saraste took a light, jovial view of the usually more militaristic Scherzo. Throughout he eschewed volume for the sake of it, until the very last, thrilling climax of the Finale.
There was more to come. Immediately after the concert, seven members of the Philharmonia's fine cello section let their hair down, joined by Sheku Kanneh-Mason for a lively rendition of Heitor Villas-Lobos's Bachianas Brasileiras (Suite No.1), a frenetic fusion of Brazilian folk and pop music in the style of J.S. Bach. The work is scored for an orchestra of cellos and dedicated to Pablo Casals. Principal cellist Karen Stephenson joined Sheku at the front and were a joy to watch and hear. Hundreds packed into the Charles Clore Ballroom beneath the auditorium and were given a real musical treat.
John Rhodes