United Kingdom Mozart and Schoenberg: Mahler Chamber Orchestra / Dame Mitsuko Uchida (piano and director). Royal Festival Hall, London, 1.2.2023. (CSa)
Mozart – Piano Concerto No.25 in C major, K.503; Piano Concerto No.27 in B-flat major, K.595
Schoenberg – Chamber Symphony No.1 in E major, Op.9 for 15 Solo instruments
In his memoirs, The World of Yesterday, the Austrian writer Stefan Zweig described the period of his childhood and youth before the First World War as 'The Golden Age of Security'. It appeared to him to be built to last. 'Anything radical or violent seemed impossible in such an age of reason but today … the word "security" has been struck out of our vocabulary as a phantom.' He went on to express agreement with his friend and contemporary Freud 'who saw our culture and civilization as a thin veneer through which the destructive forces of the underworld could break at any moment. We have had to accustom ourselves slowly to living without firm ground beneath our feet.'
The same seismic forces were in evidence in a contrasting programme of Mozart and Schoenberg, offered by the 37-strong Mahler Chamber Orchestra and its Director and Artistic Partner, Dame Mitsuko Uchida. Two Mozart piano concertos, No.25 in C, K.503 which began the concert, and No.27 in B-flat, K. 595, which ended it, saw Uchida playing and conducting from the keyboard. These late works by Mozart represented the logic, harmony and reassuring order associated with the First Viennese School, whereas the evening's centrepiece, Schoenberg's iconoclastic and turbulent Chamber Symphony No.1 in E, represented the Second.
Uchida is widely considered to be one of the leading Mozartian pianists of the day, and there is little to say about her supreme artistry that has not already been said. She played the two concerti with limpid clarity, perfect phrasing, and complete control. In an empathetic partnership with the MCO, she also demonstrated an unstinting generosity of spirit towards her fellow musicians. Sitting with her back to the auditorium, at a lidless piano which had been turned to face the choir stalls, she was closely encircled by the other players. Little formal direction was required, and Uchida stood only occasionally to beat time or usher in a specific section or solo instrumentalists. Although the piano acoustic was somewhat muffled, the result of her collaborative approach was music-making of immediate impact and great intimacy, particularly in a hall which held a capacity audience.
Piano Concerto No.25, K.503, opens with an Allegro of operatic grandeur, punctured by passages of intricate woodwind polyphony. The small-scale forces of the MCO – 29 musicians in all – and the employment of hard timpani mallets and valveless, natural trumpets, brought authentic eighteenth-century scale and colour to the performance. Uchida's finely judged entry – at once softly understated and determinedly strong – marked the beginning of a wonderfully fluid conversation between orchestra and soloist. After a pensive and intriguing cadenza came a slow movement of singular beauty, and a leisurely finale in which piano and woodwind positively sang together in a rhapsodic duet. It is invidious to single out any one individual in such fine collegial ensemble playing, but it would be remiss not to mention the warmth of Chiara Tonelli's flute and the plangency of Kyeong Ham's oboe throughout these remarkable exchanges.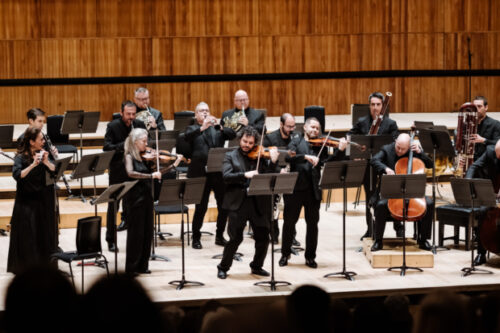 Once the chairs on the platform had been stacked and the Steinway Grand wheeled offstage, 15 members of the Mahler band assembled, led by the dynamic violinist, José Maria Blumenschein. Apart from a lone double bassist and a single cellist who sat, the remaining group stood at the front of the platform to play Schoenberg's Chamber Symphony No.1 for Solo instruments.
Schoenberg composed this unsettling work as a single movement piece in 1906, approximately 120 years after Mozart had completed K.503 and 12 years before the outbreak of a war which would shatter the Hapsburg Empire and upend world order. 'It is the climax of my first period' declared the composer. It has subsequently been described by one US musicologist as 'an act of ruthless, purifying compression in reaction to the late-Romantic giganticism', a reference to the scale of the compositions, but also to the vast orchestras used to play them. The symphony can be seen as one movement divided into five distinct parts, with dissonant passages which stretch tonality to its outer limits. Snatches of traditional melodies suggestive of Brahms, Richard Strauss and Mahler flit momentarily through the music's constantly shifting soundworld, like ghosts in an exorcism. The symphony should not be regarded simply as a challenge to the traditional musical order. It also foreshadowed the political and social upheaval soon to be unleashed in Europe. Formidably difficult to play, Schoenberg's composition requires a high level of virtuosity. The MCO's soloists met its demands with outstanding technical skill, agility and, without a conductor to guide them, an uncommon level of cohesion. Subtle playing by the wind section was seamlessly interwoven with strings and horns and made for a perfectly balanced, fluent and thrilling performance.
Any post-Schoenberg anxieties were calmed after the interval by an outstanding rendition of Piano Concerto No.27, K.595, Mozart's last. Altogether darker and harmonically more complex than K.503, Uchida, without rushing, captured the melancholic mood of the opening Allegro, making every note sing against a background of pulsating strings. The second movement, a delicately ornamented Larghetto of aching beauty, was played with exquisite grace, while the trippingly joyful finale lifted the heart. The audience's roaring approval was rewarded with a small piano encore – the second of Schoenberg's Six Little Piano Pieces, Op.19 – a tiny morsel of compensation for those who hoped that this concert would never end.
Chris Sallon