France Accentus, 30 ans!: accentus, Hélène Carpentier (soprano), Hilary Summers (mezzo-soprano), Stanislas de Barbeyrac (tenor), Florian Sempey (baritone),  Insula Orchestra / Laurence Equilbey (conductor), Cécile Trelluyer (lighting). La Seine Musicale, Paris, 18.3.2023. (CC)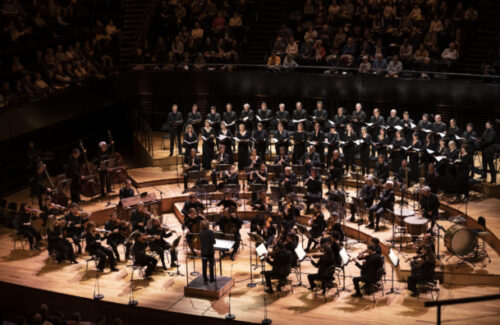 Mendelssohn – Vom Himmel hoch, MWV A 10; Christus, Op.97; Geburt Christi Motets, Op.69: No.1, Herr nun lässest du deinen Diener in Frieden fahren; Christus, Op. 97: Leiden Christ; Sprüche, Op79: No.5; La Première Nuit de Walpurgis, Op.60
Rihm – Fragmenta passionis: No.2, Da schrien alle
Laurence Equilbey and Insula Orchestra are known for their inventive approach to the concert experience. Most recently, it was Sky Burial, a life-changing meeting of sound and film, where Tibetan burial ritual met Fauré's eternal masterpiece, unforgettably. I have heard tell there were complaints. Good. Matt Collishaw's film enabled everyone to stare into the abyss of death and therefore inhabit their own sense of mortality. Such foregrounding is vital to an understanding of ourselves and the human condition.
Now, we come to Mendelssohn, a composer so often associated with fairy music, weddings or over-populated choruses in Elijah. Listening to Equilbey and her orchestra was like seeing a painting restored that had amassed layer after layer of dust for centuries. With the orchestra's period instruments, Mendelssohn's orchestrational colouring became stunning. Individual lines – most notably, perhaps, the bassoon – suddenly dripped with character, eschewing brown homogeneity for an unexpectedly vivid colour palette. And not only that – an excerpt from a piece by Wolfgang Rihm (born 1962, a German modernist) made an appearance, unforgettably.
The concert was in fact a celebration of the choir founded by Equilbey, accentus, its name known throughout the globe as a touchstone for excellence. It is difficult to imagine a finer group of singers; one has to wonder whether some of these Mendelssohn pieces have ever been so well served. Certainly, that goes for the chorale cantata Vom Himmel hoch (based on Martin Luther's hymn). It is little known but deserves far wider currency. Baritone Florian Sempey was superb in his two movements (an aria and an arioso), his voice easily delivering Mendelssohn's higher-lying lines. Soprano Hélène Carpentier, such a superb Marzelline in the Equilbey/Insula Fidelio, was pure and ardent in her aria, 'Sei willekomm, du edler Gast'. But the night belonged to the chorus, and how triumphant they sounded in the cantata"s closing chorale.
The two fragments from Christus that comprise Mendelssohn's Op.97 were brilliantly separated. The first, 'Geburt Christi' (the birth of Christ) opens with the soprano introducing the Christ myth, and certainly Carpentier seemed on top form here. Mendelssohn's sense of flow is perfect, and perfectly realised here by Equilbey. And how together the sopranos, so pure voiced; but what was so notable here was the sheer power the harmonies carried, again powered by the revelations of the original instrument approach.
The first of the three Motets, Op.69, is actually the Nunc dimittis (Herr nun lässest du deinen Diener fahren), eight minutes of unaccompanied choral joy, the lines beautifully conveyed by accentus. How shocking then to experience Rihm's Da schrien alle from Fragmente passionis: the piece begins with whispering before discombobulating vocal glissandos lead to cries of 'Kreutzige ihn' (Crucify him!). Somehow it fitted perfectly, sitting right next to Leiden Christi (the sorrow of Christ) from Mendelssohn's Christus (the composer in as urgent mode as one is likely to hear him.) Some superb contributions here from Stanislas de Barbeyrac, too (an unforgettable Florestan in Equilbey's Fidelio); but how Mendelssohn's cries of 'Kreutzige ihn' made their mark, shouting across the centuries to link with Rihm. Magnificent. Finally for the first half, the last of the six Sprüche (Anthems), Am Karfrietag (Good Friday), beautifully delivered.
Only one piece in the second half, and quite a contrast – some might say corrective – to the piety of the first: Die erste Walpurgisnacht, a tale of Druids practising their craft in the face of predictable opposition from Christians. The Christians are foiled by a sham summoning of the Devil, and the Druids go on to celebrate the new Spring.
Equilbey found massive power in the Overture, a wild ride chock full of rhythmic displacements. The Insula strings are magnificent: high violins never sound insubstantial (and Mendelssohn makes many demands upon them in this register). Blessed with a magnificent quartet of soloists, and with a choir on top form, this was pure Romantic joy. Wonderful to see Hilary Summers in the line-up, her voice full and fruity; but the real joy lay in choir and orchestra. When Mendelssohn goes into the Scherzo from A Midsummer Night's Dream mode, the result was, indeed, pure magic thanks to the performance's sense of rhythmic point.
Parts of the score felt notably modern – certainly not what one would immediately associate with Mendelssohn. A remarkable evening, crowned by part of Beethoven's Funeral Cantata on the Death of the Emperor Joseph II, WoO 87 (music that many will know through the finale of Beethoven's opera Fidelio).
A stimulating, refreshing and magnificent concert marked by performances of the utmost excellence.
Colin Clarke