Creature: A film by Asif Kapadia of Akram Khan's ballet for English National Opera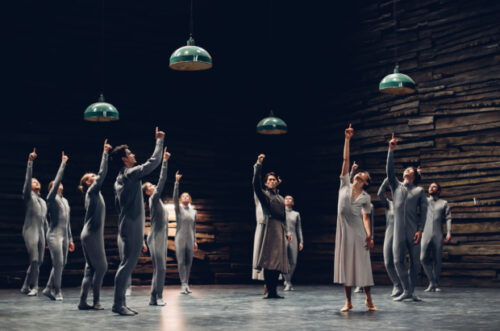 In Mary Shelley's 1818 novel Victor Frankenstein pursues his creature to the Arctic with the intention of destroying what he had brought into existence. In Georg Büchner's unfinished 1837 stage play Woyzeck (subsequently completed by Karl Emil Franzos) the title character – who was incorrectly called Wozzeck by Franzos – is a lonely soldier who lives with Marie, the mother of his child, and does menial jobs for the Captain and is experimented on by the Doctor. For various reasons Woyzeck's mental health declines and he begins to hear voices as well as experiencing apocalyptic visions. Jealous of Marie's affair with a drum major, Woyzeck is enraged and explodes into violence.
Creature is Akram Khan's third commission from the English National Ballet and had its world premiere at Sadler's Wells in 2020 to where it returns later this month for a series of performances ending on 1 April. It was filmed in 2021 by award-winning director Asif Kapadia and while Khan might have had some second thoughts by now it will of course be this version which is the permanent record of his Creature. At the opening night (23 March) five of the six leading dancers will reprise their roles from the film: Stina Quagebeur who was the Doctor has subsequently retired from dancing but even though Jeffrey Cirio (Creature) has left English National Ballet he returns to the role he created.
From Frankenstein Khan and his dramaturgist Ruth Little only use the Arctic setting which supposedly represents desolation and pain in the novel; whilst Creature is basically Wozzeck: the ballet, though that title would not have drawn an audience, I guess. If you are going to Sadler's Wells (or elsewhere to see it when it is on) or are intending to watch the film when it comes to a cinema or via Ballet on Demand from 22 May please read the full synopsis on the ENB website (click here). We are told we are in a dilapidated former Arctic research station and it is the present or the near future. Creature is a member of a military brigade and – supervised by the Doctor – is being tested for his endurance for travel into deep space. Creature's only friends seem to be another soldier Andres and his keeper Marie who Creature loves; all three are often shown involved in menial tasks, mainly cleaning the hut. The Major arrives announcing the go-ahead for the mission and Marie catches his eye, but she rebuffs him and (spoiler alert) is raped and murdered. The connection with Woyzeck is obvious and all the main characters in the play are here: Woyzeck (Creature), Marie, Captain, Major, Andres.
Even if you read the synopsis and know the Woyzeck play (or the opera based on it) you will recognise little from them in the ninety minutes of Creature. Yes, Creature appears damaged (PTSD?) and clearly is being prepared as something of a super soldier. It is clearly a cruel, brutal and demanding regime he is subjected to, and Marie provides his only solace. Kapadia begins with scene-setting shots of icebergs and an Arctic Fox (that will eventually become Creature's own creature). Ad nauseum in Vincenzo Lamagna's frequently incessant electronic score – only lightened later in the ballet by a homage to Ravel's Boléro and finally some religious chanting – we hear at the beginning President Nixon's conversation on 20 July 1969 with Neil Armstrong and Buzz Aldrin after the first moon landing which includes the lines: 'This certainly has to be the most historic telephone call ever made from the White House … Because of what you have done the heavens have become a part of man's world.'
Other leitmotifs in Creature include Andy Serkis's voice intoning some buzz (?) words such as 'Behind you', 'Silence', 'Are you an ape?', 'Outside temperature', 'Sea level', 'Beautiful world', 'Atoms' and much more. The point of this escaped me. The significance of the venerated golden helmet and a small string of pearls also puzzled me. Though I liked Kapadia's visual effects that made it seem we were witnessing an old-style video feed breaking up occasionally. At times we also see a Saturn V rocket heading towards the final frontier. Creature is in a grubby T-shirt and sweatpants, the rest of the brigade in their boiler suits looked like a dowdier version of something I might have seen in Woody Allen's 1973 sci-fi comedy Sleeper; however the Major had a more impressive blue and braided uniform. Shafts of light occasionally intrude in Tim Yip's large wooden hut but the lighting (presumably based on Michael Hulls's original) generally shows the interior as a cold, dark and hostile world. The ending of Creature is admittedly very effective as Creature embraces the dead Marie and the hut disassembles and light floods in.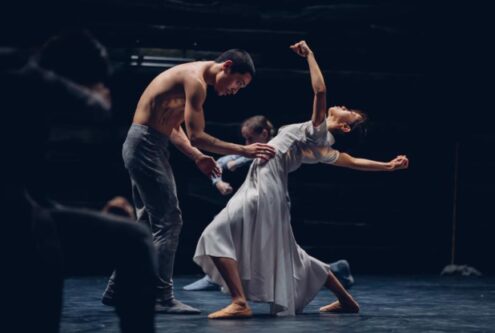 Dancing apart, Daniel Landin's camerawork gives us a chance to appreciate the expressive nature of the acting even from the most under-used characters (which could be considered to be all of them apart from Creature). Jeffrey Cirio is wonderful in the leading role and we begin by looking at his back as he writhes and uncoils. The contortions he puts his body through reveals Creature's distress right from the get-go and things don't improve for him. In his movement there is a lot of what we see from the alien in Ridley Scott's 1979 Alien film and its subsequent sequels. Erina Takahashi's Marie is forever, it seems, moping around (or mopping!) though we suffer with her when she is assaulted by Fabian Reimair's ruthless and callous Major. We learn little about the motivation of the Doctor (Stina Quagebeur) apart from she is only obeying orders and Victor Prigent impresses in the little he gets to do as the loyal Andres. Ken Saruhashi's Captain initially exploits Creature but ends up a slightly more sympathetic character since after he has been thrown out into the cold he sets out to save Creature, which he does before leaving the hut again rather like Captain Oates.
It is consummately danced by the entire company, yet sadly for me Akram Khan's choreographic language did not appear broad enough to do justice to the subject matter, however I will leave it to others who see it on stage or as this film to agree or disagree with me. Khan's steps and gesticulations are often too repetitive and too frequently it looked as if the brigade, especially, were involved in synchronised Tai chi.
Jim Pritchard
Credits:
Based on the stage production Creature by Akram Khan
Director – Asif Kapadia
Producer – Uzma Hasan
Director of Photography – Daniel Landin
Editor – Sylvie Landra
Visual effects – The LOC Studios
Filmed in the: English National Ballet Holloway Production Studio, London
Music – Vincenzo Lamagna
Music performed by English National Ballet Philharmonic
Orchestrations – James Keane
Visual and Costume design – Tim Yip
Original Lighting design – Michael Hulls
Original Sound system design – Yvonne Gilbert
Dramaturgy – Ruth Little
Cast:
Creature – Jeffrey Cirio
Marie – Erina Takahashi
Doctor – Stina Quagebeur
Captain – Ken Saruhashi
Major – Fabian Reimair
Andres – Victor Prigent
Army – Alice Bellini, Georgia Bould, Isabelle Brouwers, Ivana Bueno, Henry Dowden, Carolyn Galvao, Emma Hawes, Anjuli Hudson, Sarah Kundi, Skyler Martin, Daniel McCormick,
Rentaro Nakaaki, Lucinda Strachan, Francesca Velicu
Major's guards – Matthew Astley, Rhys Yeomans
With the voice of Andy Serkis