United Kingdom Puccini, Turandot: Soloists, Royal Opera Chorus (chorus master: William Spaulding), Orchestra of the Royal Opera House / Sir Antonio Pappano (conductor). Royal Opera House, London, 10.3.2023. (MB)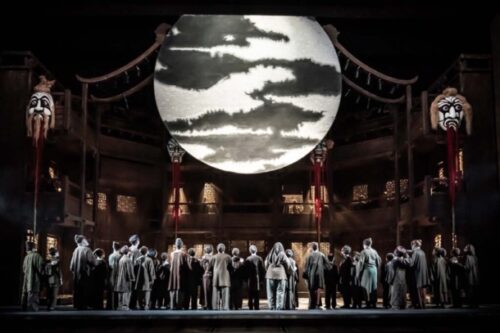 Production:
Director – Andrei Serban
Revival Director – Jack Furness
Designs – Sally Jacobs
Lighting – E. Mitchell Dana
Choreography – Kate Flatt
Choreology – Tatiana Novaes Coelho
Cast:
Turandot – Anna Pirozzi
Emperor Altoum – Alexander Kravets
Calaf – Yonghoon Lee
Liù – Masabane Cecilia Rangwanasha
Timur – Vitalij Kowalkow
Ping – Hansung Yoo
Pang – Aled Hall
Pong – Michael Gibson
Mandarin – Blaise Malaba
Two Girls – Marianne Cotterill, Tamsin Coombs
Andrei Serban's production of Turandot has certainly offered the Royal Opera its money's worth. First seen – somewhat oddly, not at Covent Garden, but on tour to Los Angeles – in 1984, it has had no fewer than fifteen revivals on home territory, as well as touring internationally and being adapted for performances at Wembley Arena (1991 and 1992). No wonder, as Serban's programme biography states, that 'he is both surprised and delighted that his production … is still revived.' This, however, is apparently to be its final outing. Assuming that to be the case, it is receiving a good send-off: not before time, yet with strong performances and revival direction from Jack Furness considerably more convincing than what I saw in earlier reincarnations (2013 and 2014).
What we see seems understandably eager to veer towards Carlo Gozzi's fairy-tale. Ping, Pang, and Pong (I know…) lose the worst of their racialised appearance, clearly taking their lead instead from commedia dell'arte. Lively performances from Hansung Yoo, Aled Hall, and Michael Gibson certainly helped in that respect, perhaps even going so far as to suggest that these, alongside Puccini, might be the real orchestrators of the action, playful as well as sadistic, intriguingly beyond morality in an almost Nieztschean sense. Where that leaves the story of Turandot, Calaf, and of course Liù remains, shall we say, problematical. The 'arias' embedded in the score stood out awkwardly, as if remnants – and in a way they are – of bygone technique, which the composer at the height of his musical powers was unable to banish entirely, on account of theatrical and audience expectations.
The closer the story moves to realism, the more repellent its final sadism becomes: magnificent in a way, yet also strangely unsatisfactory. The more fantastical the framework and action, the greater the artifice, the better. This seems to be well understood and indeed communicated, not least through a parade of dances that might readily have seemed theatrical for the sake of theatre. In a way they still do, yet in this context, that offers a possibility if not quite for redemption, than for something less (im)morally outrageous. The framing of the set as a theatre of sorts, or at least a public arena suggestive of one – are not the two often coterminous and coexistent? – contributes with unusual success to that desirable distancing of standpoint. Masks serve with similar, indeed still more absolute, necessity.
In the title role, Anna Pirozzi offered a well sung, unusually human performance, warmer than many, though also posing the question as to whether that is what we should want here. Why not, really? In posing that question it is surely performing a dramatic service of its own, difficult conflict being part of the point. Yonghoon Lee's heroic stab at Calaf should also be commended. Only on rare occasions, when something more inwardly vulnerable was required, did it sound lacking, but that is always a difficult near-circle to square. He can ride an orchestral wave, and did. He also seemed very much at one with Furness's reimagining of the production. Even reimagined, the production arguably does Liù no favours, but that is much to ask of any staging. Masabane Cecilia Rangwanasha's heartfelt, sincere performance was very much in the mainstream of expectations here. Timur's strange appearance – an old man, to be sure, though it is stranger than that – likewise does the role no favours, yet when he sang, Vitalij Kowalkow was able vocally to rise far above visual limitations.
In the pit, Antonio Pappano offered what for me turned out to be one of his best performances at Covent Garden. I have given up trying to reconcile myself to his Wagner; we clearly hear and understand that and much other music in such different ways that I am unlikely to 'get' it any time soon. Here, however, a Puccini darkly haunted by, even founded upon, marriage of darkly Wagnerian chromaticism to a surprisingly Wagnerian way with motivic construction – to my ears, more so than in Pappano's Wagner – offered just the sort of musico-theatrical experience that was called for. Flexible yet goal-directed, enabling of singers yet also revelling in Puccini's 'symphonism', it told us what we knew yet perhaps still wished we did not. This was a murky, malevolent tale that could not quite be wished away with a welcome does of theatrical fantasy. The oft-remarked affinities with more contemporary (to Puccini) music, not least Stravinsky and Schoenberg, were perhaps less immediately present, but viciousness both of score and broader theatrical purpose were certainly very much with us. With orchestra and chorus on excellent form, Pappano brought something both old and new to the score, greatly to his – and its – credit.
Farewell then, we think, to Serban. Even when revived with such intelligence as seen here, this is not a production directly to address the very difficult, probably insoluble, questions this extraordinary, flawed opera presents. Yet, given space such as was granted here – and was not, to the best of my memory, so apparent when I first saw the production – it can nonetheless permit them to play out. Taking a view seems more of a moral imperative here, on account of the sadism as much as the racism; there are many ways to do that, whether by transforming the work into something more directly political (click here) – or something else? – or by confronting its issues head on. We shall see what Serban's successor does. This however, offers an often intriguing and absorbing last hurrah, as well, I suspect, as a hint to why new steps may prove necessary.
Mark Berry