United Kingdom Messiaen, Mahler: Aphrodite Patoulidou (soprano), London Symphony Orchestra / Barbara Hannigan (conductor). Barbican Hall, London, 12.3.2023. (JR)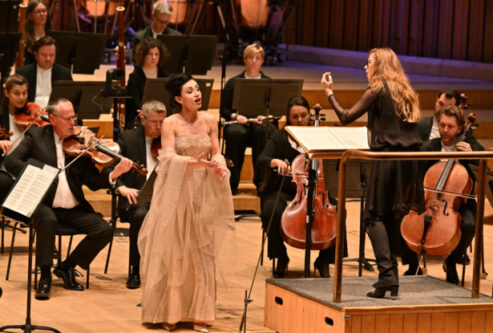 Messiaen – L'Ascension
Mahler – Symphony No.4
Before the main work, Mahler's Fourth Symphony, London Symphony Orchestra's Associate Artist Canadian soprano/conductor Barbara Hannigan brought us Messiaen's early work L'Ascension depicting Jesus's ascension into Heaven; it was composed by the French composer in his twenties, but it already displays many of Messiaen's trademark musical styles and features, which he explored in much greater depth in his later works – unusual scales adding exotic colouring, complex rhythms, and the use of birdsong. Messiaen was a devout Roman Catholic, but also espoused Buddhism and Hinduism and these traditions can be heard in this four-movement orchestral suite. The opening movement is a brass fanfare, and all credit must go to the three trumpeters, led by Matthew Williams. In the more colourful second movement, the woodwind makes its presence felt and we hear the birdsong, Thomas Davey's fine, warm cor d'anglais being prominent. The string section really only comes into full play in the finale where they slowly, surely and gradually accompany Christ to Heaven. The ending is ever rising and then vanishes, quite a sudden and unexpected ending to the piece; the audience was rather stunned and the applause short-lived as a result. Hannigan caressed every note with floating fingers, gliding in every direction, adding to the mellifluousness of the work.
A change of performer had been announced before the concert. Hannigan was to have both conducted and sung (from the podium one imagines) the song (an extract from Des Knaben Wunderhorn) in the last movement of the Mahler symphony. Quite how that would have come off will have to remain a mystery as she pulled out of the vocal contribution, citing the residual effects of an eye infection to prevent her singing. She still managed to follow two complex scores. In stepped Greek soprano Aphrodite Patoulidou.
Mahler's Fourth Symphony is often portrayed as his sunniest and simplest symphony and therefore sometimes dismissed as a lesser work. However, in the right hands, it is a beautiful, charming piece and Hannigan showed her affinity with the work and gave us a beautiful performance, whilst not evading its dissonances. Mahler describes wandering through the flower-scented Elysian fields, and then being suddenly confronted by a Hades full of terrors, a forest with all its horrors; consequently the symphony can justifiably be viewed as one of his most subtle creations.
Hannigan highlighted the horrors, amplifying the woodwind by having them raise their bells (Juliana Koch's oboe stood out) and giving full vent to the brass. This was no saccharine performance and all the better for it. Hannigan's style of conducting with floaty, wispy gestures certainly suited the many tender passages, perhaps less so in the occasional tuttis. The slow movement was every bit as wondrous as its more famous Adagietto in Mahler's next symphony, the Fifth, and there was most tender playing from the string sections. The second movement also showed us the virtuosity of German-Hungarian Guest Leader Zsolt-Tihamér Visontay playing two violins, one tuned a note higher than normal to sound coarser, more highly-strung to depict 'Freund Hein', a sinister pied piper figure from German folklore.
The orchestra's black patent leather shoes gleamed to a man/woman, possibly because the concert was being recorded and filmed for BBC Radio 3, Mezzo and Symphony. Neat cameras rose, swivelled and fell silently but were a mite distracting at times; still, better than those on stage in days of old.
The soloist made her entrance silently yet theatrically at the start of the finale, and she sang, appropriately, like an angel, her diction passable (she lives in Germany).
Hannigan looked strangely nervous and strained on stage, only managing a relaxed smile right at the end, her job very well done.
John Rhodes