United Kingdom Wagner, Lohengrin: Soloists, Chorus and Orchestra of the Metropolitan Opera, New York / Yannick Nézet-Séguin (conductor). Directed for The Met: Live in HD by Gary Halvorson and seen at Cineworld Basildon, Essex, 18.3.2023. (JPr)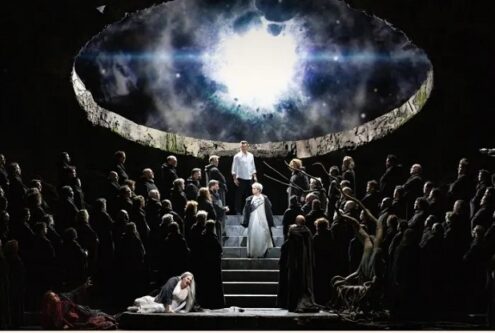 Lohengrin has proved very popular over the years and this performance was the 624th since the Metropolitan Opera was founded in 1883. Wagner's opera was seen for the first time there in November of that year only a couple of weeks after its opening and barely nine months after the composer's death. However, it is 17 years since Lohengrin was last put on at the Met.
François Girard's production is a sort-of sequel to his Konzept for Wagner's final opera Parsifal which he staged at the Met a decade ago and the title of my review (here) was 'Strong spiritual element in Met's post-apocalyptic Parsifal'. Again, there is the spiritual element and the realms of light and darkness clash in a post-apocalyptic world, though the only directorial connection was Lohengrin's white shirt and black trousers which the Grail knights wore in Girard's Parsifal.
Elsa, a young princess of Brabant is accused of her brother's murder and cannot prove her innocence until the young knight Lohengrin appears arriving in a boat drawn by a swan. (Spoiler alert!) Lohengrin is none other than the son of Parsifal and guardian of the Holy Grail who proclaims Elsa's innocence, is prepared to fight for her honour, and declares his love for her on condition that she must never ask his identity or lineage. The witch Ortrud, whose husband Friedrich von Telramund accused Elsa of fratricide, encourages Elsa to renege on her promise and urges her to ask her new husband the forbidden questions. The French poet Charles Baudelaire said of the opera; 'There is in this a beauty of dialogue such as is frequently found in Wagner's dramas, all soaked in primitive magic, all enhanced by ideal sentiment, and the solemnity of which in no way diminishes natural grace'; dealing with the opera's fundamental issue as 'Doubt has killed faith, and with the disappearance of faith goes happiness'. Girard and his dramaturg Serge Lamothe are both French-Canadian and clearly know their Baudelaire and this, for me, sums up much that I understood by their Lohengrin. Not that everything was perfect, but it was one of – if not the best – of the many Live in HD operas I have seen from the Met in terms of the all-important triptych of staging, singing and orchestral playing.
Maybe because it is too well known, I am surprised I have never before recounted the story about a legendary tenor of the early twentieth-century, Leo Slezak, who when the swan boat moved off without him said to the audience 'Wann fährt der nächste Schwan?' ('When does the next swan leave?'). Well, there was no boat to catch in Girard's Lohengrin, no shield for King Henry, and our hero's horn, sword and ring were just passed to him when sung about. As for the swan, it was represented by the huge wing we saw – in Peter Flaherty's projections – at significant moments and the feathers on Gottfried's costume on his eventual appearance.
None of what I saw from Girard and designer Tim Yip mattered to me as I have sat through – and more than once enjoyed – Lohengrins at Bayreuth with the late Hans Neuenfels's rats and the winged insects of Yuval Sharon. We heard from Girard how we were indeed witnessing opposite forces in spirituality, and how a further connection to his previous Parsifal was the 'sky element that is the backdrop to both operas'. This shows many things beginning with the moon, then the death of a star to form a planetary nebula and the formation of a white dwarf, with nebulae and fields of stars becoming recurrent motifs. Girard said how the moon cycles are used during the prelude 'to suggest that time passed, but also the red moon becomes the symbol of pagan feminine unconscious.' For all three acts we are shown a bunker underground a planet's uninhabitable surface and Girard explains: 'We are in some kind of a bleak future where once again the spirituality is in decline and the order's in decline in a society that is weakened by many elements, many aspects. The arrival of Lohengrin in this world will restore trust, confidence, light and brightness within the community.'
For designer Yip – who became famous from his work on Crouching Tiger, Hidden Dragon – 'Everything is a dream, everything is black, everyone dresses [in] the same clothes, even the king […] only Lohengrin is different.' Commenting on the 140 choristers on the stage Girard pondered on 'What do you do with these people to create imagery and a flux of colour within them was a way for me to keep the energy into the piece.' Yip revealed how when they are singing the costumes can be opened and differing colours of the underlayers can appear one by one due to well-choreographed wave effects since 'Different sections have red, they have green, and also have white of course.' Red for Ortrud and Telramund, Green for King Henry and his troops, with white reserved for Elsa and Lohengrin. This created many memorable stage pictures though the real silk Yip demanded – because its 'refection is so beautiful' – must have eaten into the Met's rumoured seven figure budget. It should be remembered that this Lohengrin was originally supposed to be a co-production with Moscow's Bolshoi Theatre … but little more need be said on this.
One misstep was Girard's overuse of Ortrud rather like a 'big bad' from the Marvel Cinematic Universe. Ortrud is there at the beginning and is mostly onstage through to the end when her fate is uncertain. Goodness knows what she was doing with all the silent incantations during the wonderful prelude to Act III and she was constantly opening and twirling her cape like other well-known wicked witches, such as Maleficent in Sleeping Beauty. I admired Christine Goerke's acting though her singing was not as imposing as some Ortruds I have seen and her big moments – 'Entweihte Götter!' and 'Fahr heim!' – challenged the current state of the top of her voice.
I was listening through loudspeakers and so can only make general comments but overall, it was a much better cast than I have sometimes heard in this opera. Tamara Wilson was a stronger Elsa than you sometimes see and – by that I mean – she was someone willing to stand up for herself right up until her doubts overwhelm her. Equally, her voice was usually sturdy for the role but there was sufficient radiance and pliancy when required. King Henry was the redoubtable Günther Groissböck and I found myself really paying attention to the Herald's pronouncements – possibly for the first time! – due to Brian Mulligan's refined and eloquent baritone. As the cowed Telramund I have seen and heard much better declamatory singing than that of Evgeny Nikitin (Klingsor in Girard's Parsifal) who sounded too effortful and rough-hewn at times.
The star of the evening was undoubtedly Piotr Beczała as Lohengrin, clearly an outsider in the world he comes into and his somewhat otherworldly sound – though grounded in the bel canto singing in which he made his name at the start of his career – was perfect for this portrayal. Many phrases soared while others were exquisite, with some of the vocal colouring he achieved ever so sublime. One example must suffice and what he did with 'eine Taube' during his tireless rendition of the third-act narration 'In fernem Land' was a model by which all current singers of the role should be compared. This Lohengrin had seen the dove … and I believed I saw it too!
The conductor was the Met's music director, Yannick Nézet-Séguin, who gave a fascinating pre-recorded introduction to the key structure in Wagner's Lohengrin during the first interval. Nézet-Séguin drew out a supple performance rich in details from a flawless orchestra: throughout the opera the strings floated ethereally and the trumpets on stage, as well as in the pit, were resplendent. The massive chorus was mostly static on tiered steps and were as well-disciplined in the collective power and full-bloodied vigour of their singing as when called upon to move synchronously.
Jim Pritchard
Creatives:
Production – François Girard
Set and Costume designer – Tim Yip
Lighting designer – David Finn
Projection designer – Peter Flaherty
Choreographer – Serge Bennathan
Dramaturg – Serge Lamothe
Chorus Master – Donald Palumbo
Cast:
The King's Herald – Brian Mulligan
King Heinrich – Günther Groissböck
riedrich von Telramund – Evgeny Nikitin
Elsa von Brabant – Tamara Wilson
Lohengrin – Piotr Beczała
Ortrud – Christine Goerke
Noblemen of Brabant – Errin Duane Brooks, Thomas Capobianco, Anthony Clark Evans. Stefan Egerstro
Pages – Catherine MiEun Choi-Steckmeyer, Andrea Coleman, Alexa Jarvis, Anne Nonnemacher
Duke Gottfried – Andrew Spriggs
Live in HD Host – Christopher Maltman