United Kingdom Ukrainian National Opera – Puccini, Madama Butterfly: Soloists, Chorus and Orchestra of Dnipro Opera, Ukraine / Ihor Puchkov (conductor). Towngate Theatre, Basildon, Essex, 25.3.2023. (JPr)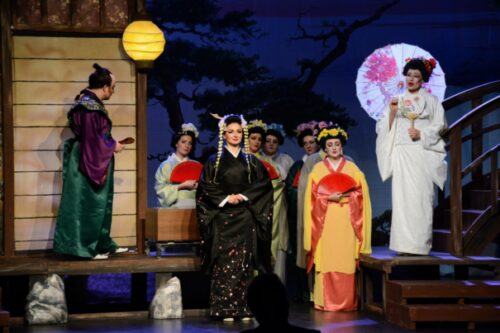 Production:
Director- Oleksiy Duginov
Lighting design – Liudmyla Baki
Choir director – Iryna Nepochatykh
Cast included:
Cio-Cio-San (Madama Butterfly) – Olena Dolhina
Lieutenant Pinkerton – Oleksii Srebnytskyi
Suzuki – Tetiana Halkina
Sharpless – Oleksii Vietrov
Goro – Hazin Mykhailo
Bonze – Maksim Ivashyuk
On an evening that exceeded my expectations, even if it hadn't been emotional enough because it was Madama Butterfly after all, when the Ukrainian flag was unfurled and the orchestra began the national anthem ('Shche ne vmerla Ukrainy') it lifted the significance of the evening to a whole new level. Most a very-full Towngate Basildon were standing and the whole Dnipro Opera company sang out lustily, it was stirring, moving and memorable by turns. If you factor in that the next evening the Ukraine national football played at Wembley, it shows both that life goes on AND we must not forget the trials and tribulations of many of their compatriots in their homeland.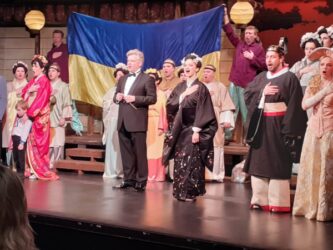 The Dnipro Academic Opera and Ballet Theatre was established in 1974 and is currently under the leadership of creative director Oleksiy Duginov. They still valiantly manage to put on performances even with the situation as it is in Ukraine and, obviously, tour extensively. So, perhaps this performance of Madama Butterfly was critic-proof before I sat down in Basildon's intimate theatre, and it certainly proved so in the end. Seeing that Dnipro Opera (under the banner of Ukrainian National Opera) is giving 48 performances (almost one-a-day) from 9 February to 5 April you might have expected a certain ennui to set in by the end of March. But no, the great singing and the playing of the small orchestra (31 listed) of Puccini's rich and dramatic score lifted the evening to an entirely unexpected level.
In an audience-friendly version that trimmed the score to a little under two hours we got a stereotypical view of Japan from the late-nineteenth/early-twentieth century, the very time of the composition of Puccini's opera to a libretto based on original stories by John Long and David Belasco. It is the well-known story of a US Naval Lieutenant, Pinkerton, who marries a 15-year-old geisha girl, Cio-Cio-San or Butterfly, so she can keep him company while in Nagasaki; with every intention from the start of abandoning her once his tour of duty is over. Sadly, Butterfly trusts the American and waits – and waits – for him to show Pinkerton the son she has borne him and that he knows nothing about. Naturally he has married 'back home' and when he returns to Japan with his young wife, he claims his child and Butterfly commits hara-kiri. All this was clearly staged by Dnipro Opera – and along with the surtitles – the many newcomers to this opera, or even opera in general, in the Basildon audience would have no problem following the story.
Often when I see Madama Butterfly I think of John Huston's 1958 film The Barbarian and the Geisha, filmed largely on location in Japan, and which gives a fictionalised account of the US's first Consul-General to Japan, Townsend Harris, and the hostility he faced as a foreigner in the 1850s and 60s. It repeats a folk tale from the time of his supposed love for a young geisha – this time she was 17. He leaves her behind and she is also believed to have died by her own hand, though many years later. There is a very great similarity in the stories of Harris and Okichi, his geisha, with Pinkerton and Butterfly: rarely however is Harris mentioned in the historical background to this opera. My thoughts about the film were rekindled because Townsend Harris in the film was John Wayne, not in the first flush of youth and rugged in appearance, just like the portrayal of Pinkerton in this Butterfly by 'Honoured Artist of Ukraine' Oleksii Srebnytskyi.
The opera has its critics because of a story of imperialism and child-sex mixed in with its cartoon Orientalism. Of course, Dnipro Opera were not interested in any of that, no one in the audience I suspect was either, certainly I wasn't! Duginov's lotus blossom-strewn staging (in sets credited to Yuri Samodurov) with its small wooden Japanese house (Minka) with sliding doors and a veranda, and an arched bridge (Guzei) to the side; along with a picture postcard backdrop; Japanese women in kimonos with white makeup on their faces; and the shuffling movement for both women and men, was opera at its most unashamedly traditional. I enjoyed seeing a Madama Butterfly without any directorial intervention and as Puccini would be pleased to see it, I suspect. The stage pictures changed little during the three acts – an occasional costume change and the sight of an American flag notwithstanding – due to the restrictions of a touring production, but this mattered not a jot either.
Limited chorus numbers restricted the wedding party antics in Act I, but it focused our attention on Butterfly, Pinkerton and the concerned US consul in Nagasaki, Sharpless, as everything leads up to the concluding Love Duet; tender, yes, but showing Pinkerton keen to get his hands on Butterfly. (Don't worry, they retire into the house before anything explicit might happen.) After the interval what happens is more intimate and the beauty and lyricism of what we see suits it perfectly. There is Butterfly's anthem to eternal hope, 'One Fine Day', the Flower Duet and Humming Chorus, which are only a prelude to the high tragedy of the events soon to overtake Butterfly. We lose the marriage broker, Goro, trying to arrange another marriage for her, as well as one of my favourite moments when Butterfly and Sharpless discuss ornithology (oh yes, they do). Also, Butterfly's preparations to kill herself are not quite as protracted as usual and her child, Sorrow, is handed over early to Pinkerton's American wife, Kate. The more static nature of this act – plus the fine individual performances – cranked up the emotional impact of this marvellous work to the heights expected.
Ihor Puchkov and the orchestra worked marvels with the score, and you would think it was a much larger group of musicians. Equally good were the small chorus who sang splendidly on and off stage. Olena Dolhina's singing and portrayal of Cio-Cio-San's plight was of the highest standard and would grace any opera house, anywhere. Her voice was incandescent, with the exquisite high notes this role demands, as well as a suitably girlish and innocent demeanour. Overall, I was impressed by Oleksii Srebnytskyi's Pinkerton who had the legato phrasing the role requires and the can belto top notes of the type of tenor I most admire. He brought great experience to his character who had all the haughtiness and braggadocio of a Lieutenant in the US Navy.
Hazin Mykhailo was fine as the conniving Goro and Maksim Ivashyuk made much of the Bonze's cavernous pronouncements as he curses Butterfly at the wedding and orders the guests to leave. Oleksii Vietrov was a more youthful-looking and -sounding Sharpless than you usually see but he acted and sang well.  Particularly catching the eye and ear was Tetiana Halkina as Suzuki and with her expressive mezzo voice it was very easy to imagine her as a splendid Amneris (Aida) and Carmen in the Dnipro company's other operas. Whilst revealing her character's own vulnerability, Halkina also gave full rein to Suzuki's support for Butterfly. One of the most memorable moments in this Butterfly was Suzuki chasing Goro away and giving him a good beating with a fan, which Halkina seemed to enjoy very much indeed!
Jim Pritchard
For more about the Classical Ballet and Opera House that is presenting Dnipro Opera click here.