United Kingdom Bach: Julia Doyle (soprano), Anna Devin (soprano), Tim Mead (countertenor), Hugo Hymas (tenor), Roderick Williams (baritone), Choir of the Enlightenment, Orchestra of the Age of Enlightenment / Václav Luks (conductor). Royal Festival Hall, London, 19.3.2023. (JR)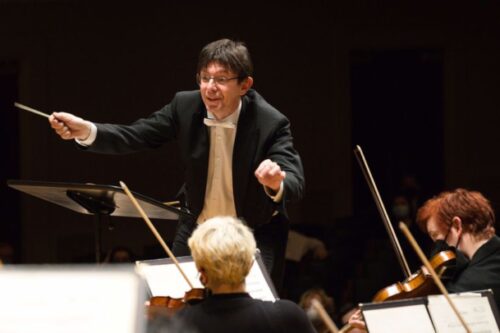 Bach – Mass in B Minor, BWV 232
There is a long list of venerable conductors, many still on the podium, who ushered in and championed period instrument and historic performances of baroque and Romantic works; I need not list those conductors. Václav Luks is in his genial middle age and a man to keep that tradition going, very strongly. He has excellent credentials: he hails from Pilsen, studied there and then at the Academy of Performing Arts in Prague and crowned his training with the specialised study of early music at the Schola Cantorum Basiliensis in Switzerland. He then started off as principal horn for the Akademie für Alte Musik in Berlin (Luks is also an accomplished harpsichordist, musicologist and pedagogue). Nearly twenty years ago he transformed the chamber ensemble Collegium 1704 into a baroque orchestra and founded the Collegium Vocale 1704. With those forces he recorded the B Minor Mass in 2013, to considerable critical acclaim.
Luks wrote an essay to accompany the recording in which he explains that he tries to balance tradition (heavier weight) and newer thinking, stripping away 'centuries worth of layers of thoughtlessly repeated clichés and aesthetic norms passed on from one generation to the next'. He says we should not be intimidated by its monumentality but discover its lovely colours in their natural beauty. On the strength of this performance with the excellent forces of the Orchestra of the Age of Enlightenment and Choir of the Enlightenment, I can confirm that he succeeded in his objectives.
There is no doubt about the qualities of the choir and orchestra: the superb choir sing with precision, volume – there are only 22 of them – and skill. The orchestra through expert control of period instruments make first-rate contributions throughout. The opening Kyrie had a steady tread, the sopranos lighting up their top notes like flames. Et in terra pax was not taken too fast to allow crisp articulation of the fugues. Irish soprano Anna Devin sparkled in Laudamus te, a first highlight. Gratis agimus was thrilling with attacking timpani, proving you do not need vast forces for effect. Hugo Hymas and Julia Doyle co-ordinated perfectly in their duet Domine Deus. Luks took us often seamlessly from one section into the other.
Advertised countertenor Hugh Cutting was indisposed, so in stepped the highly regarded Tim Mead (he impressed me several years ago in Zurich) and his sensitive rendition of Qui sedes (with superb breath control) was the next highlight of the evening. Roderick Williams can do no wrong, a pity his accompanying horn had an unlucky start. Cum sancto spiritu was taken at the speed of light, and very uplifting it proved to be.
Mead took over the second soprano part in Et in unum Deum, there was no sign that the two soloists had not rehearsed at length together. After a biting Crucifixus, a thrilling Et resurrexit introduced by the splendid tenors of the choir. The basses made their mark with judicare vivos and cujus regni. Williams was again in his element in Et in spiritum sanctum, even when not singing, as he sat smiling gently and his body language indicating he wanted to join the choir. A highlight for the choir was the Pleni sunt coeli chorus.
Hugo Hymas had his moment of glory in Benedictus, the performance almost being stolen by the solo accompanying flute (I have to say I prefer this played by a violin). Mead could not be bettered, vocally and emotionally, in his haunting Agnus Dei, with its exhilarating ending on hard-sticked timpani and three period trumpets. The audience had been as quiet as lambs. Finally, it all came together most beautifully in the choir's Dona nobis pacem. It had been an exquisite performance, without monumentality. At well under two hours, this was a fast reading and none the worse for that: the time just flew by. Luks held the choir on to its final note for an age, then kept his hands high: the audience response was overwhelming.
John Rhodes