United Kingdom Puccini, Turandot (completed by Franco Alfano): Soloists, Chorus and Orchestra of the Royal Opera House / Sir Antonio Pappano (conductor). Broadcast live (directed by Peter Jones) from the Royal Opera House, Covent Garden, London, 22.3.2023. (JPr)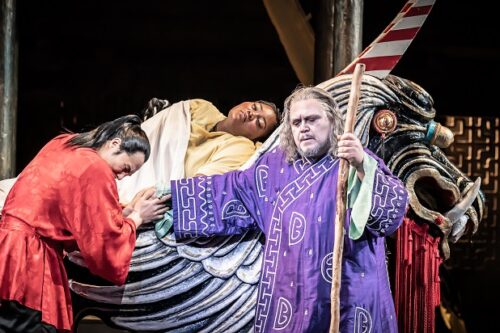 Production:
Director – Andrei Serban
Revival Director – Jack Furness
Designer – Sally Jacobs
Lighting designer – F. Mitchell Dana
Choreographer – Kate Flatt
Choreologist – Tatiana Novaes Coelho
Chorus Director – William Spaulding
Cast:
Princess Turandot – Anna Pirozzi
Calaf – Yonghoon Lee
Liù – Masabane Cecilia Rangwanasha
Timur – Vitalij Kowaljow
Ping – Hansung Yoo
Pang – Aled Hall
Pong – Michael Gibson
Emperor Altoum – Alexander Kravets
Mandarin – Blaise Malaba
It's probably the last revival of Andrei Serban's 'classic' Turandot production yet I cannot easily find how many there have actually been, though we were told it has notched up over 110 performances. I have seen a few of them and must be approaching double figures because I was there during its first Covent Garden outing in 1984 (help, nearly forty years now!), the year it premiered at the Los Angeles Olympics. If you factor in all the performances of Turandot I have been to elsewhere then I have experienced any number of Turandots, Calafs and Liùs. I have also (last century!) talked at length to Dame Eva Turner who was in the audience for the opera's first night in April 1926 at Milan's La Scala and first sang Turandot later that year, subsequently singing it at Covent Garden in 1928. It should be remembered that Dame Eva always insisted it was Turandoh not Turandot! However, looking back can be something of a nasty habit …
Conductor Antonio Pappano reminded the cinema audience in a filmed segment that Puccini regarded the work as 'a fable rather than an opera'. The composer was attracted to Carlo Gozzi's 1762 play because an exotic setting had already proved successful for Puccini with Madama Butterfly and the plot was less realistic than his other works. He was fascinated by Turandot, an icily cruel princess, who is very different to his other principal female characters most of whom had been sweet and obedient creations doomed to suffer and sometimes die for love. Puccini was also particularly taken by the 'journey' Calaf ('The Unknown Prince') goes on during the opera. In addition, he wanted from Adami and Simoni, his librettists, a wide variety of characters; Ping, Pang and Pong (the ministers of state) provide some light comic – albeit heavily ironic – relief and the doomed slave girl Liù (who is not in the original Gozzi story) was created to counterbalance the princess's character. Finally, there are possible autobiographical elements: is Calaf Puccini, is Turandot his wife Elvira, and is Liù, the tragic Doria Manfredi of the infamous scandal?
Puccini struggled with Turandot for almost five years and by early 1924 eventually everything had been orchestrated up until Liù's death with the final scene in which Turandot is transformed by Calaf's kiss into a warm-hearted human being capable of love left only as sketches. Unfortunately, in November that year the chain-smoking Puccini died the day after a cancer operation in Brussels. Before some recording sessions in 2022, Pappano had never conducted Turandot and the recent release on Warner Classics includes the final scene as completed by Franco Alfano in its entirety for the first time on disc. At Covent Garden we do hear the Alfano ending but as edited by Arturo Toscanini who conducted that first Turandot Dame Eva Turner saw.
Puccini's music for Turandot is in many respects his most advanced and most modern in style. While he was composing it, Puccini saw the world première of Schoenberg's Pierrot Lunaire in Florence an event which undoubtedly influenced him. Turandot is the product of early twentieth century Orientalism – the fascination of the West with the 'exotic' cultures of the East – and in order to create a more 'realistic' Chinese atmosphere, Puccini read many books on the culture and ceremonies of China, and he also sought out real Chinese music to imitate. All of which makes Turandot one of the most complex and original scores of the twentieth century.
So, Pappano has now been conducting Turandot in the opera house for the first time and you wonder why he has waited so long because – as heard through the cinema loudspeakers – his conducting illuminated every detail imaginable from the score and perfectly blended brash dissonances with textural power and thrilling climaxes. Highlights included when the moon rose in Act I; Ping, Pang, Pong's lamentations at the beginning of Act II; and Liù's funeral in Act III. As expected, the Royal Opera House orchestra played the music exceptionally well for him and the significantly augmented chorus were their usual dependable selves and although they often sang out lustily there was a significant sense of refinement at times. Their contribution – together with the orchestra – provided a rich dramatic background for the soloists.
Andrei Serban's production, revived here by Jack Furness, strives for some authenticity with its Chinese masks and the late Sally Jacobs's other colourful costumes, as well as all the pageantry, ceremonial dance and bloodthirsty savagery. The long red ribbons at the beginning, the single, two-tiered set for the chorus, and the dramatic masks of Turandot's beheaded suitors with stylised silken blood, looked as vibrant as ever, with the silent Executioner still a threatening presence. (Few of the doubts about Orientalism in Turandot can be addressed without ruining the opera however the original make-up for the leading trio of singers has disappeared now.) The performance is choreographed – overseen by choreologist Tatiana Novaes Coelho though the original choreographer Kate Flatt was on hand – rather than directed and there is lots of sensuous slow-motion, Tai Chi-inspired movement, while the principal singers just stand and deliver. There remains the memorable image right at the end of Timur (a deposed king and Calaf's father) pulling Liù lying dead on her bier across the stage as Turandot and Calaf embrace. It reminds everyone how callous the prince is, since Liù died because of her love for him.
I wish I could be as enthusiastic about the cast as I am about Puccini's opera, Serban's staging, the chorus and Pappano's conducting. When (with respect to the artists) Turandot, and especially, Calaf are disappointing the performance can't be considered a complete success. Yonghoon Lee impressed me during a Met Live in HD Turandot in May 2022 and his Calaf clearly was the emotionless 'bastard' willing to let Liù die so that he can continue to climb the social ladder. However, Lee's singing this time was too effortful and any hard-won top notes were squeezed out notwithstanding how long he held on to them. He pulled 'Nessun dorma' all over the place and, for me sorry, it was far from a showstopper. Come back Franco Bonisolli all is forgiven (sadly he is no longer with us)!
Anna Pirozzi did not move around the stage particularly well, though with this production – and possibly with this role – she doesn't need to. She never really brought out her character's imperiousness, cruelty, petulance, fear and, ultimately, melting love and burgeoning humanity as successfully as many previous singers in this production. Pirozzi too found it 'a hard sing' – which of course it is – and she took a little time to find her best voice in 'In questa reggia' and whilst musically accurate it was far from memorable.
The best singing was in the more minor roles led first and foremost by Masabane Cecilia Rangwanasha's Liù which must be the crowning achievement of her – as yet – youthful career. She sang radiantly yet with a touch of steel that suggested she might be a Turandot of the future herself. 'Signore, ascolta' and 'Tu che di gel sei cinto' drew the audience into her character's plight and were sung with tremendous feeling. Masabane Cecilia Rangwanasha is an alumna of the Jette Parker Young Artists programme and another 'graduate' is Blaise Malaba who was the authoritatively voiced Mandarin. Vitalij Kowaljow was superb as Timur and used a cavernous voice to great effect and 'Liù! Liù! Sorgi! after her sacrifice was poignant and heart-rending.
Another wonderful talent to catch the ear was Hansung Yoo's mellifluous baritone as Ping, who together with his equally physically energetic and talented colleagues, Pang (Aled Hall) and Pong (Michael Gibson, a current Jette Parker Young Artist), were more bearable in their commedia dell'arte shenanigans than they usually are. Some thanks here must go to Pappano for smoothing out any discordancy in Puccini's music for them.
I think that having been captivated more by Liù, Timur, Ping, and Alexander Kravets's perfect vignette as the doddery, ailing Emperor, rather than Turandot and Calaf, means something was clearly wrong.
Jim Pritchard