United Kingdom JS Bach (arr. Berio), Alban Berg, Haydn and Claude Vivier: Veronika Eberle (violin), Aphrodite Patoulidou (soprano), London Symphony Orchestra / Barbara Hannigan (conductor). Barbican Hall, London, 2.3.2023. (CSa)
JS Bach (arr. Berio) – Contrapunctus XIX
Berg – Violin Concerto
Haydn – Symphony No.44, Trauer
Claude Vivier – Lonely Child
The Canadian singer and conductor Barbara Hannigan, a long-time collaborator and recently appointed Associate with the London Symphony Orchestra, is described as an artist at the forefront of creation with a profound commitment to the music of our time. In addition to her extraordinary musicianship, she is also a great innovator and an intelligent artistic planner, who brings seldom heard or previously unperformed contemporary works to the attention of musicians and concertgoers alike, subtly connecting novel with more familiar pieces in the classical music repertoire. The benefit of Hannigan's holistic approach is that she breathes new light into music making and attracts younger and more diverse audiences by enabling them to see and understand current musical trends through the lens of history. Hannigan's approach was much in evidence in her most recent appearance with the orchestra in an imaginative concert where compositions spanning four centuries were linked by common threads and united themes: grief, mourning and joy.
The concert started with Bach's 19 fugues known collectively as The Art of the Fugue, arranged by Luciano Berio (and named Contrapunctus XIX). This set of fugues is considered to be the greatest and most endlessly inventive of Bach's works. Some, not least the composer's son Carl Philipp Emmanuel, claimed that the last and unfinished fugue was dictated by the ailing composer from his sick bed. They maintained that just before he died, he managed, in the final lines, to employ musical notations corresponding to B-A-C-H to sign his name into the music. It was to be 250 years when in 2001, two years before his own death, the Italian composer Berio attempted to complete Bach's interrupted contrapuntal journey, ending it in a gentle and mysterious dissonance, its final destination unknown. The piece is scored intimately for 23 players, and its execution requires precise coordination. In this performance, however, while the reduced and very exposed forces of the LSO played with haunting beauty, they began uncertainly and ultimately failed to bring the taut counterpoint exchanges between the instruments, specifically woodwind and brass. These are necessary to delineate the work's constantly evolving landscape. This absence of definition and drive may have been the result of Hannigan's direction which, for all its physical energy – sweeping arm gestures, bending knees, beseeching hands and flicks of the wrist – lacked focus, seeming to suggest that the conductor was responding to the players' interpretation of the music, rather than the players to hers.
Alban Berg's Violin Concerto ended the first half. Completed in July 1935, just eight months before his death, Berg decided to integrate his mentor Schoenberg's twelve-tone technique into an accessible and emotionally expressive memorial to his adored Manon Gropius, the recently deceased 18-year-old daughter of Gustav Mahler's widow Alma Mahler and the architect Walter Gropius. Writing to Alma at the time, Berg promised that 'before this terrible year has passed, you … will be able to hear, in the form of a score which I shall dedicate "to the memory of an angel", that which I feel today but cannot express.' Like Bach, Berg's work is a contemplation of mortality, and like Bach, Berg's score is monogrammed into the music. Indeed, Berg specifically references Bach's mighty Lutheran chorale Es ist genug! Herr wenn es Dir gefällt in the concerto's final movement Adagio. The soloist, acclaimed German violinist Veronika Eberle, played with beguiling richness and beauty, and both she and the orchestra succeeded brilliantly together in reconciling the work's competing demands. Passages of angular 12 tonal modernity were suffused with luxuriant romanticism, and the concerto's intense moments of grief and mourning were swiftly followed by periods of joy.
The same musical leitmotifs also wove their way into the second half of the concert, with Haydn's Symphony No.44, which he nicknamed Trauer (Mourning), because in later life he requested that the gentle, graceful third movement Adagio be played at his funeral. Written during Haydn's experimental Sturm und Drang (storm and stress) period, the symphony explored a new and more expressive soundworld, introducing elements of anxiety and dramatic shifts of mood. These were fully realised in a performance of rich emotional contrasts and taut ensemble playing.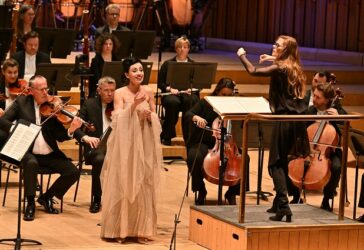 'Bel enfant de la lumière dors, dors, dors, toujours dors' ('Beauteous child of light sleep, sleep, sleep, forever sleep') are the first words of text in Claude Vivier's Lonely Child, a 'long song of solitude', and the programme's final stop in a fascinating journey of discovery. Vivier, a Canadian composer, grew up as an orphan. He was tragically murdered in his Paris apartment at the age of 34, the victim of a homophobic attack. Commissioned in 1980, three years before he was killed, Lonely Child incorporates far eastern influences, a delicate and magical world hovering between life and death. It is a deeply spiritual and mystical self-portrait – a reassurance to a child of the eternal hope of the afterlife – scored for soprano and chamber orchestra. Barbara Hannigan's luminous voice would have fitted the part perfectly, but she chose instead to conduct from the rostrum. On this occasion, Hannigan's orchestral control was outstanding, producing from the players a dazzlingly coloured and finely textured musical response, while the silver-voiced Aphrodite Patoulidou, ululated and declaimed her way through the challenging solo part with supreme confidence.
Chris Sallon