Australia Wagner, Das Rheingold: Soloists, Melbourne Opera Orchestra / Anthony Negus (conductor). Livestreamed on Australian Digital Concert Hall from the Ulumbarra Theatre, Bendigo, 24.2.2023. (JPr)
Production:
Director — Suzanne Chaundy
Set designer — Andrew Bailey
Costume designer – Harriet Oxley
Lighting designer – Rob Sowinski
Video projections – Chris Hocking
Cast:
Woglinde – Rebecca Rasheigh
Wellgunde – Naomi Flatman
Flosshilde – Karen Van Spall
Alberich – Simon Meadows
Wotan – Warwick Fyfe
Fricka – Sarah Sweeting
Freia – Lee Abrahmsen
Fafner – Steven Gallop
Fasolt – Darren Jeffrey
Froh – Jason Wasley
Donner – Christopher Tonkin
Loge – James Egglestone
Mime – Robert Macfarlane
Erda – Deborah Humble
Thanks to the enterprising Australian Digital Concert Hall (ADCH) – the brainchild of co-directors Chris Howlett and Adele Schonhardt – I am able to visit Bendigo, a city in Victoria, for the first in Melbourne Opera's Ring cycles. It is performed in the Ulumbarra Theatre, which is described as 'intimate' yet can accommodate the 90-strong Melbourne Opera Orchestra. The ADCH website will tell you how it 'was created to connect artists and communities everywhere through music and technology. We launched as Melbourne Digital Concert Hall on 27 March 2020, hoping to help professional musicians continue their craft and earn an income during Covid-19. Little did we know where that would take us. Since then we've gone national, presenting more than 550 live concerts and enabling 3,000 musicians and arts industry workers to earn over $3 million since the pandemic struck.'
I reported on this Das Rheingold in 2021 when the livestream had issues but there were no problems this time and it was well-presented if without credits, though the ADCH do provided detailed programme notes. (Without apologies I will revisit much of what I wrote before on this Rheingold and Die Walküre, which I also saw before, but will complete the cycle by watching the final two operas that I am seeing for the first time.)
As Suzanne Chaundy's Rheingold opens I am reminded of past Rings I have been fortunate to see – and there is nothing wrong in that of course. Two aerial artists are 'swimming' (as Rhinemaidens) on tall – and very bendy – poles with the three singers lower down sitting on a dais (already showing Chaundy and her colleagues have had some second thoughts because before they sat in large trapeze-like hoops). All were in Harriet Oxley's billowing diaphanous costumes and had shiny, wavy hair. There is again the judicious use of video (from Chris Hocking) throughout this Rheingold beginning with a blue rippling Rhine and certain moments here recalled Glen Byam Shaw and John Blatchley's famous The Rhinegold I saw at the London Coliseum in the 1970s. Alberich is a rather dissolute looking, lanky character, with long black hair fringing a bald pate. As he stumbled around, he was teased mercilessly by the Rhinemaidens (on the ground and swinging about above) though there seems no real reason why he could not catch any of them, but (again) let's not worry about that. He steals the Rhinegold, not by smearing himself in gold paint as last time, but by opening a maintenance hole cover and taking the small amount away (or so it looked).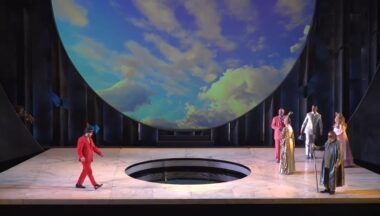 For the second scene – after more rippling waves, before some clouds – a large ring impressively appears to descend and becomes the circular depression in the centre of a platform the action takes place on, and which will later move and lift. (Was it me or did Andrew Bailey's platform have a marble-like surface?) I was thinking here of Götz Friedrich's Ring at Covent Garden (with Josef Svoboda's set design) also in the 1970s. Behind it is a large circular opening which last time I thought represented Valhalla, yet here it showed the sun rise in a slowly changing skyscape and later, as appropriate, dark and stormy skies. Wotan, bearded and with his spear and a patch over his left eye, looks – well – like Wotan, and Freia and Fricka look like old Roman goddesses. Freia is in white and silver with a golden apple blossom wreath in her hair and holds a small basket of golden apples, whilst Fricka has a gold lamé cloak and a headpiece incorporating two snakes (perhaps suggesting she is something of a 'gorgon'?). To complete the 'dysfunctional' family Froh wears a rose-pink suit and Donner is in shiny silver and carries a small hammer. Loge is a bit of a wide boy in his stripey red suit and black pork pie hat. Finally, Fasolt and Fafner are hulking Afghani herdsmen holding wooden staffs!
During his Narration Loge appears to paddle in the hole in the platform and even seems to splash water around. Later Wotan and Loge will stand in the hole which glows red as the platform lifts for the descent to Nibelheim's shadowy and rather too dark, smoky, and chaotic underworld. Alberich is now a blowhard in a gold paint-trimmed jacket who relishes the whip he brandishes as he lords it over Mime and the Nibelungs in their dark, nondescript costumes. Video is well used to conjure up a fearsome dragon but the subsequent change to a toad, as well as Alberich's capture, isn't shown quite as clearly. Back on the gods' mountaintop, his hoard is recovered as an eclectic mix of sacks of gold and when they are piled up Freia just hides behind them which is a little at odds with the suggestion she is completely covered.
Erda materialises as a huge, spectral face at the back silently mouthing something as she appears singing at the front in an extravagant green gown. Fafner murders Fasolt with his staff before carting away the gold. There are some lurid colours seen within the large disk as Loge, Fricka, Donner, Froh and (to a degree) Wotan look into the hole down to the lower realms as we hear the Rhinemaidens lament. They then retire to the rear of the stage where – leaving Loge behind – they line up as the platform rises and smoke fills the stage reflecting Rob Sowinski's lighting with its rainbow-like hues.
An all-Australian creative team allows the story of Das Rheingold to be told in a straight-forward manner without unnecessary directorial re-invention, though there is still the rest of the cycle to come so my final comments on their work will be written later. The cast of (I believe) all-Australian singers – though several with international pedigrees – were accomplished and can only benefit from the working with legendary Wagner coach and conductor – the ageless – Anthony Negus. If what I heard through my loudspeakers was the same as those in the theatre heard, the singers were only occasionally swamped by the large orchestra and so Wagner's words could be heard clearly.
The voices of the Rhinemaidens (Rebecca Rasheigh, Naomi Flatman, and Karen Van Spall) blended attractively and as before, mezzo-soprano Van Spall  sounded worthy of bigger roles than Flosshilde. Singing their roles again Sarah Sweeting was the imperious and unyielding Fricka and Lee Abrahmsen revealed her appealing soprano sound as the naïve Freia, Jason Wasley (Froh) and Christopher Tonkin (Donner) don't get long in the spotlight, but Tonkin was especially effective in conjuring up the storm with 'Heda! Heda! Hedo!'. As the giants Fasolt and Fafner, Darren Jeffrey and Steven Gallop were a rather uneven pairing: Gallop as Fafner was more saturnine than some, whilst Jeffrey came into his own when he plaintively expressed his true feelings for Freia only for his brother to brutally murder him. Robert Macfarlane elicited sympathy as Mime, Alberich's downtrodden brother. Deborah Humble is a vastly experienced singer and was a grave, authoritative Erda and her pronouncements were as portentous as they must be.
Stylish singing (again) from James Egglestone as the cynical, arch-manipulator, fire god Loge though his tenor sounded unusually Italianate, and it will be interesting to see what he does as Siegmund in Die Walküre. As the grizzled Wotan, Warwick Fyfe was rather bluff and forthright, though he was quite impressive nonetheless as the ruler of the gods.
The musical performance of Wagner's score was certainly not as polished as in 2021. This Das Rheingold seemed a little more drawn-out than its 2½ hours running time would suggest, with Anthony Negus having (perhaps?) a more languid approach than before. The Melbourne Opera Orchestra will undoubtedly improve during their three Ring cycles: the horns did not have their best night beginning during the otherwise unearthly quiet of the prelude and their insecurity was evident on occasions throughout the music. Nevertheless, this Ring cycle promises to be a significant success for which Melbourne Opera – in their 21st anniversary year – can be rightly proud.
Jim Pritchard
For more about the ADCH click here.