United States Verdi, Falstaff: Soloists, Metropolitan Opera Chorus & Orchestra / Daniele Rustioni (conductor). Metropolitan Opera, New York, 29.3.2023. (RP)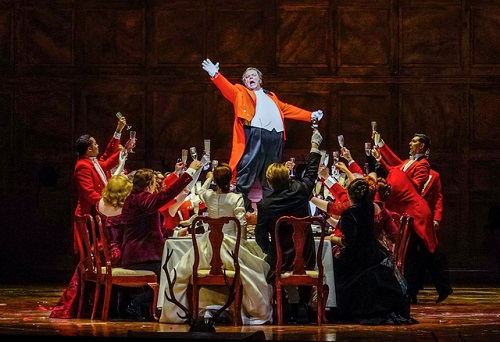 Production:
Production – Robert Carsen
Sets – Paul Steinberg
Costumes – Brigitte Reiffenstuel
Lighting – Robert Carsen and Peter Van Praet
Cast:
Falstaff – Michael Volle
Alice Ford – Ailyn Pérez
Mistress Quickly – Marie-Nicole Lemieux
Meg Page – Jennifer Johnson Cano
Nanetta – Hera Hyesang Park
Fenton – Bogdan Volkov
Ford – Christopher Maltman
Dr. Caius – Carlo Bosi
Bardolfo – Chauncey Packer
Pistola – Richard Bernstein
Verdi's Falstaff at the Metropolitan Opera provided the funniest evening I have ever experienced in an opera house, full stop. I have seen a fair number of productions of Verdi's comic masterpiece, including those starring two of the preeminent Falstaffs of the day, Bryn Terfel and Ambrogio Maestri, but Michael Volle, singing his first Verdi role at the Met, put a personal stamp on the role that is second to none. He didn't make this performance so enjoyable on his own, however: the rest of the cast bit into their roles with relish, and conductor Daniele Rustioni led a performance that fizzed with excitement.
The setting was Robert Carsen's well-traveled 1950s-style production, which was first seen at the Met in 2013. Wood-paneled walls are easily transformed from the Garter Inn to a massive yellow kitchen in the Ford's house. With a pile of straw in the corner, they also become the stables of the Garter Inn where Falstaff licks his wounds, drinking warm wine with a horse as his only companion. At this performance, the horse's whinny was perfectly timed to offer solace to the forlorn knight.
There is no Hermes Oak in Windsor Park, but the wood panels part to reveal a starlit night that bestowed a simple magic all its own. The final scene is an enormous banquet table over which Falstaff presides with bonhomie, proclaiming that all the world is folly, and he who laughs last, laughs best.
Costumes add vintage visual flare. The Wives of Windsor are attired in chic 1950s ensembles and sophistication reigns, with Alice Ford and Mistress Quickly even indulging in a martini or two. Falstaff's sartorial splendors range from a stained union suit to jodhpurs and shiny black boots. He dons massive antlers for his midnight assignation with Alice Ford, as do the witches, fairies and other demons that torment him.
Lighting is employed sparingly but to great effect. The stage is awash in red as Falstaff relishes his apparent success in winning favor with Alice Ford. As if in another realm where love and innocence prevail, the action comes to a standstill when Nanetta and Fenton, bathed in white light, express their devotion for one another.
Volle was imposing in all ways. The twinkle in his eye and his fleetness of foot belied any decrepitude that his squalid surroundings – the curtain opened to find him in an enormous bed surrounded by trolleys with the remains of room service meals – or his precarious finances suggest. Volle's Falstaff raged at the ineptitude of his lackeys and bemoaned his fate with equal vigor. Yet there was always something subtle and slightly tongue-in-cheek in his Falstaff, never more so than when he sang 'Va, vecchio John' in anticipation of his success with the ladies.
Perfectly delicious sums up Marie-Nicole Lemieux's Dame Quickly, who bubbled over with glee and mischief as she feigned subservience to Falstaff's virility and charms. A shiver of delight ran through the audience each time she sang 'Reverenza!' in her ripe, plummy mezzo-soprano. Lemieux, like Volle, never forced the comedy, but let it emerge naturally as an integral part of the wonderful characters they created.
Ailyn Pérez as Alice Ford was the epitome of glamour, which was mirrored in the creaminess of her voice and lovely legato singing with high notes that bloomed effortlessly. Jennifer Johnson Cano's rich-voiced Meg Page was equally glamorous and even more conniving.
In the getup of a Rhinestone Cowboy, complete with cowhide-covered briefcase, Christopher Maltman gave Ford in his 'Mr. Fontana' guise a Texas-sized flamboyance. This bravura vanished, however, when Ford learned that Falstaff had already arranged an assignation with his wife. Maltman gave voice to Ford's rage in a controlled-burn account of 'È sogno o realtà?', yielding graciously later to being outwitted by his wife in arranging the marriage of their daughter, Nanetta, and Fenton.
Hera Hyesang Park captured the mercurial moods of a young girl in love whose obstinate father has other plans for her. This Nanetta vented her anger in the obvious way by digging into a tub of ice cream direct from the freezer. But it was her silvery light soprano singing some of Verdi's most beautiful melodies that won hearts, rather than her deft comic timing.
The object of her affection was Bogdan Volkov's dashing Fenton. Against a backdrop of twinkling stars, Volkov sang of his love for Nanetta in 'Dal labbro il canto estasiato vola' in his virile, beautiful lyric tenor.
The ever-dependable Richard Bernstein as Pistola and relative new-comer Chauncey Packer as Bardolfo livened up the stage with their Keystone Cop-like antics. Carlo Bosi's fastidious, conniving Dr. Caius seemed more intrigued than angered at the turn of events that left him married to Packer's robust Bardolfo rather than Park's alluring Nanetta.
A lone voice proclaiming 'Wow!' and an outburst of applause were heard after the final notes of the finale to Act I's first scene had sounded in the hall. Rustioni had whipped the cast and orchestra into a frenzy that left one breathless. The Italian conductor is a master of pacing the action and steering the music. Musically, this was a wonderful performance, and the wave of applause that greeted Rustioni when he took his bow acknowledged his efforts in making it so.
Rick Perdian
The Met: Live in HD broadcast of Falstaff is on 1 April at theaters worldwide. For more information, click here.