United Kingdom Richard Strauss, Ariadne auf Naxos: Soloists, Orchestra of Opera North / Antony Hermus (conductor). The Lowry Theatre, Salford Quays. 10.3.2023. (MC)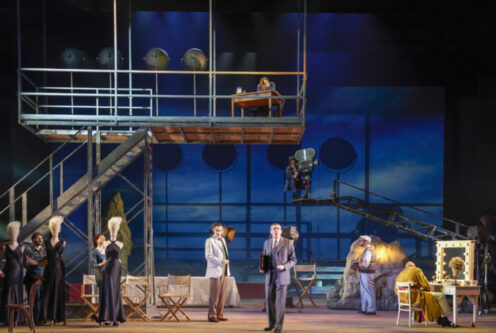 For its latest series Opera North has revived both The Cunning Little Vixen (review here) and Tosca (review here) together with a new production of the Richard Strauss opera Ariadne auf Naxos which was receiving its first ever performance by the company.
After startling the music theatre with his bloodthirsty operas Salome (1905) and Elektra (1909) Strauss turned to a different soundworld. First it was comic opera with Der Rosenkavalier (1911) and then the difficult to classify Ariadne auf Naxos (1912) that Opera North describe as 'Comic, heroic and romantic'.
Prior to Ariadne auf Naxos librettist Hugo von Hofmannsthal had collaborated with Strauss on Elektra and Der Rosenkavalier becoming celebrated as one of opera's leading partnerships. Following up their successes Strauss and Hofmannsthal decided on an ambitious endeavour that after several modifications resulted in Ariadne auf Naxos as we know it today. The plot concerns one of Vienna's wealthiest individuals who has commissioned both a serious opera based on Greek mythology and also a light entertainment work. Owing to a firework party the wealthy commissioner decides he doesn't have time to sit through each work separately so he instructs the Major-domo to inform the production team that a performance of each show will merge on the same stage.
It was five years since director Rodula Gaitanou first staged this production of Ariadne auf Naxos for Göteborg Opera, and now it is put on by Opera North. Gaitanou and her design team have created a colourfully creative staging of the scenario that provides a highly effective confrontation between opera seria an example of high culture with a type of end-of-pier variety show for the masses. Designer George Souglides has moved his set and costumes from the fashionable salons of pre-First World War Vienna to the busy film studios of Federico Fellini at Cinecittà in Rome in the 1950s, all against a blue-sky backcloth and complete with klieg lights and cameras.
Stealing the show was Jennifer France as Zerbinetta the seductive leader of a comedy troupe dressed in a black satin dressing gown which often fell open. France sang vibrantly with excellent levels of expression and her performance commanded attention. The God Bacchus is a role traditionally attracting famous tenors such as Bayreuth stalwart Max Lorenz to others of more recent times, notably Jonas Kaufmann. With his white suit and laurel wreath crown Ric Furman as the romantic lead had stage presence singing Bacchus capably and with assurance.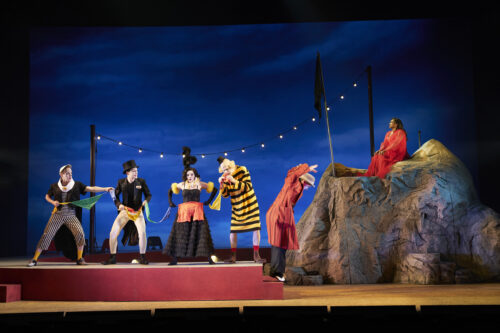 In the diva role of Ariadne, soprano Elizabeth Llewellyn conspicuous when wearing her red haute couture gown sang quite beautifully. Plonked on the large rock, that represents the island of Naxos, for what seemed like an age, Llewellyn's acting didn't seem to be her strongest suit. Ariadne's aides, a trio of nymphs (Daisy Brown, Laura Kelly-McInroy and Amy Freston) recurrently imitated sea waves mainly with arm movements that soon became irritating. The Composer is a trouser role sung by mezzo-soprano Hanna Hipp who was in fine form. She seemed highly engaged emotionally, particularly in revealing the Composer's feelings for Zerbinetta. Bass-baritone John Savournin made an incisive Major-domo and was droll as Truffaldino; whilst Dominic Sedgwick was a good Harlequin.
Unusually for Richard Strauss with Ariadne auf Naxos he pared down his normally huge and lavish orchestral forces to a chamber size orchestra of less than forty. Under its principal guest conductor Antony Hermus, the Orchestra of Opera North was in first class form and sounded glorious with the woodwind relishing its considerable contributions.
Certainly, the audience reaction to Opera North's first ever Ariadne auf Naxos was positive with a number standing to cheer as the cast took their curtain calls.
Michael Cookson
Creative team:
Stage director – Rodula Gaitanou
Assistant Director – Lauren Poulton
Set and Costume designer – George Souglides
Lighting designer – Simon Corder
Choreography – Victoria Newlyn
Cast:
Music Master – Dean Robinson
Major-domo / Truffaldino – John Savournin
Lackey – Frazer Scott
Officer – Tom Smith
Composer – Hanna Hipp
Tenor/Bacchus – Ric Furman
Wigmaker – Jeremy Parker
Prima Donna/Ariadne – Elizabeth Llewellyn
Dancing Master – Daniel Norman
Zerbinetta – Jennifer France
Harlequin – Dominic Sedgwick
Scaramuccio – Alex Banfield
Brighella – Adrian Dwyer
Naiad – Daisy Brown
Dryad – Laura Kelly-McInroy
Echo – Amy Freston
The prologue was given in a multilingual version prepared by Christopher Cowell using English, Italian and German. The single act is given in the original German.