United States Mozart – Mitsuko Uchida Master Class: Matthew Figel, Evren Ozel, Tomoki Park, Xiaohui Yang (piano). Resnick Education Wing, Carnegie Hall, NY, 1.3.2023. (RP)
Mozart – Piano Concerto No.25 in C major, K.503; Piano Concerto No.27 in B-flat major, K.595
'I dislike masterclasses!' was Dame Mitsuko Uchida's welcome to those gathered to watch her mentor four pianists at Carnegie Hall. The basis for her disdain is a personal dislike of being taught herself.
The 74-year-old pianist and conductor is especially known for her interpretations of the music of Mozart, Beethoven, Schubert and Schumann. As a Carnegie Hall Perspectives Artist, she will be a regular presence there for the next two years, after having been absent from its stages since 2009.
Uchida's performances this season include a recent recital in which she played Beethoven's final three piano sonatas (review click here) and an upcoming concert with the Mahler Chamber Orchestra in which she will conduct and appear as a soloist in Mozart's Piano Concertos No.25 and No.27.
She figures prominently in next season's schedule with duo performances that explore the music of Schubert, including Winterreise with tenor Mark Padmore and an all-Schubert program with pianist Jonathan Biss. Leading the Mahler Chamber Orchestra from the keyboard, she will again perform Mozart piano concertos, as well as appear as soloist with the Philadelphia Orchestra and Yannick Nézet-Séguin in Ravel's Piano Concerto in G major.
Carnegie Hall's Executive and Artistic Director Clive Gillinson had the opportunity to interview Uchida at the event announcing the 2023/24 season. He began by asking why she chose to focus on Schubert for the upcoming Perspective Series. He never had the chance to ask another question. For the time allotted, and perhaps more, Uchida explained why Mozart, Beethoven and Schubert were so important to her as a musician.
She said that while Mozart and Beethoven were perhaps more technically proficient, Schubert was a similar genius. His accomplishments were even more remarkable because he came from a rather humble background. As to what made Schubert's music so special, it was the sense of longing in it, which no other composer has ever been able to express so perfectly in music.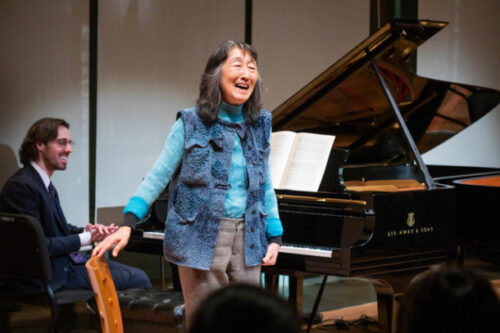 The music of Mozart, however, was the focus of her master class the following afternoon, specifically the two piano concertos that she will perform with the Mahler Chamber Orchestra later in the month. Four young pianists performed as pairs, each taking turns playing the solo part and the piano reduction of the orchestral score. Xiaohui Yang and Evren Ozel partnered in the Concerto No.25, and Matthew Figel and Tomoki Park in No. 27.
Before a note was played, Uchida had words of wisdom to impart. She told the pianists that it is essential for a soloist to know the entire score of a concerto in order to discover what the composer intended to express. Uchida urged them to view Mozart's piano concertos as small operas with the piano and principal wind instrument as the singers. It is by discovering and engaging in the musical drama in Mozart's music that a performer can unlock the secrets of a score and express them through their playing.
She also advised that the story surrounding a work's composition is integral to understanding it. Mozart was at very different stages of his life when he composed the two concertos, which is important to know to comprehend and interpret them.
Completed in 1786, the Concerto in C major is a monumental work, almost symphonic in scale. In that year, Mozart performed some 20 concerts, but this concerto was his last hurrah as piano virtuoso of the moment. The B-flat major concerto was his final work in the genre, and its premiere in 1791 was the last time Mozart performed in public prior to his death later that year. Uchida observed that he had been saying farewell in his music since 1788 but, in this concerto, one senses that he meant it.
For such an eloquent speaker, Uchida spoke surprisingly little once the pianists began. All played a movement of their respective concertos without interruption. After they finished, Uchida said nothing about technique and gave practically no insights regarding interpretation in the traditional sense. Rather, she focused on the harmonic structure of the pieces.
However, she did play, alternating between performing the solo part or accompanying one of the four as they did so. It was as if words were inadequate for her to guide them on their respective paths to discover the emotions imbedded in the notes. It was something that this most insightful and articulate of artists was only able to impart through sound: a language that the four young pianists understood better than anyone else present.
Rick Perdian