United Kingdom Prokofiev, César Cui, Elena Langer: Soloists, Chorus and Orchestra of Royal Conservatoire of Scotland / Lada Valešová (conductor). New Atheneum Theatre, Glasgow, 20.3.2023. (GT)
Prokofiev – Overture on Hebrew Themes
César Cui – A Feast in Time of Plague
Elena Langer – Four Sisters (world premiere)
This double bill was initially a triple bill; however, the projected Mozart and Salieri by Rimsky-Korsakov was replaced by an overture by Prokofiev. I have never heard a single note of César Cui's music in the concert hall or theatre, nor have I heard any recordings of his music. A member of the 'Mighty Kuchka' (Mighty Handful) nationalist group, and of the Belyayev Circle, Cui wrote no less than fourteen operas and a great deal of chamber music and romances. Born in Vilnius in what is now Lithuania, his father took part in the Napoleonic wars and was injured in the battle for Smolensk in the French push towards Moscow in 1812. Rather than return to his homeland, Cui married a local woman in Vilnius.
Born in 1835, Cui studied in the military school in St Petersburg (among whose students were Dostoyevsky and Myaskovsky). He became a professor, and was fortunate to teach illustrious pupils, among whom was the future Tsar Nicholas II. He took part in Russia's Balkans campaign advising on the construction of military structures. In the Russian capital, he was attracted to music in the soirees hosted by the aristocracy and became friends with Rimsky-Korsakov and Mussorgsky. He was also an influential music critic and had a reputation for sarcastically destroying his rivals, most notably Tchaikovsky's operas and Rachmaninov for his First Symphony. He also criticised modern music and was highly regarded by Liszt.
The Prokofiev piece (Overture on Hebrew Themes) opened with a dark shadowy stage dominated by two upright coffins with the Jewish violinist played by Sam Marston sitting on one of them, and as the music unfolded, he opened the coffins to reveal two well-dressed gentlemen who mime trying to be confined in the more expensive one The piece suitably set the tone for what is to follow – a theme of death and wealth.
César Cui's libretto is from Pushkin's eponymous play that takes place in London during the 1665 pandemic, and we see two well-dressed couples trying to avoid the plague by enjoying a party. Walsingham toasts the plague with an arioso celebrating life in the face of death. A priest arrives who berates the company for disrespecting the dead during a time of woe, yet he is countered by Walsingham – and the young couples who continue revelling.
Ross Cumming's Walsingham was superb, both in his rich baritone and acting, and was matched by the Polish mezzo-soprano Wiktoria Wizner whose aria was beautifully sung and in character. As in last month's L'etoile, the French soprano Marie Cayeux was outstanding in portraying the vivacious Louisa, and the Young Man was finely characterised by Sam Marston, while the Priest was forcefully performed by Pawel Piotrowski. The orchestra was of chamber size yet there was some fine harmonies especially from the harp, and woodwind group superbly directed by the Czech conductor Lada Valešová. The Russian coaching was excellent. Cui's vocal writing is attractive with colour and skilfully rhythmic phrasing; however, his orchestral writing lacks the harmony, richness and genius of the 'Mighty Kuchka' – Rimsky-Korsakov, Mussorgsky, Balakirev and Borodin. This short opera is a good introduction to this composer's music, and I will try to seek out more of his creativity.
Elena Langer is a Russian-born composer who has enjoyed significant success with her Figaro Gets a Divorce, the vaudeville Rhondda Rips It Up! for Welsh National Opera and more widely in the US, Asia and Europe. Langer's music is colourful, dramatic and humorous, and on the basis of this performance, she is clearly a highly gifted composer who embraces a wealth of orchestral ingenuity and mastery. Her writing is largely tonal and occasionally uses twelve-tone technique. Her conception for Four Sisters was partly inspired by Chekhov's Three Sisters, as she explains: 'When Dawn Upshaw asked me to write an opera for her students at Bard College in Upstate New York, I thought it would be nice to have a contemporary libretto specifically written for this occasion – perhaps with a few frivolous young girls at the centre of the piece and set in New York City. Soon after that, I happened to have a chat with the director John Lloyd-Davies and shared these thoughts. John at that time was designing Chekhov's Three Sisters in Vienna. A few days later I received a short scenario of Four Sisters!' The opera was premiered in 2012, however, this revised version for the Royal Conservatoire of Scotland is shorter and with full orchestra.
The opera owes a lot to Puccini's Gianni Schicchi: the coffin of a deceased Russian-born tycoon is centre stage with his relatives gathered speculating about the inheritance and sharing their hopes for spending the money – yet the lawyer Krumpelblatt arrives and tells of his losing the will. After a frantic search of the tycoon's flat, the will is discovered with a surprising result for everyone. The characterisation of Irina by Megan Baker was outstanding, she has a great voice and much charisma and is matched by the immensely promising Marie Cayeux as the Maid, who with her capriciousness and comic acting is another star.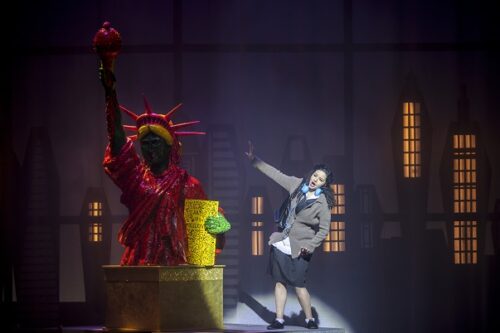 Ross Cumming as the lawyer Krumpelblatt was outstanding, both in voice and comic portrayal. The stage was dominated by a mock-up of the Statue of Liberty in grotesque colours, and at the close, the whole cast is in a celebratory mood. This short opera is a wonderfully funny work, yet not without satire and a joke at the expense of America's corrupt financial world. The music is wildly humorous, and I found kinships in the orchestration with Bernstein and Shostakovich in its wit and charm, but Elena Langer has her own distinctive voice and has achieved a triumph with this brilliant newly revised opera.
A tremendous success on all counts and another hit for the composer and a springboard for the gifted young students of the Royal Conservatoire of Scotland.
Gregor Tassie
Creatives:
Director – Max Hoehn
Designer – Jemima Robinson
Lighting designer – Leo Wittner
Assistant Conductor – Emilie Godden
Cast:
A Feast in Time of Plague
President Walsingham – Ross Cumming
Mary – Wiktoria Wizner
Louisa – Marie Cayeux
Young Man – Sam Marston
Plague Doctor – William Searle
Priest – Pawel Piotrowski
Four Sisters
Maid – Marie Cayeux
Masha – Rebecca Murphy
Irina – Megan Baker
Olga – Hannah Bennett
Krumpelblatt – Ross Cumming
Silent Figure – William Searle