Spain Massenet, Manon: Chorus and Symphony Orchestra of the Gran Teatre del Liceu / Marc Minkowski (conductor). Gran Teatre del Liceu, Barcelona, 21 and 22.4.2023. (JMI)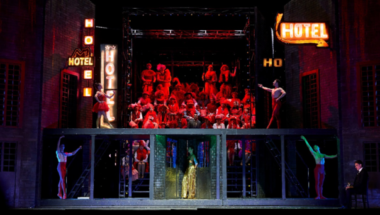 Production:
Director – Oliver Py
Sets and Costumes – Pierre André Weitz
Lighting – Bertrand Killy
Choreography – Daniel Izzo
Casts:
Manon Lescaut – Nadine Sierra / Amina Edris
Chevalier des Grieux – Michael Fabiano / Pene Pati
Lescaut – Alexandre Duhamel / Jarrett Ott
Conte des Grieux – Laurent Naouri / Jean Vincent Blot
Guillot de Morfontaine – Albert Casals
de Brétigny – Tomeu Bibiloni
Poussette – Inés Ballesteros
Javotte – Ana Tobella
Rosette – Anaïs Masllorens
Innkeeper – Pau Armengol
This production by Oliver Py premiered in Geneva in 2016 and has subsequently been seen in various French cities. It seems to respond to a kind of sexual obsession on the part of the director: sex is practically the only object of the opera, with a great number of naked bodies on display in numerous scenes. In fact, they are only lacking in the Saint-Sulpice scene. I have nothing against giving prominence to the sexual aspect here, but I must admit that it becomes a bit tiring in the more than three hours the opera runs.
Pierre André Weitz's set design is based on mobile elements and is mostly the same throughout. The first two acts take place in a kind of Pigalle, where cheap hotel buildings abound; in the Cours-la-Reine scene, Manon is displayed on a large staircase in the center. The Saint-Sulpice scene is perhaps the one that works best and then we move on to the unconvincing gaming room of the Hôtel de Transylvanie. The final act features an open stage where a big ship can be seen at the back, alluding to the deportation of the protagonist to America (as in Puccini's Manon Lescaut).
One of the great attractions was the presence of Marc Minkowski in the pit as he always raises high expectations for this reviewer. However, high expectations often lead to great disappointments, and something of this sort happened here. Minkowski's reading had two very different parts. His leadership in the first two acts was disappointing, but it improved in the Cours-la-Reine scene and was brilliant in the second part of the opera, especially in Saint-Sulpice. The Symphony Orchestra of the Gran Teatre del Liceu was very good, and the chorus was as well.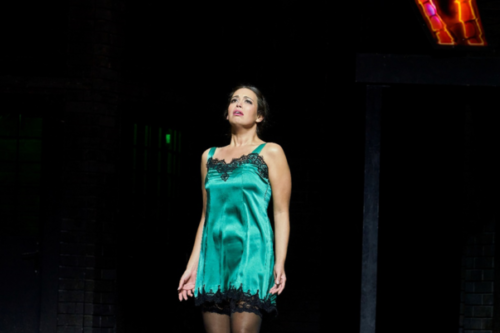 Manon was interpreted by soprano Nadine Sierra, who was returning to the Liceu after her recent success here as Lucía di Lammermoor. That success has been repeated on this occasion but also expanded in every way. She is one of the singers who, at her still young age (35), has become a great figure in the world of opera, and there are good reasons for it. She is a light lyric soprano, with an outstanding and very homogeneous voice and no problems with the tessitura in the upper range. To this must be added her superb ability as a stage performer. Her Manon interpretation was stupendous in every way, and I look forward to enjoying her work for a long time.
In the second cast, Manon was sung by soprano Amina Edris, who was making her debut at the Liceu. I had not had the opportunity to see her before this, and I got the impression that the announcement of a cold at the start of the opera was justified. She had difficulties with some high notes and offered some acid sounds. It will be necessary to see her in other circumstances to draw definitive conclusions but, at least here, she was a correct interpreter but not particularly impressive.
Javier Camarena was to have sung the part of des Grieux, but he canceled about a month ago and was replaced by Michael Fabiano, well-known in our theaters where he has often appeared. His tenor has never excited me, and that held true here. His voice has quality, but there is a certain monotony in his singing. His tendency to open sounds doesn't go with a character like des Grieux but, judging by the final applause, the audience liked him more than I did.
The chief interest in the second cast was tenor Pene Pati, who was also making his debut in Barcelona and had been preceded by a certain amount of fame. I heard him five years ago in Bordeaux where he made a positive impression, but here his performance had two very different parts. It was below what I expected in the first two acts, where his perfectly managed lyrical tenor seemed to lack volume. It did not fill the theatre very clearly, with the added drawback that he was heard least well when he had to sing from the back of the stage. Things improved in the later acts, and he was convincing – and even brilliant – especially in Saint-Sulpice.
Baritone Alexandre Duhamel as Lescaut was correct, although this is not a character who shines vocally. Bass-baritone Laurent Naouri also did well in the part of Count des Grieux, but I noticed a vibrato that did not exist before. In the second cast Lescaut was interpreted by baritone Jarrett Ott, who was fine but without brilliance, and something similar can be said of bass Jean Vincent Blot as Count des Grieux.
Guillot de Morfontaine and Monsieur de Brétigny were nicely covered by Albert Casals and Tomeu Bibiloni, and Inés Ballesteros (Poussette), Ana Tobella (Javotte) and Anaïs Masllorens (Rosette) were also good, as was Pau Armengol's Innkeeper.
José M. Irurzun