United States Blanchard, Champion: Soloists, Metropolitan Opera Chorus and Orchestra / Yannick Nézet-Séguin (conductor). Metropolitan Opera, New York, 22.4.2023. (RP)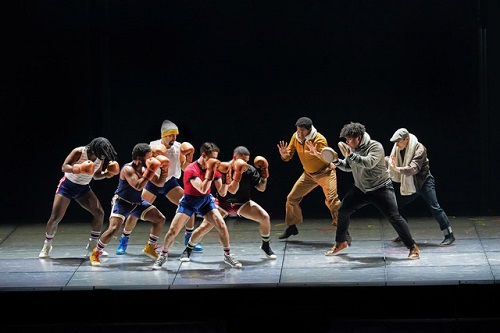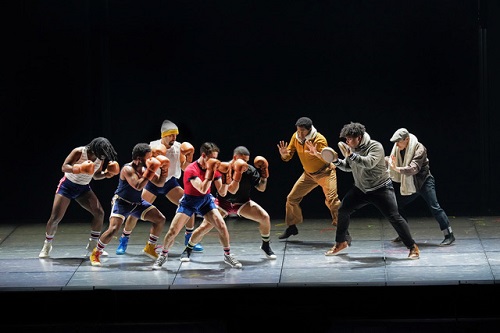 Production:
Libretto – Michael Cristofer
Production – James Robinson
Sets – Allen Moyer
Costumes – Montana Levi Blanco
Lighting – Donald Holder
Production Designer – Greg Emetaz
Choreographer – Camille A. Brown
Cast:
Young Emile Griffith – Ryan Speedo Green
Emile Griffith – Eric Owens
Emelda Griffith – Latonia Moore
Kathy Hagen – Stephanie Blythe
Howie Albert – Paul Groves
Luis Rodrigo Griffith – Chauncey Packer
Benny 'Kid' Paret – Eric Greene
Little Emile – Ethan Joseph
Ring Announcer – Lee Wilkof
Lucia Paret – Helena Brown
Sadie Donastorg Griffith – Brittany Renee
Cousin Blanche – Krysty Swann
After the success of Terence Blanchard's Fire Shut Up in My Bones last season, the Metropolitan Opera adjusted the 2022/23 season to include his first opera, Champion. There has been a lot of buzz about the opera since its debut earlier in April, centering on the Met's hopes to attract new audiences with contemporary fare that speaks to them. Judging from a performance mid-run, there must be smiles on faces, as well as a few sighs of relief, at the Met.
The audience at this Saturday evening performance was diverse and excited to be there. From snippets of overheard conversations, there were a fair number of first-timers present. Three young women near me were delighted to discover that the text appeared on the little screens on the backs of the seats. And it's the norm these days that much of the glamour and style in the audience comes from the young.
The opera is based on the life of Emile Griffith, a champion boxer from the US Virgin Islands, who was twice voted Fighter of the Year in the early 1960s by The Ring and Boxing Writers Association of American. In a 1962 title match at Madison Square Garden, which was televised nationally, Griffith pummeled his rival, Benny Paret, seventeen times in less than seven seconds, putting him into a coma. Prior to the bout, Paret had taunted Griffith with slurs over his sexuality.
Griffith suffered guilt over Paret's death and had nightmares about it for the rest of his life. He had attempted to apologize to Paret, but was barred from entering his hotel room. By the early 1970s, Griffith's career was in decline, and he was showing signs of 'boxer's brain', or trauma-related dementia. Cared for in his final years by his adopted son, Luis Rodrigo Griffith, the boxer died in 2013.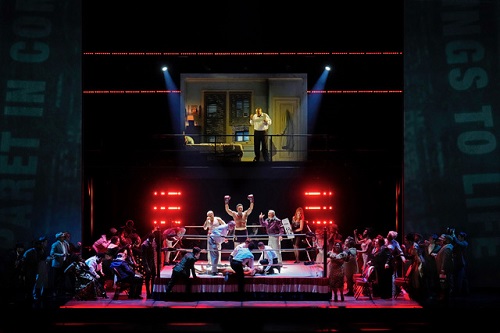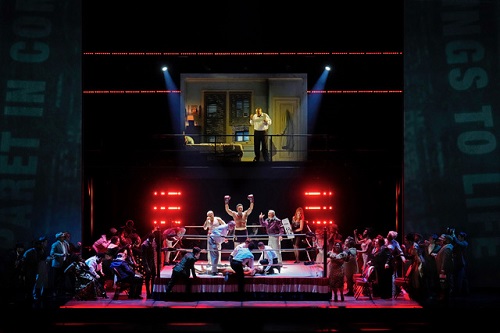 The opera is set in a series of flashbacks to various times and places in Griffith's life – St. Thomas in 1957, New York from the 1950s to the 1990s, boxing matches around the world – but it begins with an elderly man, confused and haunted by his past, preparing to meet Benny Paret Jr. The old man seeks forgiveness, but what he receives is absolution.
Griffith was portrayed from childhood to old age by the powerhouse combination of Ethan Joseph, Ryan Speedo Green and Eric Owens. Green has been getting all the hype, and deservedly so, with his ripped physique and superb bass-baritone voice. As the boy, Ethan Joseph won the audience's heart with his clear treble voice and easy stage manner.
It was, however, Eric Owen's show, with his portrayal of the elderly Griffith. Owen's voice was firm and resonant – the last remnant of a champion who had been battered both mentally and physically. Owens, however, sings words more powerful than any blow delivered: 'I killed a man, and the world forgave me. Yet I loved a man, and the world wants to kill me'.
In some ways, Griffith's persona is rather ordinary compared to the larger-than-life people who course through his life. The lush-voiced Latonia Moore portrayed Emelda, his flamboyant mother, who lived life with gusto and harbored no guilt from abandoning her children and escaping to a new life in the US.
Cousin Blanche, portrayed with icy remoteness by Krysty Swann, was right out of a novel by Dickens; she beat Griffith as a boy and forced him to hold cinder blocks above his head as punishment for having the devil inside him. Griffith's wife Sadie, dressed in a white mini dress and boots, was given a breezy, sexy spin by Brittany Renee.
Paul Groves portrayed Howie Albert, a washed-up boxing coach, who spots Griffith's talents and puts his career aspirations of becoming a hat maker on ice. Griffith tries to bare his conflicted soul to Albert, but the older man doesn't want to hear anything about his cash cow's yearnings. He's not alone in that regard.
One of the most endearing characterizations was Chauncey Packer's Luis Rodrigo Griffith. On a stage populated with opportunists, Packer's Luis came off as genuine and sincere, with a voice that was a winner.
A fictional character was Kathy Hagen, owner of a gay bar that Griffith frequents, portrayed in a droll, seen-it-all manner by Stephanie Blythe. She had a solo turn full of bawdy double entendres that delighted the audience. A huge personality with an equally impressive voice, Blythe was greeted with a wave of applause the moment she stepped on stage.
Operas conceived for smaller theaters often suffer a sorry fate when supersized for the Met, but the production team headed by James Robinson didn't fall into that trap. The aged Griffith musings took place in a box of a room, suspended above the stage, creating intimacy and providing focus. The entire expanse of the stage was used for many scenes, most impressively when a boxing ring materialized center stage. Spotlights arranged in a square from high above the stage beamed down on the ring, just as at an actual fight.
Camille A. Brown can make dancers electrify an audience. In Fire Shut Up in My Bones, an exhilarating step number stopped the show. She achieved much the same magic in Champion, particularly with the boxers throwing punches and executing footwork with as much power as style.
When it comes to the music, Blanchard, a leading jazz performer and composer of film scores, didn't change his stripes when he set his sights on composing his first opera. There are moments that are big, bold and jazzy, but much of it is light and breezy. The Met Orchestra was supplemented by a rhythm section comprised of piano, bass, guitar and drums, so it was loud at times. How can the human voice compete with amplification? The opening scenes, as well as much of the music for the elderly Griffith, were composed in a hypnotic minimalist style.
Blanchard knows how to showcase a singer. The solo turns for Kathy Hagen, Emelda Griffith and Little Emile are the real thing. The intimacy of the staging corresponds to the quiet moments of the score. A solo voice can be accompanied by only a single instrument, such as piano or bass. When it really matters, Blanchard eliminates most balance issues through orchestration.
There is a misstep, however, and it's a big one. Blanchard sets up Young Griffith's aria, 'What makes a man a man?', to be the equivalent of one of those great Rodgers and Hammerstein moments such as 'Billy's Soliloquy'. At times it sounds as if he is going to get there, but he didn't. Ryan Speedo Green revealed his inner demons, passions and hope with the full glory and power of his voice, but the music didn't deliver.
Yannick Nézet-Séguin's energy and enthusiasm never flagged. It's a lively, colorful score that he made zip, while infusing the retrospective, quieter moments with simplicity and sensitivity. He's sort of an 'in for a penny, in for a pound' guy, basking in the applause before Act II with his head hooded and his gloved fists punching the air. Opera doesn't have weight classes, but Nézet-Séguin is a champ who defies the usual rankings.
Rick Perdian